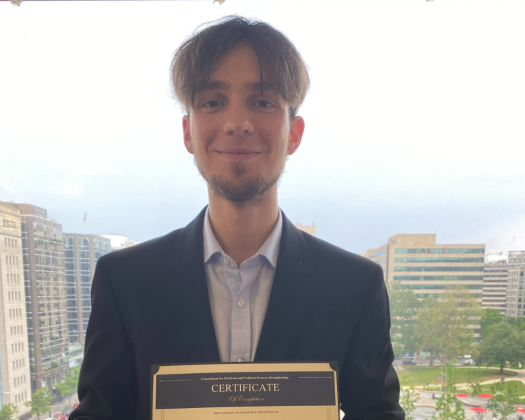 News and Updates
Interview/Speech/Testimony
IFES Q&A: Rashyd Bilalov, A Ukrainian student making an impact
When Rashyd Bilalov observed the 2018 midterm elections in the United States, he went back to Ukraine with the goal of promoting youth and civic engagement in his country. In 2019, he and other students from around Ukraine participated in "Democracy: From Theory to Practice,"  a course implemented by the International Foundation for Electoral Systems (IFES) and funded by the U.S. Agency for International Development. Rashyd and other students in this course debated important public policy topics and worked together to come up with solutions to issues like gender inequality and information integrity. At the end of the three-day summer course, 12 of the students decided they could tackle these social issues on their own, establishing the Youth Democratic Association (YODA) to engage young people across the country in topics related to democracy. 
Less than three years later, the students' worlds flipped upside down after Russia launched a full-scale invasion of Ukraine in early 2022. Rashyd, originally from Kharkiv, now lives in Estonia, but is more committed to the organization's mission than ever before.
Rashyd is a part of the Consortium for Elections and Political Processes (CEPPS) Youth Democracy, Rights and Governance (DRG) Cross-Sectoral Advisory Group. He traveled to Washington in June with other members of the group, visiting the headquarters of IFES and other CEPPS partners—the National Democratic Institute and the International Republican Institute.
How did the Youth Democratic Association (YODA) start?
When I first met IFES in 2018, through the course "Democracy: From Theory to Practice" which they had just piloted in Ukraine, at my university in Kharkiv, that was the first time I found out about the IFES Ukraine office and their initiatives. Later, I came [to the United States] in 2018 to observe the midterm elections because of that program. From there, we had a retreat of students in Lviv in 2019 and that's where the idea of YODA happened. We were in one place, everybody shared the same values, everybody was on the same page. Back then, we were just students in that course, but we all knew the same things that we were taught, and we established a very good relationship with each other and talked for a long time and came up with the idea of starting our own organization.
What happened to you and YODA when Russia launched a full-scale invasion against Ukraine in 2022?
A lot of us were expecting that to happen. Everyone in Ukraine knew, especially in the civic space, that [it may happen] but it was still a shock. I live in Kharkiv, about 50 kilometers from the Russian border, so when Russia invaded, Kharkiv was one of the first they took. So, at that point, it was destruction. My family and I left on March 1, when they started sending rockets and bombing the apartments. So many people were on the trains, I mean, just in Kharkiv, 2 million people lived there [before the war]. 
What has YODA been doing throughout the war?
At the very beginning, it was difficult because we kind of shifted our focus from youth engagement—our primary goal with implementing different initiatives like the IFES courses—but we switched to a humanitarian goal, donating to certain organizations helping refugees. There's also a couple of people in YODA who are volunteering in the medical battalion to help wounded soldiers, so we supported them, giving them equipment they needed. A couple months later, we went back to doing our other projects. We led new initiatives [with the support of IFES] like democratic conversations with students of the course and now we're preparing for the Dem Vision, which is a competition between students [in the "Democracy: From Theory to Practice" courses] for the best project. 
Note: Students who present their projects can receive support for further development from IFES and YODA.
What is it like having the support of your YODA peers during this time?
One of the main things about YODA is that it's the people who all have the same values. Since we met, we never really changed what we believe. And the friendships are the most amazing thing that comes out of it. New people come in and people have stayed with YODA for years, and it is really valuable. We're always in touch.
What is the importance of winning the peace and strengthening democracy in Ukraine?
This is one of the focuses right now of most of the organizations I work with—mainly youth and youth recovery—making sure that Ukraine's democracy is strengthened afterward. We are doing the work so that in the future, with all the courses and discussions we are having, we are prepared to participate. Of course, it's difficult right now. But still, you can work with citizens to teach them how to directly write petitions or reach out to local government, especially when it comes to housing. In terms of elections, it's not allowed under the Ukrainian constitution during the war, but we are ready to move on to do what free and fair elections involve.
What were your main takeaways from your week spent in Washington?
There are many barriers that young people are facing, especially in developing democracies, yet hearing about the work that YAG members are doing was very inspiring. Young people, in my opinion, are the main driving force of democratic change (and my belief is even stronger now after meeting other young leaders), and it is essential to include them in decision-making processes for democratic strengthening. When it comes to vulnerable groups, it is important to include them, consult with them and make sure that their voices are heard. Even though I would always consider it when doing my projects, it was refreshing to chat with YAG members about inclusion of persons with disabilities, and coming up with a strategy that would ensure their participation and voices. I took up some of the advice that they shared with me. 
Another important takeaway would be that without the support of the international partners such as IFES and others, especially in countries that were represented in the Youth Advisory group, there would be no strong civil society or civil society at all, and opportunities for the youth to develop their skills and knowledge, and for organizations - their capacity. In this sense, I, yet again, see the importance of the international organizations continuing their work, and having young people at the decision-making table, especially when it comes to strengthening democratic institutions, and creating policies. There is much more that active young people can contribute to the processes, by creating new approaches to solving certain issues.
To learn more about YODA, read this story from our IFES Ukraine office.