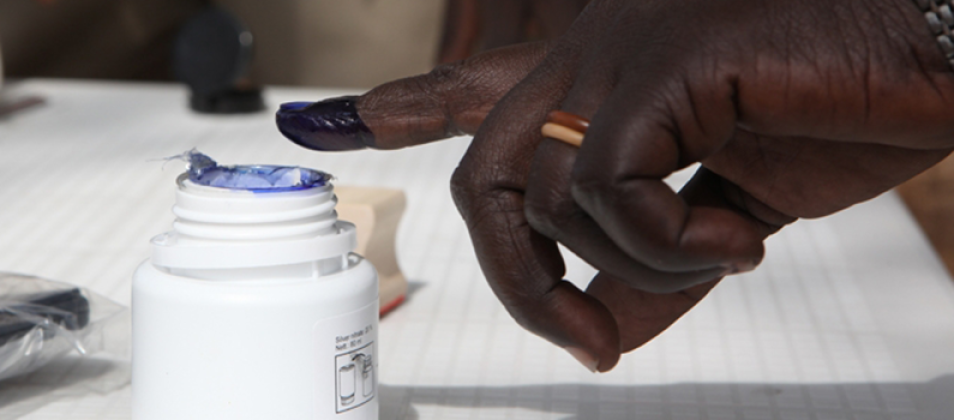 Indelible Ink in Elections: Mitigating Risks of COVID-19 Transmission While Maintaining Effectiveness
by Dr. Staffan Darnolf, Dr. Fernanda Buril and Meredith Applegate
The purple fingers of voters around the world have become almost synonymous with the hope for transitional elections and more democratic forms of governance. Although it has great symbolic value, indelible ink is primarily used to deter electoral fraud. More than 90 countries have used indelible ink –also known as electoral ink – as a way to ensure that voters cannot cast multiple ballots. Indelible ink sometimes complements or substitutes other anti-fraud measures, such as verifying voters' identities using official identification documents and checking voters against a voter registry. However, ink is not a panacea for electoral fraud. On numerous occasions, the credibility of elections has been called into question due to real or perceived problems with the effectiveness of the indelible ink, such as in elections in Afghanistan in 2004, in Nigeria in 2007 and in Uganda in 2016. In some instances, poll workers have not applied the ink correctly or used enough of it. Ink quality is also a common problem: for example, when expired ink is used.
Indelible ink, which can be applied with a brush, marker pen, spray or by dipping voters' fingers in a bottle, contains silver nitrate, a chemical that temporarily stains the skin and fingernails. Its ability to stain the finger for a sufficient period of time – generally more than 12 hours – is highly dependent on the concentration of silver nitrate, how it is applied and how long it remains on the skin and fingernail before excessive ink is wiped off. Hand-sanitizing procedures before and/or after the application of indelible ink, recommended to prevent the spread of coronavirus, could also affect the product's effectiveness.
Even though a large and growing number of countries are postponing elections due to the ongoing COVID-19 pandemic, some countries still intend to move forward with in-person voting – most with the introduction of several mitigating actions. Frequent and thorough handwashing is one of the most prominent recommendations from the U.S. Centers for Disease Control and Prevention and other public health authorities to mitigate the risk of coronavirus transmission. Due to the COVID-19's exceptional rates of transmission, several countries are implementing protocols that include hand sanitizing when entering and exiting public buildings, including polling stations. With this guidance in mind and given indelible ink's widespread use as a deterrent to electoral fraud – and iconic role in elections in newer democracies – this brief presents some factors election management bodies (EMBs) should consider when organizing elections that use indelible ink during the COVID-19 pandemic.
These recommendations are informed by discussions with several indelible ink manufacturers, specifically on the best methods for EMBs to maintain the effectiveness of indelible ink even after introducing one of the three stringent hand-cleaning protocols for voters entering and departing polling stations. See below for details regarding the different hand-cleaning protocols.
Applications
Indelible ink contains several different chemicals, including biocides and 40-45 percent alcohol. As there is no evidence yet that the biocides in indelible ink will kill the coronavirus, voters should thoroughly clean their hands before dipping their fingers in the ink bottle or having the ink applied to them. Based on the responses received from indelible ink manufacturers, EMBs that use the ink product can apply three primary protocols:
Soap and Water – Voters should wash their hands thoroughly with soap and water for at least 20 seconds and then completely dry their hands before ink application for better results. As long as voters allow the ink to dry completely, washing their hands again with water and soap while departing the polling station does not undermine its effectiveness.
Minimum 60 Percent Alcohol Solution – Voters should use at least 60 percent alcohol solution to sanitize their hands prior to ink application and allow hands to completely dry for better results. If the alcohol solution is used after ink application, it should be noted that some manufacturers reported a reduction of the dye residue when alcohol was applied 10 minutes to five hours post-application; while the stain is not removed from the skin or fingernail, it may be less clearly visible.
0.05 Percent Chlorine Solution – Although not the preferred method for hand hygiene given its lower effectiveness in comparison to the abovementioned options, chlorine solution has been used especially by some West African EMBs as it is readily available. These EMBs are also familiar with chlorine's disinfecting capability as they used it to combat the Ebola virus during recent outbreaks. The World Health Organization has noted, however, that respiratory symptoms have been reported in patients, health workers and other users as a consequence of exposure to bleach and chlorine solutions used for environmental decontamination, though at a higher percentage of chlorine than the 0.05 percent required for hand sanitizing.

When using chlorine solutions as hand sanitizers, voters should wash their hands for at least 40 to 60 seconds. As with the two previous protocols, voters should allow their hands to completely dry after using a chlorine solution before ink application. If the chlorine solution is used to sanitize hands after ink application, it should be noted that some manufacturers reported that the ink was notably darker or lighter than normal when chlorine was used five seconds post-application. To avoid any potential negative interaction between the chlorine and the ink chemicals, EMBs must test the products and ensure their chemical composition does not negatively affect the ink's effectiveness, and voters should allow at least five seconds after ink application before sanitizing their hands again.
Guidelines
Regardless of which cleaning method is used, some other general guidelines should be considered:
Drying Hands Prior to Ink Application – Voters should have enough time or sufficient supplies – e.g., disposable towels – to ensure their hands are completely dry before ink application. Communal towels are not recommended, as they might add another risk of contagion.
Drying Hands After Ink Application – Communal towels are not recommended to wipe off excessive ink, as they might add yet another risk of contagion. If EMBs are using paper towels or disinfecting wipes, they must also provide safe receptacles or trash cans where the used supplies will be disposed and safely removed from the premises.
Applying Ink – EMBs should be mindful of who is applying the ink to the voters. If poll workers are responsible for applying the ink, they should be provided with appropriate personal protective equipment. If the voter is instead required to mark the finger by dipping it in ink bottles, polling staff must issue special instructions to ensure proper application of the ink. EMBs should also keep in mind when procuring indelible ink that some applicators are more convenient for self-service than others – for instance, while ink bottles allow for poll workers to not touch the product or the voter, a brush or marker pen will require some direct handling by polling staff.
Voter Education – EMBs need to ensure that voters understand new hygiene procedures, the inking process and the importance of complying with instructions. EMB education efforts could include, for example, special posters outside polling stations and public service announcements that detail hand-washing procedures, as well as the self-inking process should an EMB choose that option. Voter education efforts should be made to reach out to all citizens, including voters with disabilities and those with low literacy levels. Graphics and visuals should be used when possible and, if a poster is used in a polling station, an audio option should be available for people who are blind or have low vision, such as verbal information from a poll worker.
Training – Polling staff will lead hygiene efforts in the polling station, including in relation to the application of ink. A specific chapter with instructions on handwashing – both for the poll workers themselves and instructions they should give to voters – and ink application should be included in polling station manuals and emphasized comprehensively in training efforts. Polling staff should be fully aware of the necessity, for example, of ink drying completely before hands are washed again.
Electoral Operations and Budgeting – EMBs should carefully review their operational plans and budgets to make sure that necessary supplies for hygiene and ink application – particularly if changing to a self-inking method – are included in their procurement and distribution plans and sufficiently funded. Adding steps to the polling process, such as poll workers informing voters about new health protocols, voters washing their hands and potentially having to ink their own fingers, could impact the number of voters each polling station can process during regular voting hours. The EMB can either extend the normal voting hours or reduce the number of voters allocated to a polling station.
Countering Disinformation – EMBs should be prepared to counter disinformation about the use of ink, particularly in relation to any changes in the application process. EMBs should have an active communication strategy in place that demonstrates that handwashing does not diminish the effectiveness of ink, and actively work to counter messaging – particularly online – that is not factual.
Regulatory Framework – EMBs should review the regulatory framework in their countries to ensure that any necessary amendments are made to change the application of ink or increased hygiene procedures.
The International Foundation for Electoral Systems (IFES) will continue to monitor product tests, communicate with indelible ink manufacturers and health authorities and update this piece as newer evidence becomes available.
For more information, read IFES' white paper Indelible Ink in Elections, which outlines how finger inking is treated in electoral legislation, the role of EMBs and procedural, practical, technical and country-specific considerations for the use and optimization of indelible ink.
Dr. Staffan Darnolf is the senior global electoral operations and administration advisor, Dr. Fernanda Buril is a senior research officer and Meredith Applegate is a program adviser for  IFES.
Tinta indeleble en las elecciones: mitigando los riesgos de transmisión de COVID-19 mientras se mantiene la efectividad
Los dedos morados de los votantes de todo el mundo se han convertido casi en sinónimo de la esperanza de elecciones de transición y formas más democráticas de gobierno. Aunque tiene un gran valor simbólico, la tinta indeleble se usa principalmente para disuadir el fraude electoral. Más de 90 países han utilizado tinta indeleble, también conocida como tinta electoral, como una forma de garantizar que los votantes no puedan emitir múltiples votos. La tinta indeleble a veces complementa o sustituye otras medidas antifraude, como verificar las identidades de los votantes utilizando documentos de identificación oficiales y verificar a los votantes con el registro de votantes. Sin embargo, la tinta no es una panacea para el fraude electoral. En varias ocasiones, la credibilidad de las elecciones se ha cuestionado debido a problemas reales o percibidos con la efectividad de la tinta indeleble, como en las elecciones en Afganistán en 2004, en Nigeria en 2007 y en Uganda en 2016. En algunos casos, los trabajadores electorales no han aplicado la tinta correctamente o no han usado suficiente. La calidad de la tinta también es un problema común: por ejemplo, cuando se usa tinta expirada.
La tinta indeleble, que se puede aplicar con un pincel, un rotulador, un aerosol o sumergiendo los dedos de los votantes en una botella, contiene nitrato de plata, un químico que mancha temporalmente la piel y las uñas. Su capacidad para manchar el dedo durante un período de tiempo suficiente, generalmente más de 12 horas, depende en gran medida de la concentración de nitrato de plata, cómo se aplica y cuánto tiempo permanece en la piel y la uña antes de que se elimine el exceso de tinta. Los procedimientos de desinfección de manos antes y / o después de la aplicación de tinta indeleble, recomendados para prevenir la propagación del coronavirus, también podrían afectar la efectividad del producto.
A pesar de que un gran y creciente número de países pospone las elecciones debido a la actual pandemia de COVID-19, algunos países todavía tienen la intención de avanzar con el voto en persona, la mayoría con la introducción de varias acciones de mitigación. El lavado de manos frecuente y exhaustivo es una de las recomendaciones más destacadas de los Centros para el Control y la Prevención de Enfermedades de EE. UU. y otras autoridades de salud pública para mitigar el riesgo de transmisión del coronavirus. Debido a las tasas excepcionales de transmisión de COVID-19, varios países están implementando protocolos que incluyen la desinfección de manos al entrar y salir de los edificios públicos, incluidos los colegios electorales. Con esta guía en mente y dado el uso generalizado de la tinta indeleble como elemento disuasorio del fraude electoral, y el papel icónico en las elecciones en las democracias más nuevas, este informe presenta algunos factores que los organismos de administración electoral (OGE) deben considerar al organizar elecciones que usan tinta indeleble durante la pandemia de COVID-19.
Estas recomendaciones se basan en discusiones con varios fabricantes de tintas indelebles, específicamente sobre los mejores métodos para que los OGE mantengan la efectividad de la tinta indeleble incluso después de introducir uno de los tres estrictos protocolos de limpieza de manos para los votantes que ingresan y salen de los colegios electorales. A continuación están los detalles sobre los diferentes protocolos de limpieza de manos.
Aplicaciones
La tinta indeleble contiene varios productos químicos diferentes, incluidos biocidas y 40-45 por ciento de alcohol. Como todavía no hay evidencia de que los biocidas en tinta indeleble maten al coronavirus, los votantes deben limpiarse bien las manos antes de sumergir los dedos en el frasco de tinta o aplicarles la tinta. Según las respuestas recibidas de los fabricantes de tinta indeleble, los OGE que usan el producto de tinta pueden aplicar tres protocolos principales:
Jabón y agua – los votantes deben lavarse bien las manos con agua y jabón por al menos 20 segundos y luego secarse completamente las manos antes de la aplicación de tinta para obtener los mejores resultados. Mientras los votantes permitan que la tinta se seque por completo, lavarse las manos nuevamente con agua y jabón al salir de la mesa electoral no socava su efectividad.
Solución mínima de alcohol al 60 por ciento – los votantes deben usar al menos una solución de alcohol al 60 por ciento para desinfectar sus manos antes de la aplicación de tinta y permitir que las manos se sequen por completo para obtener mejores resultados. Si la solución de alcohol se usa después de la aplicación de tinta, debe tenerse en cuenta que algunos fabricantes informaron una reducción del residuo de tinte cuando se aplicó alcohol 10 minutos a cinco horas después de la aplicación; Si bien la mancha no se quita de la piel o la uña, puede ser menos visible.
Solución de cloro al 0.05 por ciento – aunque no es el método preferido para la higiene de las manos dada su menor efectividad en comparación con las opciones mencionadas anteriormente, la solución de cloro ha sido utilizada especialmente por algunos OGEs de África Occidental, ya que está fácilmente disponible. Estos OGEs también están familiarizados con la capacidad de desinfección del cloro, ya que la usaron para combatir el virus del Ébola durante brotes recientes. La Organización Mundial de la Salud ha observado, sin embargo, que se han informado síntomas respiratorios en pacientes, trabajadores de la salud y otros usuarios como consecuencia de la exposición a las soluciones de cloro y cloro utilizadas para la descontaminación ambiental, aunque a un porcentaje de cloro mayor que el 0.05 por ciento requerido para desinfectar las manos.

Cuando se usan soluciones de cloro como desinfectantes para manos, los votantes deben lavarse las manos durante al menos 40 a 60 segundos. Al igual que con los dos protocolos anteriores, los votantes deben permitir que sus manos se sequen por completo después de usar una solución de cloro antes de la aplicación de tinta. Si la solución de cloro se usa para desinfectar las manos después de la aplicación de tinta, debe tenerse en cuenta que algunos fabricantes informaron que la tinta era notablemente más oscura o más clara de lo normal cuando se usaba cloro cinco segundos después de la aplicación. Para evitar cualquier posible interacción negativa entre el cloro y los productos químicos de la tinta, los OGES deben probar los productos y asegurarse de que su composición química no afecte negativamente la efectividad de la tinta, y los votantes deben esperar al menos cinco segundos después de la aplicación de tinta antes de desinfectar sus manos nuevamente.
Pautas
Independientemente del método de limpieza que se utilice, se deben considerar otras pautas generales:
Secado de manos antes de la aplicación de tinta – los votantes deben tener suficiente tiempo o suministros suficientes, por ejemplo, toallas desechables, para asegurarse de que sus manos estén completamente secas antes de la aplicación de tinta. No se recomiendan las toallas comunitarias, ya que pueden agregar otro riesgo de contagio.
Secado de manos después de la aplicación de tinta – no se recomiendan toallas comunales para limpiar la tinta excesiva, ya que podrían agregar otro riesgo de contagio. Si los OGEs usan toallas de papel o toallitas desinfectantes, también deben proporcionar receptáculos o botes de basura seguros donde los suministros usados se desecharán y retirarán de forma segura de las instalaciones.
Aplicación de tinta – los OGEs deben tener en cuenta quién le aplica la tinta a los votantes. Si los trabajadores electorales son responsables de aplicar la tinta, se les debe proporcionar el equipo de protección personal adecuado. Si, en cambio, se requiere que el votante marque el dedo sumergiéndolo en botellas de tinta, el personal de votación debe emitir instrucciones especiales para garantizar la correcta aplicación de la tinta. Los OGEs también deben tener en cuenta al adquirir tinta indeleble que algunos aplicadores son más convenientes para el autoservicio que otros, por ejemplo, mientras que las botellas de tinta permiten que los trabajadores electorales no toquen el producto o el votante, un pincel o rotulador requerirá algo de manipulación directa por personal de votación.
Educación del votante – los OGEs deben asegurarse de que los votantes entiendan los nuevos procedimientos de higiene, el proceso de entintado y la importancia de cumplir con las instrucciones. Los esfuerzos de educación de los OGEs podrían incluir, por ejemplo, carteles especiales fuera de las mesas electorales y anuncios de servicio público que detallan los procedimientos de lavado de manos, así como el proceso de auto-entintado si un OGE elige esa opción. Se deben realizar esfuerzos de educación electoral para llegar a todos los ciudadanos, incluidos los votantes con discapacidades y aquellos con bajos niveles de alfabetización. Se deben usar gráficos y visuales cuando sea posible y, si se usa un póster en una mesa electoral, una opción de audio debe estar disponible para personas ciegas o con baja visión, como información verbal de un trabajador electoral.
Capacitación – el personal de votación dirigirá los esfuerzos de higiene en la mesa de votación, incluso en relación con la aplicación de tinta. Un capítulo específico con instrucciones sobre el lavado de manos, tanto para los propios trabajadores electorales como las instrucciones que deben darles a los votantes, y la aplicación de tinta debe incluirse en los manuales de los centros de votación y enfatizarse de manera integral en los esfuerzos de capacitación. El personal de votación debe ser plenamente consciente de la necesidad, por ejemplo, de que la tinta se seque por completo antes de lavarse las manos nuevamente.
Operaciones y presupuestos electorales – los OGEs deben revisar cuidadosamente sus planes y presupuestos operativos para asegurarse de que los suministros necesarios para la higiene y la aplicación de tinta, especialmente si cambian a un método de auto-entintado, se incluyan en sus planes de adquisición y distribución y estén suficientemente financiados. Agregándole pasos al proceso de votación, como que los trabajadores electorales informen a los votantes sobre los nuevos protocolos de salud, que los votantes se laven las manos y posiblemente tengan que entintarse los dedos, podría afectar la cantidad de votantes que cada centro de votación puede procesar durante las horas de votación regulares. Los OGEs pueden extender el horario normal de votación o reducir el número de votantes asignados a una mesa electoral.
Contrarrestar la desinformación – los OGEs deben estar preparados para contrarrestar la desinformación sobre el uso de la tinta, particularmente en relación con cualquier cambio en el proceso de solicitud. Los OGEs deben tener una estrategia de comunicación activa que demuestre que el lavado de manos no disminuye la efectividad de la tinta y trabaja activamente para contrarrestar la mensajería, particularmente en línea, que no sea factual.
Marco regulatorio – los OGEs deben revisar el marco regulatorio en sus países para garantizar que se realicen las modificaciones necesarias para cambiar la aplicación de tinta o aumentar los procedimientos de higiene.