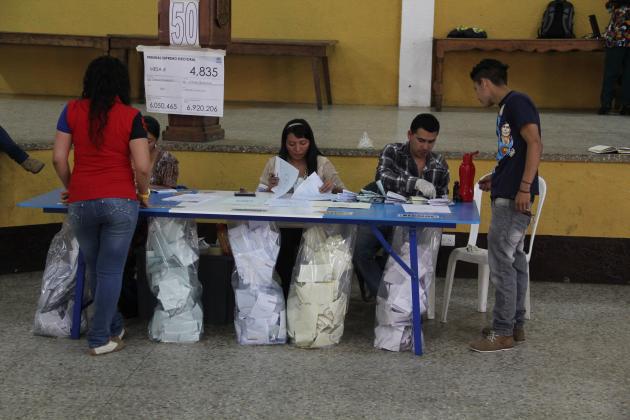 New Electoral Governance and Reforms Project in Guatemala
By Margarita Seminario, Senior Program Manager, Latin America and the Caribbean
Over the past two years, Guatemalans have made unprecedented advances in strengthening their country's democracy and engaging in political life. Facing immense popular political pressure, the Guatemalan Congress passed legislation in 2016 to reduce corruption, improve elections and electoral administration, and democratize political parties.
To support implementation of the Law on Political Parties, the International Foundation for Electoral Systems (IFES) will work hand-in-glove with the Supreme Electoral Tribunal (TSE). This legislation puts in place landmark reforms that seek to increase accountability, enhance the transparency and inclusivity of the electoral system, and expand the TSE's mandate as a political finance regulator. IFES will work with the TSE to implement the Control, Oversight, and Accountability Unit and the Media Monitoring Unit, capitalizing on the Mexican National Electoral Institute's relevant expertise and existing relationships to facilitate information and peer-to-peer exchanges.
IFES will also support the TSE in creating an inter-institutional task force to coordinate out-of-country voting and to support voter registration outreach and information dissemination through consulates, media, and social media. This will help Guatemalans living abroad to exercise their right to vote and give them an enhanced voice to strengthen Guatemalan democracy.
Furthermore, to empower citizens to effectively participate in electoral and political processes, IFES will collaborate with the TSE to strengthen its organizational capacity to implement a civic and voter education strategy and strengthen its institutional ability to administer elections or referenda and, specifically, when asked, to assist on the upcoming national referenda on the border with Belize and judicial reforms.
IFES will leverage lessons learned from supporting disabled persons' organizations (DPOs) in Guatemala and around the world to engage in meaningful dialogue and advocacy for reforms. In partnership with the National Council for People with Disabilities and other DPOs, IFES will develop a resource guide and conduct associated training to strengthen the representational and institutional capacities of DPOs to advocate for their interests. This guide will include a focus on the unique barriers encountered by women and indigenous people with disabilities, who experience multiple forms of exclusion given their gender and ethnicity.
In addition, IFES will issue small grants to DPOs to conduct inclusive election access observations for the 2019 general elections. The audits will be conducted throughout the country and will engage a diverse group of men and women with different types of disabilities. These individuals will be deployed to the selected voting sites to assess their accessibility, inclusiveness of poll worker training, and utilization of assistive devices. The DPOs will develop a report with concrete recommendations for the TSE to implement in future elections.
The U.S. Agency for International Development-Guatemala funded "Electoral Governance and Reforms Project" was awarded to the Consortium for Elections and Political Processes Strengthening under the Global Elections and Political Transitions program and IFES' work in Guatemala is part of that project.