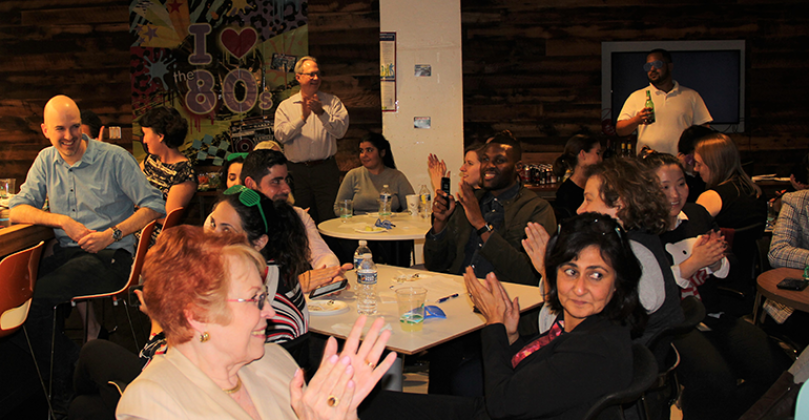 Photo Gallery: Staff Toast IFES' 30th Anniversary in 1980s Style
On November 2, 2017, staff held a party to celebrate the International Foundation for Electoral Systems' (IFES) 30th anniversary and test their knowledge of current events, elections, geography, the 1980s, and IFES. The Electoral College T-Rex even paid a surprise visit to IFES' headquarters to meet staff and learn more about other electoral systems.
Trivia teams included Crimea River and Very Obviously Trivia Experts (VOTE), with I Wanna Vote for Somebody coming out on top. In true electoral fashion, the trivia management body fielded several complaints, which were then adjudicated by Director of IFES' Center for Applied Research and Learning Chad Vickery.
See how your own knowledge stacks up with a few questions from the event (answers can be found below):
Which state capital in the United States has recently banned texting while crossing the road?
How many electoral votes are allotted to the District of Columbia?
Which is the only country whose national flag is neither a rectangle nor a square?
Which titular character "phoned home" in this 1982 film directed by Steven Spielberg?
In which country did IFES conduct its first program?
Special thanks to Director of Human Resources and Administration Laurette Bennhold-Samaan, Senior Legal Specialist Katherine Ellena, Monitoring and Evaluation Coordinator Cirilo Marinkovic, Research Officer Gina Chirillo, Research Coordinator Heather Szilagyi, and Program Coordinator Otito Greg-Obi for organizing the event. Click here to view the photo gallery.
Answers:
Honolulu
3
Nepal
E.T.
Paraguay