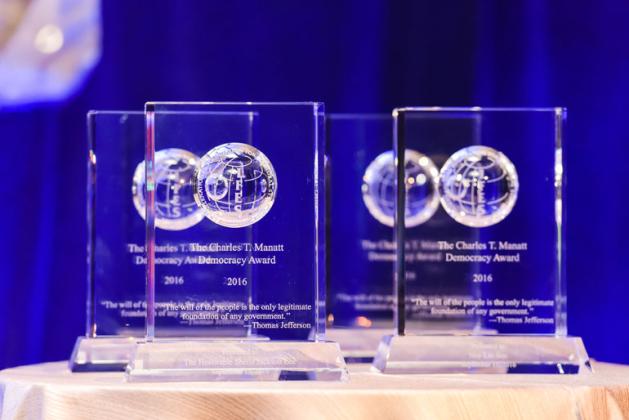 Photos of the 2016 Democracy Awards Ceremony
On September 13, the International Foundation for Electoral Systems (IFES) held its seventh annual Charles T. Manatt Democracy Awards ceremony in Washington D.C. This event brings diverse groups of domestic and international leaders together who share a belief in advancing good governance and democratic rights by empowering and encouraging active citizen participation.
IFES presents the awards annually to three individuals who embody the character and spirit of former U.S. Ambassador and IFES Board of Directors Chairman Charles T. Manatt. This year's honorees were Nay Lin Soe, a disability rights advocate and founder and CEO of the Myanmar Independent Living Initiative, Congresswoman Sheila Jackson Lee (D-Texas) and Senator John Barrasso (R-Wyo.). Bay Fang, Radio Free Asia Managing Director, emceed the awards ceremony, which was co-chaired by IFES Board Director and Director of the Center for Strategic and International Studies' Project on Prosperity and Development Dan Runde and former U.S. Ambassador to Slovakia Theodore Sedgwick.
Click here to view the gallery.