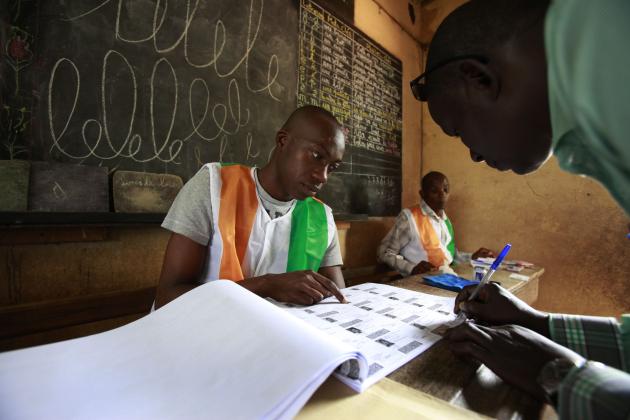 Post-Election Q&A: Côte d'Ivoire's 2015 Presidential Elections
On October 25, Ivoirians went to the polls for the first presidential election in Côte d'Ivoire since post-election violence rocked the country in 2010 and 2011. Four years later, Côte d'Ivoire's economy has rebounded and security has largely returned to the country. Incumbent President Alassane Ouattara won a landslide victory in the October vote. In this post-election Q&A, International Foundation for Electoral Systems (IFES) Côte d'Ivoire Chief of Party Sophie Lagueny discusses the importance of the 2015 elections for Côte d'Ivoire, IFES' activities in the country in the lead up to the vote and the post-election atmosphere.
Why were the October 2015 elections so important for Côte d'Ivoire?
The 2010 presidential elections were supposed to bring the country out of the crisis that started in 2002, but instead resulted in the death of more than 3,000 people. This election was considered a test for Côte d'Ivoire. In other words, peaceful elections would show that the country had moved past this crisis.
What were some of the major activities IFES conducted in preparation for the general elections?
IFES provided technical assistance to the Independent Electoral Commission (CEI), with particular emphasis on developing and implementing training, and communication and civic and voter education plans. IFES also provided grants to local civil society organizations for the organization of civic and voter education activities in a number of communes particularly hit by violence during the 2010 elections: Bouaké, Yamoussoukro, Toumodi, Bloléquin, Guiglo, Lakota, Gagnoa, and Yopougon (a commune of Abidjan).
How did voter education efforts impact turnout and participation?
It is difficult to measure the impact of the voter education efforts on turnout and participation. However, a survey (through focus groups) and the conflict sensitivity analysis done earlier this year showed that a majority of people, particularly women, expressed their intention not to vote due to their fear of violence and because they thought there would be no real competition, particularly those who supported former President Laurent Gbagbo. Our civic education efforts were meant to provide information on polling procedures to voters, but also to encourage them to participate and accept the results of the election in a peaceful manner. Thus, while the turnout of 52.86 percent is low for a presidential election, it is important to note that it was expected to be even lower. In addition, there were no violent incidents registered on Election Day or while waiting for the results. It is therefore possible to say that voter education efforts had some impact.
What have election monitors said about the transparency and credibility of the vote?
Election observers, international and domestic alike, have agreed that the elections were transparent and credible. Some polling stations did not open on time due to missing personnel or material – although the exact number is unknown – and had to operate without electronic identification tables that did not work. To compensate for the late opening of these polling stations, the CEI asked that they stay open until 7:00 p.m., instead of 5:00 p.m. as originally scheduled.
What was the security situation like on Election Day? Was electoral violence a major concern?
As mentioned above, electoral violence was the primary concern regarding the October 25 presidential election. However, no violent incidents were reported on Election Day or while waiting for the results.
How would you characterize the post-election atmosphere?
Following Election Day and while waiting for the results, it was evident that people had not gone back to "business as usual" yet. However, once the CEI announced the provisional results, and three of the candidates went ahead and congratulated the winner before the Constitutional Court announced the final results, everything went back to normal quickly.