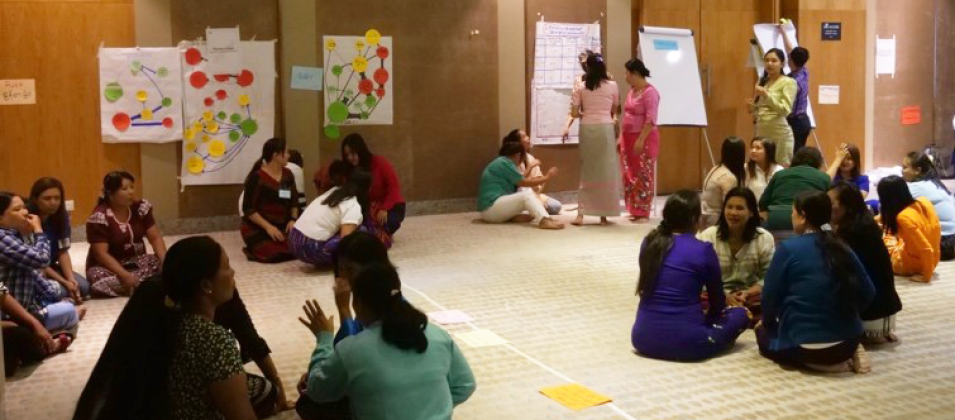 "She Leads Myanmar" Advances to the Next Level
"I really love this [advanced] program. The training is increasingly challenging and we are gaining more insightful knowledge to meet our needs. I will not stop at the level I am now, I have decided I want to become a member of Parliament. I want to show how women can lead for change." – Mu Mu Than, Bago
The energy and enthusiasm in the training room is palpable as the 40 women taking part in module one of IFES' landmark "Advanced She Leads" program work together to prepare power maps on issues that they are working on, such as gender-based violence, disability rights, women's empowerment and the environment.
The advanced training – the first IFES has developed and implemented globally – comes five years after "She Leads" began in Myanmar and is part of the next phase of this highly successful initiative that to date has trained over 1,800 women in Myanmar. Launched in January this year with the 2020 elections as a key focus, this expanded program takes "She Leads" to the next level, building on the beginner and intermediary programs to include two new components: the advanced training and a tailored leadership program for women living in conflict-affected areas in Kachin and Shan states.
The modular advanced program, which will run over a 16-month period, has been designed to support 40 carefully selected women leaders – 30 "She Leads" alumnae and 10 women who are new to "She Leads." It will provide them with the skills and knowledge to effect positive change in their communities and influence policies and decisions at the local, state, regional and national levels. As May Sabe Phyu, director of the Gender Equality Network, said in her powerful opening speech:
"Staying at home will not bring about change. To become leaders, women must work hard to become more qualified, gaining knowledge and skills and the ability to communicate. The more qualified we are, the more confident we will become to create laws and policies that will benefit our families, society and future generations."

The eight module program is intense and highly participatory. It focuses on content and topics that the women have highlighted as crucial to increasing their impact and influence in their diverse areas of work. Topics include transformational change leadership; project proposal development and fundraising; advanced advocacy and the media; and women and the law. In between each module, the participants will be given assignments, such as the module one mentoring assignment and self-development exercises, to put their learning into practice.
The program is being facilitated by a mixed international and national team, which includes Dr. Nyo Nyo Thinn, a former member of Parliament. In addition, to maximize learning and enable participants to ask questions and develop their networks, each module will involve topic experts and guest speakers. In module one, Sanda Thant, a leading gender activist, inspired participants during a panel discussion when she highlighted the importance of evidence-based advocacy.
"I want to become a high-ranking government official. Yesterday, Sanda Thant said something very important. She told us that information is power. I am really taking this on board." – Thandar Nway, Naypyitaw

Module one was a great success, with participants providing positive feedback about the content and methodology. It is clear the training is already having an impact. Participants commented on how the training has motivated them to reflect on themselves as leaders, and to think about how best to harness their knowledge and skills to the greatest effect. This was powerfully reflected by Myo Myo Thet, from Lashio, who said:
"Just before this training I was offered funding for a two-year project. I have been worried about whether to accept the funding. I woke up at 4 a.m. this morning and self-reflected. I have learned so much in the last four days. I want to be a change-maker for persons with disabilities. I want to prove that I can do this and become a role model for other persons with disabilities and work to cultivate the next generation of leaders. I have decided to take on the project and apply what I have learned from 'She Leads.'"
Another important way the advanced program is already having an impact is in helping the women deal with the practical and emotional hurdles they can face daily as leaders. In addition to sessions on managing stress and building resilience, the training provided an environment in which the women can share their experiences and support each other – a powerful combination. As Lu San, a leader of an internally displaced persons camp in Kachin, said at the end of module one:
"I am the leader of my camp and I try to fight for the rights of the people who have been displaced by conflict and advocate for them. Sometimes I lose heart, but the training sessions on stress management and resilience have really helped me. The training has given me new hope and energy and on Monday when I am back in my camp, I will fight for their rights again feeling full of energy."
"She Leads Myanmar" is supported by Australian Department for Foreign Affairs and Trade, the Embassy of Denmark, the Swiss Agency for Development and Cooperation and UK aid.