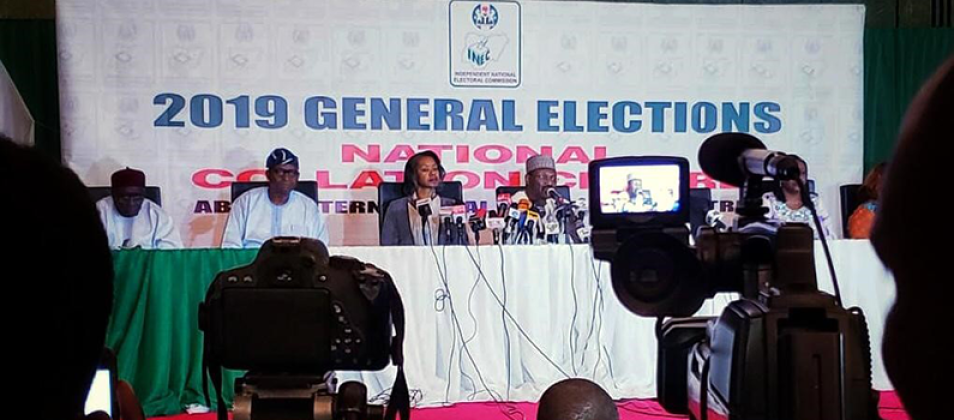 Supporting Credible Electoral Processes in Nigeria
Nigeria's presidential and National Assembly elections were originally scheduled for February 16, 2019, and the gubernatorial and State Assembly elections for March 2, 2019.
On February 16, approximately five hours before polls were scheduled to open at 8:00 a.m., the Independent National Electoral Commission (INEC) announced the postponement of the highly anticipated elections. This is the third postponement of elections in Nigeria, following postponements in 2011 and 2015. The presidential and National Assembly elections are now scheduled for February 23 and the gubernatorial and State Assembly elections for March 9.
IFES in Nigeria
Since 1998, the International Foundation for Electoral Systems (IFES) has worked to strengthen the capacity of Nigerian election management bodies (EMBs) to promote credible, inclusive and transparent elections at the national and local levels. IFES has provided technical support to the INEC since its inception in areas such as voter education and training of election officials. IFES has leveraged the improvement of Nigeria's electoral management capacity to extend support to other areas, including electoral reform, campaign finance oversight, election violence monitoring and mitigation, and inclusion of marginalized populations. IFES currently operates in Nigeria with the support of the United States Agency for International Development and UKaid under the "Support for Electoral Reforms Project" (2014-19), which aims to strengthen the capacity of Nigerian EMBs – both INEC and State Independent Electoral Commissions – and thereby improve public confidence in elections and their outcomes. To achieve this objective, IFES focuses on training and ongoing improvement to electoral processes.
For example, IFES has supported institutional capacity building through the Electoral Institute (TEI), the training and research institute established by INEC in 2007, and continues to support TEI in training poll workers and strengthening professional development within INEC. IFES has also overseen INEC's establishment of state-based Election Operation/Management Support Centers – low-cost, high-impact support centers for monitoring Election Day operations and troubleshooting challenges.
From research and technical guidance to training and product development, IFES supports INEC efforts to promote voter education and participation among marginalized populations. IFES has been instrumental in the development of an INEC framework on disability access and voting by internally displaced persons (IDPs), which will guide future policies to improve electoral accessibility for persons with disabilities and protect IDPs' voting rights across the country ahead of the 2019 elections. IFES also supports INEC to implement its Gender Policy to mainstream gender considerations within the INEC and electoral processes.
IFES partners with civil society organizations (CSOs) in Nigeria to monitor various aspects of elections and promote public awareness and policy changes. IFES has trained civil society representatives to monitor campaign finance for the 2019 presidential election. IFES' ongoing Nigeria Election Violence Report (NEVR) project trains CSOs to monitor, analyze and respond to incidents of election-related conflict before, during and after elections. CSO partners post findings at www.nevr.org and advocate for peaceful elections through public awareness activities and stakeholder engagement.
Support for the 2019 Elections
IFES has provided critical support to Nigerian election officials and CSOs to improve electoral processes. IFES' support for the 2019 election cycle has included supporting INEC to combat disinformation and strengthen their strategic communications strategy during the election period; supporting INEC's TEI in the review of the 2019 INEC Election Officials Manual and development of an election trainers' guide that will be used in training over 1 million ad-hoc poll officials for the 2019 elections; and supporting voter education campaigns through the production of posters, leaflets, radio jingles, public service announcements and more. Following the announcement of the election postponement, IFES' team continues to provide technical support to INEC in strategic communications and training and capacity building.
Strategic Communications
Following the postponement of the February 16 election IFES recommended that INEC hold regular press briefings with media and stakeholders to increase transparency leading up to the February 23 elections. As a result of this recommendation, INEC is holding daily press briefings through February 22; during the first briefing on February 19 INEC Chairman Mahmood Yakubu provided updates on INEC's level of preparedness.
Training and Capacity Building
On February 19, IFES supported three workshop sessions in preparation for the postponed February 23 presidential election to check in with and train:
Electoral Operation Support Center officials, who provide critical tracking and intervention in the states;
Collation and results verification officers, who review the collation procedures; and
State supervisors to review and debrief on election preparations.
The sessions provided officials space to discuss any challenges experienced leading up to the February 16 Election Day and work to incorporate lessons from that process into preparations for February 23.
IFES will continue to provide technical assistance to facilitate the development of free, fair and credible electoral processes in Nigeria.