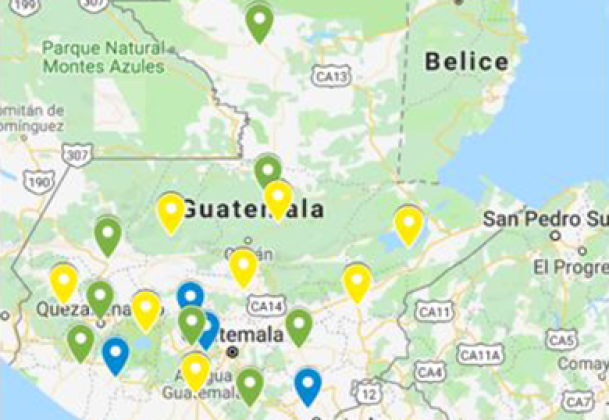 Tackling Electoral Violence on Several Fronts in Guatemala
by Fernanda Buril
Election-related violence has been pervasive in Guatemala since the country's transition to democracy in the mid-1980s. Assassinations of candidates, attacks on electoral bodies and threats against voters to influence the electoral process impact Guatemalans' willingness to participate in elections and undermine the legitimacy of democratic processes. This violence has several root causes, from historical unresolved grievances between groups seeking power to citizens' general dissatisfaction with and mistrust of the country's public institutions. When electoral institutions in particular are not perceived as credible, contestants' accusations of electoral fraud can stir up tensions and motivate violence. Disinformation campaigns throughout the electoral cycle can also escalate conflict.
Taking into consideration the intricate nature of electoral violence in Guatemala, the International Foundation for Electoral Systems (IFES), with the support of the United States Agency for International Development (USAID) and the Embassy of Canada through the Canada Fund for Local Initiatives (CFLI), worked on several fronts to mitigate and prevent the problem during the 2019 general elections. Collaborating with the Supreme Electoral Tribunal (TSE) and the temporary municipal (JEMs) and departmental (JEDs) electoral bodies and building upon the lessons learned from the first round of elections on June 16, IFES contributed to a successful runoff election on August 11.
Under the USAID-funded "Electoral Governance and Reforms" project, IFES worked with the TSE to systematize previous and new cases of election-related violence across Guatemala and create risk maps used to inform the TSE's election security plans. IFES also contributed to the development of a pact for peaceful and ethical elections that was signed by political parties in 42 municipalities, who committed themselves to conducting responsible campaigns that reject hatred, disinformation and violence.
Even with these efforts, however, violent incidents erupted after the first round of elections, largely motivated by technical problems in the transmission of results and insufficient communications to the electorate as these issues were being addressed. For the second round, IFES expanded its scope of work to support the TSE to address the errors in results transmission and enhance its efforts to keep Guatemalan voters informed during this critical moment. The transparency in the process of addressing technical problems was essential to the TSE's credibility during the second round.
In parallel, under a project funded by the Canadian Embassy in Guatemala, IFES conducted three workshops on "Developing Leadership in Prevention of Conflicts and Reconstructing the Guatemalan Social Fabric." Eighty-one members of JEMs and JEDs participated in activities that took place in the departments of Escuintla, Huehuetenango and San Marcos, identified as at high risk for electoral violence. The workshops were based on IFES' "People Against Violence in Elections" methodology and focused on equipping participants to understand their role in preventing and mitigating violence during elections and to develop initiatives to address the issue. The participants' proposals will be evaluated by the TSE for implementation in future processes.

With these projects, IFES supports its partners in Guatemala to build well-informed, local solutions to local issues. IFES will continue to develop risk maps and security plan recommendations to prevent post-election violence and ensure a peaceful transition of power. The successes and lessons learned from these elections will also be used to inform activities to promote peace in future electoral processes.
IFES' "Electoral Governance and Reforms" project in Guatemala is supported by USAID through the Consortium for Elections and Political Process Strengthening (CEPPS). Established in 1995, CEPPS pools the expertise of three premier international organizations dedicated to democratic development: IFES, the International Republican Institute and the National Democratic Institute. CEPPS has a 20-year track record of collaboration and leadership in democracy, human rights and governance support, learning from experience, and adopting new approaches and tools based on the ever-evolving technological landscape.
IFES' "Developing Leadership in Prevention of Conflicts and Reconstructing the Guatemalan Social Fabric" project in Guatemala is supported by the Canadian Department of Foreign Affairs, Trade and Development through CFLI.
Fernanda Buril is a program officer for the Americas and the technical coordinator for electoral operations at IFES.