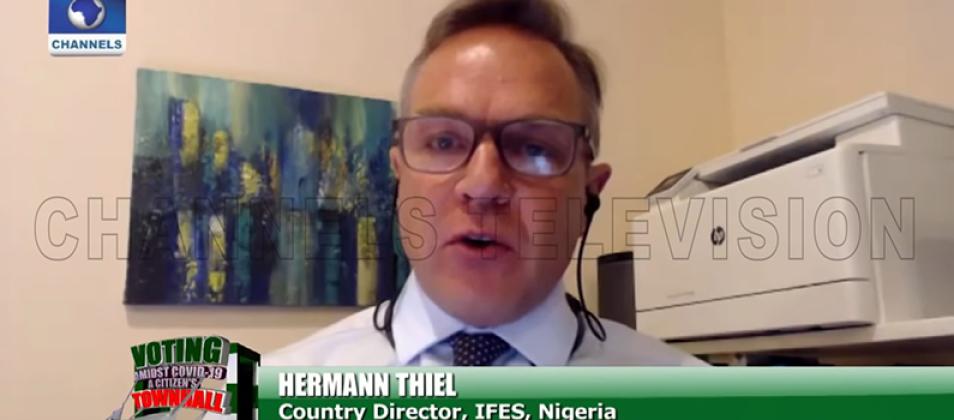 Virtual Town Hall on Nigerian Elections During COVID-19
In response to the COVID-19 pandemic, Nigeria initially postponed several by-elections and local elections that had been scheduled for March 2020. The Independent National Electoral Commission (INEC) recently drafted a policy on conducting elections in the context of the pandemic and has been consulting stakeholders to gather feedback. Upon announcing the policy, the INEC also announced that governorship elections in two states will take place as scheduled later in 2020. Postponed by-elections for vacant Senate and House of Representative seats will also be rescheduled to take place in 2020.
Yiaga Africa, a youth civil society organization and one of the International Foundation for Electoral Systems' (IFES) local partners, organized a virtual town hall to facilitate public debate on the proposed policy. The town hall took place on June 3 and was broadcast live by Channels TV. IFES Country Director for Nigeria Hermann Thiel was invited to participate and share his perspective:
"We believe that the INEC has gone and has thoroughly considered all the various aspects that need to be in mind when you go ahead with elections … I do think that Nigeria is playing a very, very important role, very early on in the process, starting to engage the issues. That can become a template that can be used in other countries, especially in Africa, but elsewhere in the world as well if done well."
Watch the video of the town hall; Thiel's remarks start at 58:50.
IFES remains committed to working together to build democracies that deliver for all during the pandemic, while at the same time prioritizing the health and safety of our staff, partners and voters in Nigeria and around the world.