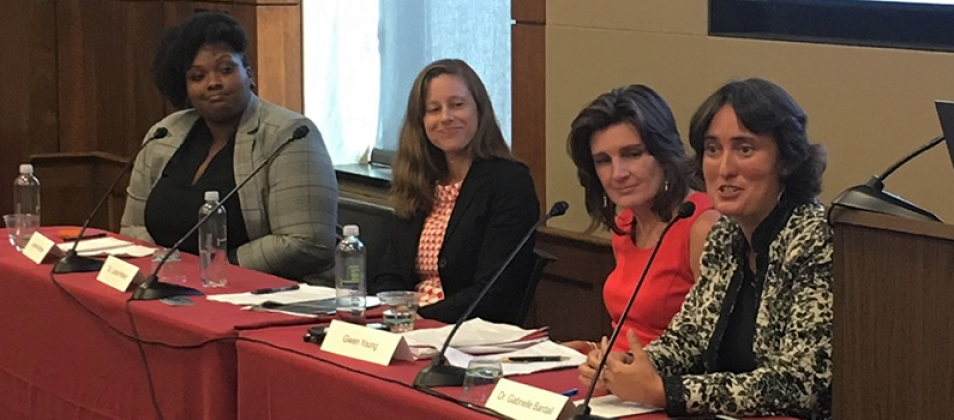 Women and Technology: Enhancing Political Participation
A Capitol Hill Briefing Series Inspired by Sustainable Development Goal (SDG) #5: "Achieve Gender Equality and Empower All Women and Girls"
by Deyala El-Haddad*
On Wednesday, September 19, the International Foundation for Electoral Systems (IFES) and Congresswoman Sheila Jackson Lee (D-Tex.) co-hosted a briefing on how technology can engage and connect women; increase and inhibit political participation; provide transparency; and gather data to prevent, track and prosecute violence against women.
Key takeaways from the briefing include:
As women's civic responsibility increases, gender empowerment is improved and gender equality is achieved. 
Technology can promote or inhibit women's participation in public life, politics and elections and is an affordable way to reach out to women to engage them in political processes and amplify their voices online. The SDGs seek to enhance the use of information and communications technology to empower women and girls.
The Wilson Center's Public Service Project collects and sorts data into an index of 75 countries to measure distributions of power and leadership positions. 
Data collection and internet accessibility enhance women's knowledge and interaction with information. Additionally, having access to websites and online platforms and tools increases transparency within governments and political realms, which inspires change.
Gender-based violence (GBV) is actions that harm others based on their sexual or gender identity. Behaviors include hate speech and sexual harassment, which can have severe impacts on victims and survivors.
The International Center for Research on Women (ICRW) has developed a conceptual framework of technology-facilitated GBV. Research, surveys, conversations and questionnaires capture measurements, frequencies and modes of online GBV. 
It is important to learn more about these issues and support research on online GBV by facilitating conversations with policymakers, advocates and technology industry researchers.
Common Cause Maryland is a nonpartisan nonprofit organization that focuses on building democracy and creating voting rights for everyone. Common Cause uses technology to promote engagement within the political process by taking action, joining coalitions and promoting women who run for office. 
Action network tools such as petitions, quick informational links and pre-drafted emails to local representatives and legislators are all ways to engage with large audiences quickly. The use of these tools promotes engagement, participation, communication and awareness among women.
The event featured remarks by IFES President and CEO Bill Sweeney and was moderated by IFES Senior Gender Advisor Dr. Gabrielle Bardall. Panelists included Gwen Young, director of the Wilson Center's Global Women's Leadership Initiative and Women in Public Service Project; Dr. Laura Hinson, social and behavioral scientist at ICRW; and Joanne Antoine, manager of state outreach and engagement at Common Cause Maryland.
A video of the event is available below.
The discussion was the sixth installment of a briefing series organized by IFES exploring each element of SDG5. Previous panel topics include "Ending All Forms of Discrimination Against All Women and Girls Everywhere" and "Preventing Violence Against Women in Elections."
The next briefing on women's economic empowerment will take place on November 14, 2018. Please contact esidell@ifes.org for more information.
*Deyala El-Haddad is an administrative coordinator at IFES.