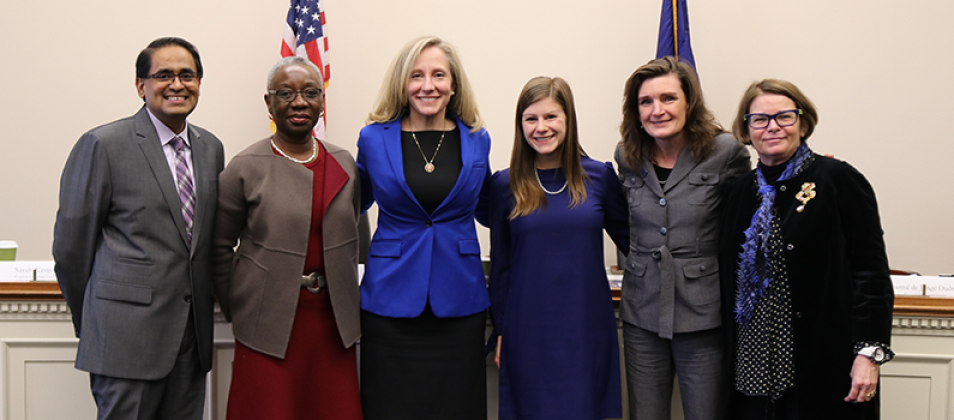 Women in Politics: Challenges and Opportunities
by Hannah Krull*
On March 6, 2019, the International Foundation for Electoral Systems' (IFES) Regional Director for Asia-Pacific Vasu Mohan was a featured speaker at "Women in Politics: Challenges and Opportunities," a panel event hosted by Women in International Security and the Embassy of Liechtenstein. Along with Mohan, the panel consisted of Gwen K. Young, director of the Global Women's Leadership Initiative and the Women in Public Service Project at the Wilson Center, and Sandra Pepera, director for Gender, Women and Democracy at the National Democratic Institute (NDI). The event opened with remarks by Ambassador Kurt Jaeger of Liechtenstein.
Young applauded the rise in the number of women in the United States Congress but noted that there are few women in leadership positions in other parts of the government, particularly in national security contexts. Young said that enforceable affirmative measures are necessary to increase women's substantive role in government.
Pepera discussed violence – particularly online – as a major challenge for women in politics. She highlighted how women are treated in the media, and discussed how that might affect the way we think about women. When dehumanizing language about women, particularly women in politics, is used, it not only diminishes the role they can play in policy, but it is massively psychologically harmful. Pepera described NDI's strategy for increasing the number of women in politics: equipping individual women with the necessary skills and resources, examining at institutions to ensure they are fair and assessing media and the language used to describe women.
After Pepera, Mohan spoke about the role of men in the empowerment of women in politics. Mohan said that men must come to realize that so long as women are prevented equal opportunities, men will not be able attain their full potential either and, like a bird trying to fly with one wing, society will not attain its full potential. He also discussed how men should support women, saying that men can't come to the table with a sense of superiority but should listen to and respect the experiences of women. Mohan described the Male Allies for Leadership Equality (MALE) tool used by IFES to involve male allies in women's political empowerment. During MALE workshops, IFES engages the family members of women in politics, teaching them to empower their daughters, mothers and wives. MALE also is used to engage male politicians in increasing space for women in decision-making.
The event concluded with audience Q&A and remarks by Congresswoman Abigail Spanberger (D-Va.). She discussed the importance of bringing a broad variety of perspectives to the legislative process. She pointed out that when women run for office, they win at the same rate as men, yet fewer women run for office. When asked how young women beginning their careers in politics could enter spaces without needing twice the qualifications of their male peers, the congresswoman encouraged the young women in the audience to be bold and confident in their abilities. She encouraged them to utilize their connections and work hard.
With this event, IFES reaffirms its commitment to working with men and women to create space free from violence for women in politics. Using its tools to assess violence against women in elections online and its trainings for male allies, IFES will continue to work toward the full, substantive inclusion of women in politics around the world.
*Hannah Krull is a gender intern at IFES.