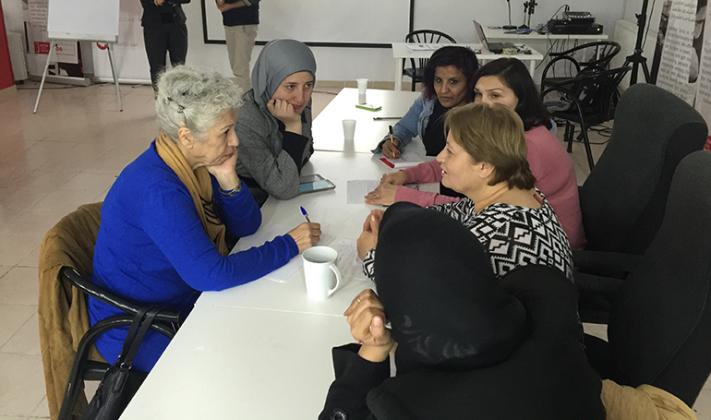 Women at the Syrian Peace Table
By Jessica Huber, IFES Senior Gender Specialist
Used by The Elders following the recent Syrian peace talks in Vienna, #wherearethewomen is an important social media petition that exposes the disconnect between interested and engaged Syrian women and their absence from international efforts to negotiate a settlement to the crisis in Syria. The International Foundation for Electoral Systems' (IFES) recent report "Crisis in Syria: Now is the time to seek Male Allies for leadership equality" reveals that many professional women are taking themselves out of the political sphere because they feel they are treated as "decorations" rather than peers. Nevertheless, Syrian women are calling for access to peace talks and are backed by United Nations (UN) Security Council Resolution 1325 on women, peace and security and a host of international actors' national action plans on 1325.
There is much talk about the end result of gender parity at "the peace table." Convincing arguments are being made from both a human rights perspective (i.e., women, by a matter of right, should be at the table), as well as a value proposition perspective (i.e., women will improve prospects for peace by broadening the agenda to include perspectives of the entire Syrian community). Counterarguments are made that qualified women are hard to identify. Furthermore, who would be willing to give up their seat at such a powerful table to let women in?
To support the ultimate and critically important outcome of gender parity at the peace table, steps can be taken now which could soften the distance between interested women outside the talks and the men on the inside track to future negotiations.
A women's caucus. Create the occasion for women to come together to build trust across the spectrum of Syrian communities, create an action plan for items of concern and develop a strategy for engaging stakeholders on priority political and peace issues. Third-party facilitators could support the women to navigate potential disagreements and focus on a progressive and inclusive agenda.
Male allies workshops. Create the occasion for male political leaders to come together and discuss the importance of an inclusive approach to peace in Syria. Pairing male champions for gender equality with men involved in politics and peace talks would create the opportunity for peer-to-peer discussions, which can facilitate space to raise questions, concerns and solutions to the gender gap.
1325 technical seminars. Bring men and women political and civil society leaders together to discuss the content and international mandate of UN Security Council Resolution 1325 on women, peace and security, and include external facilitation to share lessons learned and best practices from other contexts.
Town hall meetings. Bring men and women together in their local communities to discuss strategies, ideas and vet issues related to peace and security in Syria. Facilitate the delivery of points raised at these discussions to various political stakeholders working on peace negotiations.
Mediation and negotiation technical assistance seminars. As international actors convene technical assistance meetings, include women and men in equal numbers, regardless of who may eventually join a negotiation team, so that capacity and interest is maximized among all Syrians.
Basic gender and civic education training for women and men. Offer a technical training, based on existing international curricula, such as Building Resources in Democracy Governance and Elections (BRIDGE) Gender, to introduce and create buy-in for the concept of gender equality in political and electoral processes.
These actions and others would help to reduce the singular focus on the zero-sum injection of one gender in the place of another at future Syrian peace negotiations by expanding the understanding of issues related to peace and security and generating new alliances and common interests among men and women willing and able to work on peace in Syria. Furthermore, taking these actions will leave little opportunity for anyone to wonder where the women are once the negotiations begin.