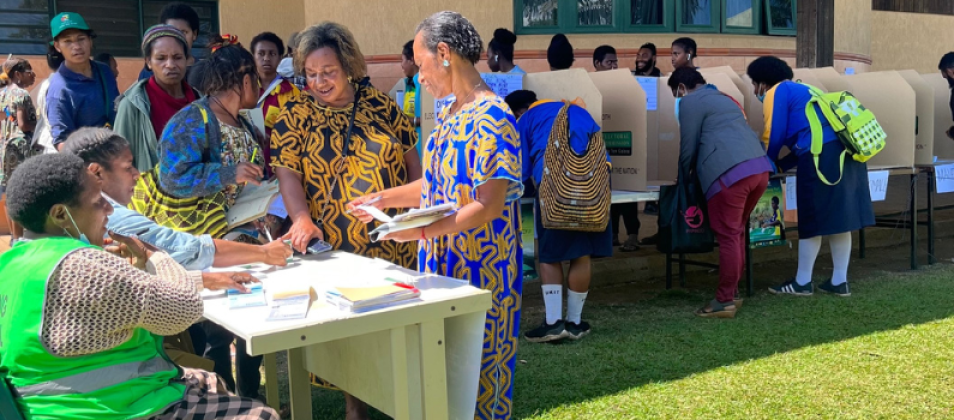 Elections in Papua New Guinea: 2022 National Election
From July 2-22, Papua New Guinean voters will have the opportunity to directly elect 118 Members of Parliament (MPs) to serve in the National Parliament for a five-year term. Of the 118 MPs, 96 will represent districts and 20 will represent provinces, one the National Capital District and one the Autonomous Region of Bougainville.
This year, voters will choose from 3,625 candidates, of whom 1,276 are endorsed by the 51 registered political parties and 2,349 are independent candidates. Members for provincial electorates generally also serve as provincial governors. Each province has its own provincial assembly and administration. Open electorate members also serve in their respective Provincial Assemblies. Following the issue of electoral writs on May 12, 2022, the official results are expected to be announced by July 29, the date by which the electoral writs for the 2022 National Election must be returned to the Governor-General of Papua New Guinea.
To help you understand this important electoral process, the International Foundation for Electoral Systems (IFES) provides Frequently Asked Questions (FAQs) on Elections in Papua New Guinea: 2022 National Election. IFES FAQs include:
What is the structure of the government?
Who is eligible to vote in the election?
What integrity measures are being used to prevent fraud during the election?
Learn more about IFES' programs in Papua New Guinea and follow @IFESAsiaPacific on Twitter.
Additionally, visit IFES' Election Guide for the most comprehensive and timely verified election information available online.
Published June 29, 2022.