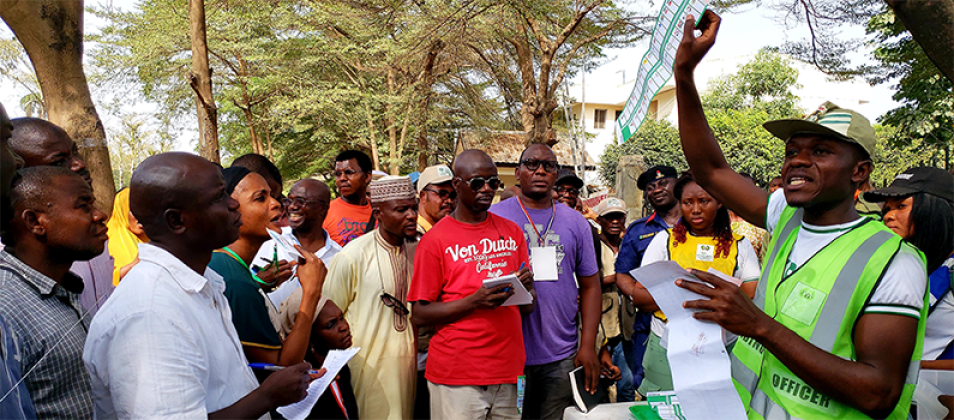 Assessing Nigeria's 2019 Elections Through a National Post-Election Survey
Date & Time
International Foundation for Electoral Systems, 2011 Crystal Drive, Floor 10, Arlington, VA, 22202
The International Foundation for Electoral Systems (IFES) is pleased to invite you to an event on Tuesday, December 10 at IFES headquarters, where the results of the post-2019 nationwide public opinion survey will be presented alongside discussions of developments in the Nigerian electoral process.
The 2019 general elections in Nigeria were perceived as generally free and fair. The IFES post-election survey, conducted in July and August 2019, dives deeper into public perception and measures awareness and trust in the Independent National Electoral Commission, exposure to voter education and information campaigns and knowledge of electoral procedures. The survey also included questions on the effects of misinformation and disinformation – "fake news" – among other topics. This is the second post-general election national survey conducted by IFES in Nigeria – the previous survey was conducted in 2015 – offering a point of comparison on Nigerian public perceptions on democracy in the country.
9:30-10:00 a.m.: Registration and Refreshments
A light breakfast will be served before the event.
10:00-10:10 a.m.: Welcome and Opening Remarks
IFES Regional Director for Africa Rushdi Nackerdien will provide opening remarks and moderate the discussion.
10:10 a.m.-12:00 p.m.: Post-Election Survey and Developments in the Electoral System
Featured speakers:
Seray Jah, Deputy Country Director, Nigeria, IFES
Rakesh Sharma, Director of Monitoring and Evaluation and Survey Research, IFES
An open question-and-answer session will follow the presentation of the post-election survey results and the discussions of electoral system developments.
12:00-12:30 p.m.: Lunch
Lunch will be served for participants following the event.
Follow @IFES1987 and @IFESAfrica to join the conversation.