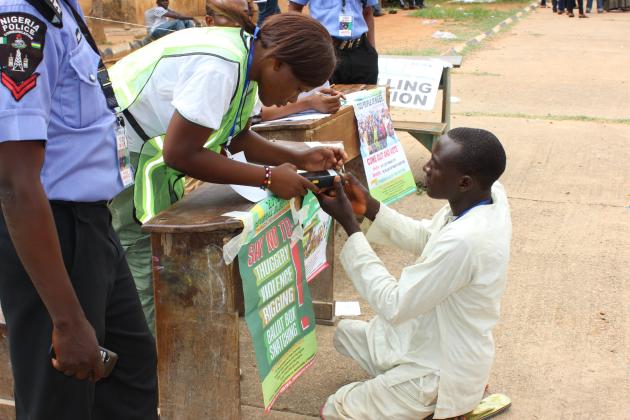 Assessing Nigeria's Historic 2015 Elections
Date & Time
Capitol Visitors Center (Senate Side) First Street Northeast, Washington, D.C. 20515
The International Foundation for Electoral Systems (IFES) is pleased to invite you to an event on Capitol Hill to discuss the historic 2015 general elections in Nigeria, which led to the first democratic transfer of power in the country's history, and present key findings from our recent post-election public opinion survey.
The mood in Nigeria is upbeat following the peaceful conduct of the 2015 general elections. The IFES post-election survey conducted in July-August 2015 shows an overwhelming majority of Nigerians (84%) expressing positive views regarding the integrity of elections, including a full 61 percent judging the presidential election to be completely free and fair.
Nearly three quarters of Nigerians also believe the 2015 elections were better than the 2011 elections in terms of both electoral integrity and level of organization. Favorable views of the election process also translate into improved perceptions of democracy in Nigeria: satisfaction with democracy more than doubled between pre-election to post-election levels with a 56 percent majority expressing satisfaction with the way democracy works in Nigeria, up from a mere 26 percent in the pre-election phase.
Positive perceptions of the electoral process have also resulted in a significant increase in confidence of the Independent National Electoral Commission (INEC) after the elections (85%), up by 17 percentage points relative to pre-election levels (68%).
IFES President and CEO Bill Sweeney will provide opening remarks.
Featured Speakers:
Professor Attahiru Jega, former Chairman, INEC
Rola Abdul-Latif, Senior Research Evaluation and Learning Manager, IFES
Shalva Kipshidze, Chief of Party, IFES Nigeria
Moderated by Negussie Mengesha, Africa Division Director, Voice of America
Please note that as there is limited space; the deadline to RSVP is 12:00 p.m. on Monday, September 28. Boxed lunches will be served. Guests should plan to enter through the Capitol Visitors Center main entrance, and bring photo ID.