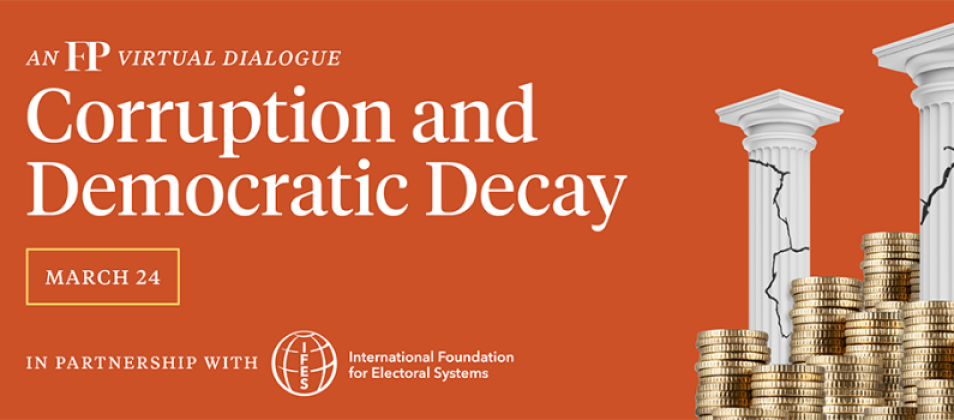 Foreign Policy and IFES Virtual Dialogue: Corruption and Democratic Decay
How corruption is creating cracks in democracies' foundations and what countries can do to stop it.
Pervasive corruption is ever-present in a global political landscape plagued by democratic backsliding. As the financial consolidation of power and the abuse of state resources erode public faith in institutions and undermine growth and development, both budding and established democracies are under threat. These trends are exemplified by Transparency International's (TI) reports that private interests and opaque campaign finance systems are increasing corruption perceptions in both the European Union and the United States.
As the authoritarian invasion of Ukraine catapults the defense of democracy into the international consciousness, democratic leaders around the world seek to emphasize the connection between corruption and unjust power systems. Initiatives such as the Biden administration's Summit for Democracy and Strategy on Countering Corruption and collaborations like the new US-UK-EU Inter-Parliamentary Alliance Against Kleptocracy prove critical. However, despite commitments to protect democracy and counter corruption, the means and methods to track and understand the impact of illicit financial flows have barely gotten off the ground. How can the U.S. and its global allies compel actionable change, and how can stakeholders collaboratively and effectively combat corruption at home and around the world?
Join Foreign Policy, in partnership with the International Foundation for Electoral Systems (IFES), for a timely conversation with changemakers and experts on trends in political corruption and authoritarianism, key takeaways from the Summit for Democracy and how to strengthen and employ an effective anti-corruption strategy to safeguard democracies around the world. This virtual dialogue will took place on March 24 at 11:00 a.m. to 12:00 p.m. ET.
Event Moderator:
Ravi Agrawal, Editor in Chief, Foreign Policy
Featured Speakers:
Anthony Banbury, President and Chief Executive Officer, IFES
Bill Browder, CEO, Hermitage Capital; Head of Global Magnitsky Justice Campaign; Author, Red Notice and Freezing Order
Katherine Ellena, Director, Center for Anti-Corruption and Democratic Trust, IFES
Justyna Gudzowska, Director of Illicit Finance Policy, The Sentry
Michael Johnston, Charles A. Dana Professor of Political Science, Emeritus, Colgate University
Miranda Patrucic, Deputy Editor in Chief, Regional and Central Asia, Organized Crime and Corruption Reporting Project
Watch the event below.