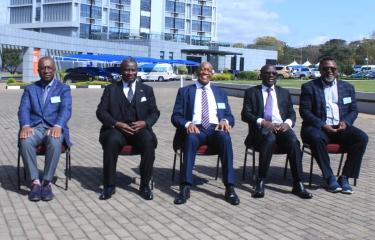 IFES brings together people who care about the future of democracy from around the world to learn and build networks. From election practitioners to anti‑corruption experts, from civil society to students, our events create opportunities to build networks and advance knowledge in the cause of democracy.
Judges on the frontline of African democracy
This July, from eight countries across Africa, over 80 high-level judges, civil society representatives, and other practitioners gathered in Malawi and online to share experiences on election dispute resolution, identify challenges, and exchange legal solutions. This was the second peer-to-peer event of the Africa Electoral Justice Network, which enhances participants' appreciation of the application of rules of procedure in elections and consolidates knowledge and understanding of challenges facing Africa's judiciaries.
 
Launch of Electoral Integrity Cohort in India
Traveling to India in October, IFES CEO and President Tony Banbury joined the Election Commission of India and other partners to launch the Election Integrity Cohort, which IFES co-led with India, Greece, and Mauritius at the second Summit for Democracy. As election leaders face unprecedented challenges, they discussed how to shore up democratic trust.
Anti‑corruption global summit in Prague
In October, IFES's Center for Anti-Corruption and Democratic Trust, in partnership with the Central and Eastern European Law Institute (CEELI), brought together civil society organizations to discuss issues like political finance, abuse of state resources, and judicial reform. Convened under the Effective Combat Against Corruption and Implementing Anti-Corruption Treaties and Standards projects, the event aimed to address gaps in the implementation of anti-corruption priorities in nine countries.
This program is funded by the U.S. Department of State's International Narcotics and Law Enforcement Affairs Bureau.
Regional disability rights dialogue
People with disabilities face many barriers exercising one of their most fundamental rights as individuals–the right to engage meaningfully in civic and political life. The COVID-19 pandemic brought forth many unprecedented challenges for persons with disabilities. IFES and the General Election Network for Disability Access (AGENDA) hosted a two-day dialogue to strengthen joint advocacy and cross-regional collaboration for disability inclusion, engaging 229 participants across different sectors and age groups from countries in Southeast Asia and Africa.
The AGENDA network is funded by the Australian Department of Foreign Affairs and Trade and the U.S. Department of State.
 
Watch this discussion with Tolhas Damanik, Disability Rights Advisor at AGENDA-IFES
Text
AGENDA and IFES held the AGENDA 5th Regional Disability Rights Dialogue virtually. The event aims to support efforts to fulfill disability rights in Southeast Asia. Check out the discussion with Tolhas Damanik, Disability Rights Advisor at AGENDA-IFES.