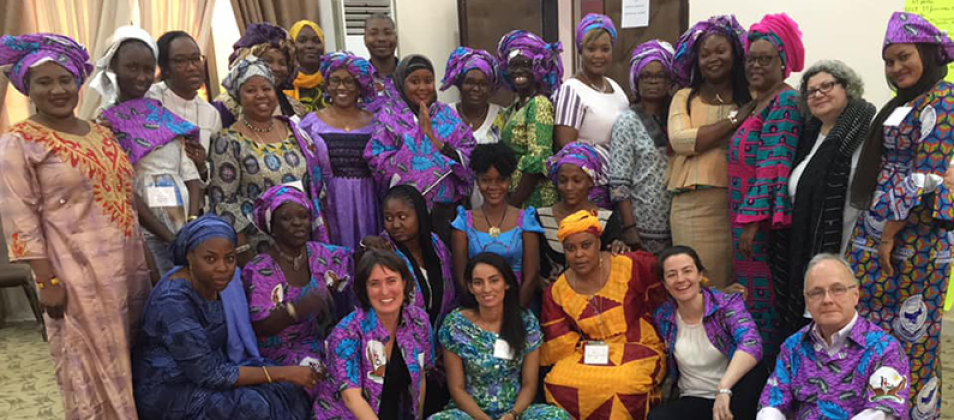 Advancing Women, Peace and Security Agenda in the Sahel
by Hannah Krull*
The International Foundation for Electoral Systems (IFES) partnered with the Research Network on Peace Operations (ROP) to support women working on women, peace and security issues from across the Sahel region and Côte d'Ivoire during a training held March 7-10, 2019, in Ouagadougou, Burkina Faso. Over the course of 2019, these 27 women are engaging in a series of trainings organized by the ROP and delivered by global experts on peace processes, constitutional reform, cease-fires and security and mediation techniques. Under the leadership of ROP Director Marie-Joelle Zahar, a professor of political science at the Université de Montréal and former member of the United Nations Standby Team of Mediation Advisers, the group has engaged in hands-on learning and built an active network community offering mentorship, advice, encouragement and support.
During the March training, IFES Gender Advisor Dr. Gabrielle Bardall worked with the group to explore issues related to applying the United Nations Security Council Resolution (UNSCR) 1325 on Women, Peace and Security to transitional democratization processes. IFES' contribution focused on gender-sensitive constitutional design and the role women can play in constitutional consultation processes. Bardall worked with the group to better understand gender dimensions of transitional elections in insecure environments, with a special emphasis on understanding violence against women in politics and measures participants can take to prevent and eradicate it.
The program participants are rising women leaders from five Sahel countries – Burkina Faso, Chad, Mali, Mauritania and Niger – who are actively engaged in implementing UNSCR 1325 in their countries at national or local levels. They represent a diverse group of journalists, city councilors, nongovernmental organization leaders and young academics. All were selected through a highly competitive selection process by the ROP in 2017-18 that emphasized identifying new talent from outside established channels dominated by limited circles of elite women and have demonstrated a commitment to advancing women's rights and an interest in participating in conflict resolution activities.
Based out of the Université de Montréal, the ROP was created in 2005 to enhance applied research and skills building around peacekeeping operations in the Francophone world.
*Hannah Krull is a gender intern at IFES.