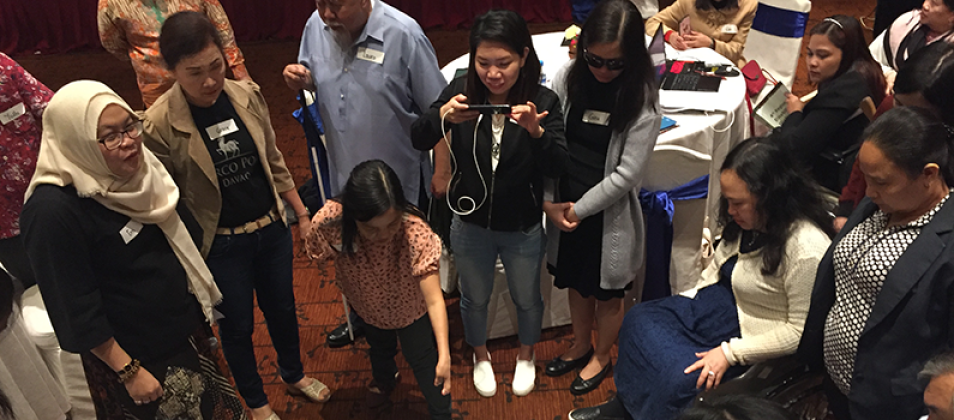 Advocates Trained to Evaluate Implementation of Regional Disability Rights Policy Document
Disability rights advocates in Southeast Asia will support government stakeholders to monitor progress of a new regional policy document, yet few advocates have experience collecting data on policy implementation.
On January 30, the International Foundation for Electoral Systems (IFES) and the General Election Network for Disability Access (AGENDA) trained advocates from disabled people's organizations (DPOs) and election-focused civil society organizations from Cambodia, Malaysia, Myanmar, the Philippines, Thailand and Vietnam. The training, "Monitoring and Evaluating Implementation of the Association of Southeast Asian Nations (ASEAN) Enabling Masterplan," was led by IFES Senior Inclusion Officer Rebecca Aaberg, AGENDA Disability Rights Advisor Tolhas Damanik, AGENDA Program Manager Erni Andriani and IFES Consultant John Paul Cruz. It used interactive lessons to build participants' knowledge of the reporting process for the new ASEAN Enabling Masterplan 2025: Mainstreaming the Rights of Persons with Disabilities. The masterplan, a regional policy document launched by ASEAN in December 2018, includes action points intended to be implemented by ASEAN sectoral bodies and member states by 2025.
Training participants practiced monitoring and evaluation (M&E) skills, such as identifying targets and indicators. They applied new knowledge to the masterplan process by discussing how DPOs can contribute to masterplan reporting and identifying government stakeholders in the reporting line with whom to share data. Participants also drafted potential indicators for masterplan action points and reviewed ASEAN work plans for alignment with the masterplan.