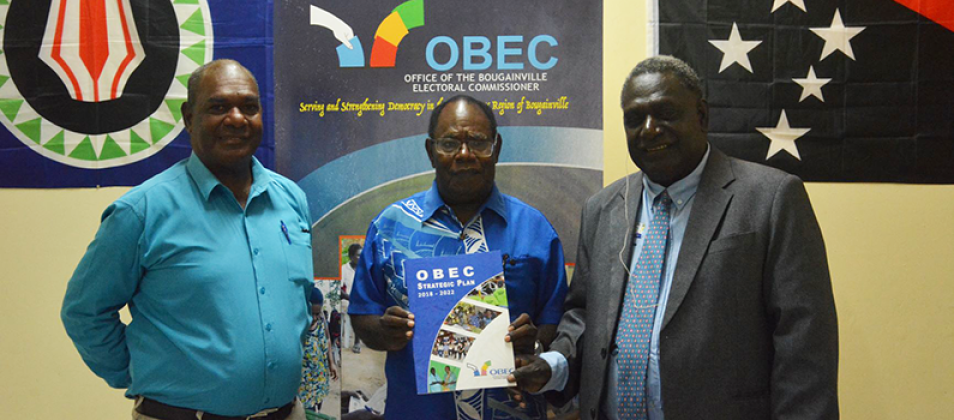 Bougainville Election Commission Launches Strategic Plan
by Cameron Beene*
On November 30, 2018, the Office of the Bougainville Electoral Commissioner (OBEC) launched its 2018-2022 Strategic Plan, which sets out a vision for OBEC to become an independent, competent and transparent electoral body that can organize inclusive, credible elections for Bougainville. The five key areas on which OBEC will focus are: election operations and processes, inclusive and accurate voter enrollment, voter awareness and community involvement, sound legal and regulatory framework and capacity building with a focus on enhancing financial management. By concentrating on these key areas, OBEC plans to build on the success they have had as a young institution and create a sustainable institution that can respond to electoral challenges as they arise.
Throughout 2018, advisors from the International Foundation for Electoral Systems (IFES) guided OBEC in developing and writing the strategic plan, which included incorporating input from all OBEC staff levels. IFES began advising OBEC on the creation of this plan in January 2018 by conducting a three-day workshop with eight managers to define OBEC's mission, vision and guiding principles. A second two-day workshop was held in March 2018 with 20 OBEC staff to dig into each guiding principle and identify internal strengths and weaknesses and external opportunities and threats. The outputs from the second workshop formed building blocks on which the full strategic plan could be based. Over the next eight months, IFES advisors brought together representatives from all levels of OBEC and from regional offices to refine and finalize their goals based on international best practices.
"You should all take pride in the work that you have done… Your work will bring ongoing benefits to many people of Bougainville in [the] future." – OBEC Commissioner George Manu at the launch
The 2018-2022 Strategic Plan is the first strategic plan to be adopted by OBEC since its establishment in 2013 and will serve as a guiding document over the next few years. The inclusive and participatory process has instilled a sense of ownership across OBEC and an institutional drive to provide credible, transparent and inclusive elections.
A photo gallery of the strategic plan workshops and launch can be found here or by clicking on the image below.
OBEC staff listen to presentations during a group activity at the strategic planning workshop in January 2018.
The "Bougainville Electoral Support Program" is supported by the Australian and New Zealand governments in partnership with the Autonomous Bougainville government and the government of Papua New Guinea.
*Cameron Beene is a program associate for Asia-Pacific at IFES.