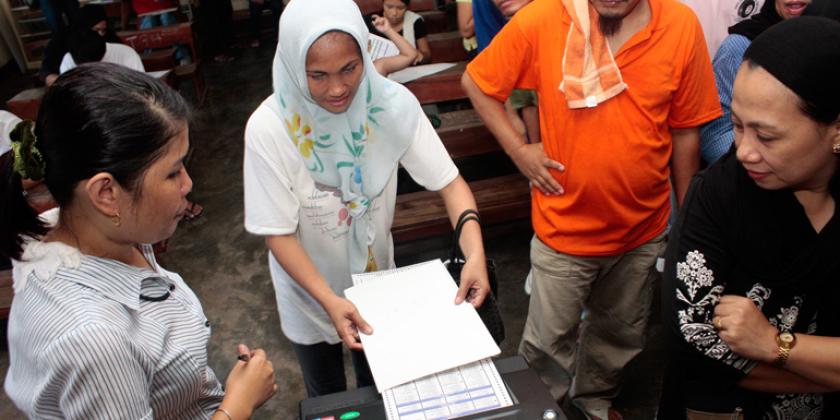 Is Digital Security Affecting Transgender Citizens' Voting Rights?
By Ritika Bhasker, IFES Program Officer and Jessica Huber, IFES Senior Gender Specialist
There have been three large-scale voter list leaks in the past few months that we know of. The
Philippines Commission on Election was hacked by a group known as LulzSec Pilipinas in late-March and the personal information (including passport information and fingerprint data) of approximately 55 million voters was made public; Turkish authorities saw a leak of their citizenship database, and the personal information of 49 million Turkish citizens, in early-April; and in late-April, voter records of 87 million Mexican voters were made publically accessible. 191 million U.S. voters were also affected in December 2015, when their personal information was posted online.
While there is a growing global demand for more accessible, transparent, and usable data, there is an equally strong demand for better digital security. Personally identifiable information (PII) kept on voter registration rolls – including addresses, biometric information, and gender identity – must be protected through robust data security measures, and should not be publically accessible without the consent of the voters themselves. In an effort to address this growing concern, the International Foundation for Electoral Systems (IFES) plans to conduct an in-depth analysis of election management body (EMB) digital security practices and develop a diagnostic tool to help EMBs practice better digital security. As part of this effort and to underscore its commitment to the inclusion of all people in the electoral process, IFES is interested in understanding the effects of voter registration leaks and data breaches on the LGBTI community and, in particular, on the transgender community which suffers levels of violence at alarming rates.
IFES recognizes that alone it cannot change the culture of discrimination that exists globally, and it provides technical assistance in key areas to civil society organizations, as well as to governments and EMBs. IFES takes a carefully constructed and nuanced approach to LGBTI program design and implementation, informed by targeted research and specific international development contexts, that takes into account issues unique to this community, including security, legal barriers, and cultural sensitivities, among others.
Organizations in the U.S. have raised concerns about voter ID posing an additional barrier to voting for the transgender community. With required voter ID in several states, and a lack of poll worker training on LGBTI issues there is also an increasing number of reports of transgender citizens being denied the right to vote and experiencing harassment and even assault. With the added threat of leaks and breaches in personal information, there is likely to be an added reluctance within the community to register to vote for fear of violent attacks stemming from entrenched discrimination and inequality. IFES is concerned about voter ID issues affecting the transgender community and whether the effects of failing digital security infrastructure on electoral participation may be creating institutional and systemic barriers that may cause, at the very least, additional obstacles and, at most, lead to further violence against transgender women and men.
As IFES works to understand the extent of this issue, the following steps can be taken now to protect individual voters, including the most vulnerable voting populations like the transgender community:
EMBs and other government institutions must make digital security a top priority; 
Sharing data that includes PII should have stronger protocols for secure data transfer and guaranteed anonymity of individuals;
National and sub-national data privacy laws should be updated; and,
More resources should be dedicated to understanding the relationship between open data and digital privacy, including voter information, in the context of increasingly data-driven international development.