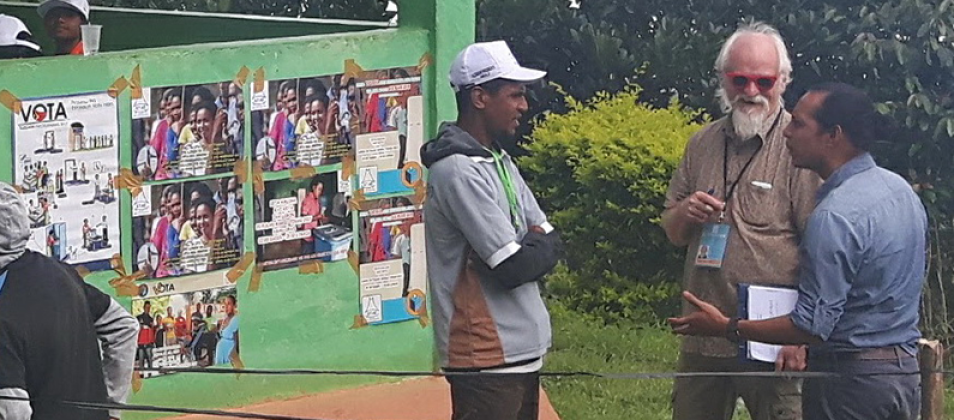 Elections Adviser Alan Wall to Receive 2019 IFES Baxter Award
The International Foundation for Electoral Systems (IFES) is pleased to announce that Alan Wall, a senior elections adviser and former IFES chief of party, is the recipient of the 2019 Joe C. Baxter Award, after being unanimously selected by IFES' current chiefs of party.
The annual Baxter Award recognizes the contributions of election professionals whose skills and dedication to the field of election administration epitomize the mission of IFES and embody the spirit of former IFES Senior Adviser for Election Administration Joe C. Baxter.
"On behalf of IFES' staff and Board of Directors, I would like to congratulate Alan Wall on his professional achievements and service to the field of democracy and governance," said IFES President and CEO Anthony Banbury. "He is the first Baxter Award recipient to have been unanimously selected by his colleagues in the field, demonstrating his reputation and extraordinary impact. IFES and democratic societies around the world have been made better by his work."
"The challenges faced by election managers have never been greater during the 35 years I have been involved in electoral management, and the expertise provided by IFES is as needed today as when it was founded in 1987," said Wall. "Combating election interference, ensuring public trust in electoral technology, promoting a level electoral playing field and ensuring fully inclusive participation in democratic life require the professionalism, commitment, transparency and integrity that were the essence of Joe Baxter's work. I feel very honored to have been nominated for the Baxter Award by my peers at IFES, and grateful for the opportunities to have worked with so many citizens devoted to their countries' democratic development."
Wall has over 30 years of experience in electoral management and democracy development. He served as IFES chief of party in Azerbaijan, Indonesia, Kosovo, Nepal and Timor-Leste. During his tenure with IFES, Wall offered advice to local stakeholders on electoral law and administration reform, local government reform, electoral training, judicial development, constitutional review, electoral inclusion, opinion polling, mass media development and civic education. From 2005-10, Wall worked in various capacities with Democracy International (DI), including serving as country director in Indonesia, adviser to the Aceh Election Commission for the 2006 post-conflict elections, and implementing DI's Timor-Leste Research Development Program.
Wall also held management positions with the Australian Electoral Commission from 1985-95, in the fields of voter registration, election operations, systems development, and audit and evaluation. He also served with the United Kingdom-Australia-Commonwealth Secretariat Technical Assistance Group, advising on structures and elections for South Africa's first fully representative local government bodies. He was deputy chair of the Transitional Election Commission set up by the United Nations (UN) Transitional Administration for Eastern Slavonia and UN technical adviser to the Independent National Electoral Commission of Nigeria. He is a co-author of Electoral Management Design: The International IDEA Handbook (2006). Wall was the initial lead writer for the voting operations section of the ACE Electoral Knowledge Network's Encyclopedia and a writer for its sections on electoral management and voting operations.
The Joe C. Baxter Award, given annually, honors an individual with a proven track record of exceptional dedication to election administration. The Baxter Award is given in memory of the late Joe Baxter, a legendary figure in the field of international electoral assistance. Baxter began his work with IFES in 1994 as chief of party in Ghana, setting up mechanisms to register 9.2 million voters and train tens of thousands of election officials. In recognition of his efforts, he was named a chief by one of Ghana's largest tribes. From 1997-2002, as a senior adviser to IFES, his professionalism, kindness and respect left lasting impacts on the people he worked with during IFES missions to Africa, the Middle East and Asia.
Past recipients of the Baxter Award include Vietnamese elections expert Dong Nguyen Huu (2018); Chairwoman of the Central Election Commission of Georgia Tamar Zhvania (2017); former President of Tunisia's Independent High Authority for Elections Chafik Sarsar (2016); Australian election management expert Michael Maley (2015); former Chief Electoral Commissioner and Chairman of the National Electoral Commission of Sierra Leone Dr. Christiana Thorpe (2014); Professor of Political Science and Government at Aarhus University in Denmark Jørgen Elklit (2013); former Chairman of the Philippine Commission on Elections Christian Monsod (2012); Argentine campaign finance expert Dr. Delia Ferreira Rubio (2011); former Chairman of the Electoral Commission of Ghana Dr. Kwadwo Afari-Gyan (2010); and Spanish elections expert Dr. Rafael López-Pintor (2009).
###
As the global leader in democracy promotion, IFES advances good governance and democratic rights by providing technical assistance to election officials; empowering the underrepresented to participate in the political process; and applying field-based research to improve the electoral cycle. Since 1987, IFES has worked in over 145 countries, from developing to mature democracies. For more information, visit www.IFES.org.