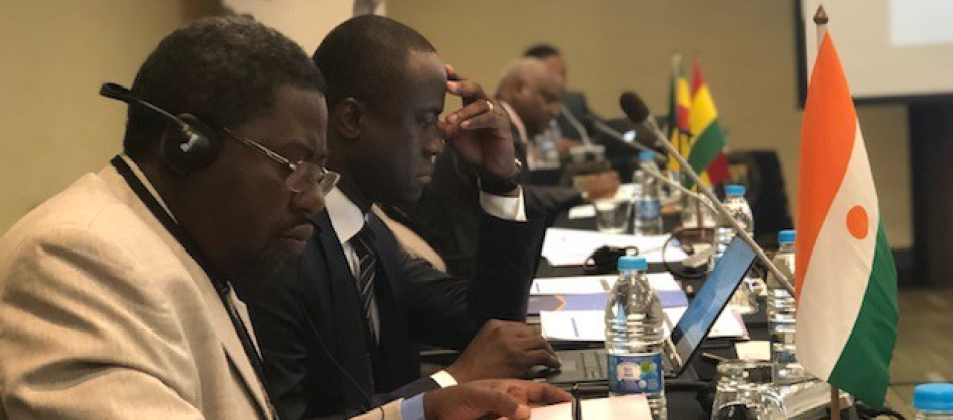 Elections on Trial Project: Inaugural Meeting of the Africa Electoral Jurisprudence Working Group
The credibility of elections, acceptance of election results and stability of the election environment increasingly hinge on the effective resolution of disputes and violations throughout the electoral cycle. However, while there are multiple networks for election administrators to have peer-to-peer discussions on election management issues, most election judges and arbiters who are dealing with these disputes and violations lack peer support.
To address this gap, the International Foundation for Electoral Systems (IFES) is working to establish regional peer networks of election arbiters, supported by the United States Agency for International Development (USAID) under the "Global Elections and Political Transitions" program. Regional knowledge exchange allows judges and election commissioners to discuss best practices and share comparative examples of how other countries deal with specific categories of complaints and disputes.
Following the inaugural meeting of the Europe and Eurasia Electoral Jurisprudence Network in Lithuania last year, the pilot Africa network event took place in Johannesburg, South Africa, on April 16-17. High-level judges attended from Ethiopia, Ghana, Kenya, Niger, Nigeria, Senegal, South Africa, Zambia and the African Court of Human and Peoples' Rights. All of the members of South Africa's Electoral Court and several regional courts also attended the full event, despite elections being weeks away. Strong collaboration with three local partners – the South Africa Judicial Education Institute, the International Commission of Jurists and the Africa Judges and Jurists Forum – was critical to the event's success and will help drive the network's future direction.
During the discussion sessions, judges focused on challenges in their own jurisdictions, including difficult timelines, evidentiary issues, distrust in the judiciary, a need for streamlined procedures to deal with interlocutory applications, differing thresholds for annulments and impunity for election offenses. A core group of judges formed a working group to carry the initiative forward.
"[I]t is high time we had this kind of conference. Experience shows that drawing on comparative law make your own law more effectively applied, and law applied in other jurisdictions can guide you in new areas. I believe this kind of network is important and we need some kind of compendium of cases and a set of minimum standards." – A senior judge who participated in the pilot event
Planning and discussion for future meetings and outputs of both the Europe and Eurasia and Africa networks are underway, and both networks will be connected to the development of the compendium of electoral jurisprudence and national case law that IFES is also producing under the "Elections on Trial" project.
IFES' "Elections on Trial" project is made possible with support from USAID through the Consortium for Elections and Political Process Strengthening (CEPPS). Established in 1995, CEPPS pools the expertise of three premier international organizations dedicated to democratic development: IFES, the International Republican Institute and the National Democratic Institute. CEPPS has a 20-year track record of collaboration and leadership in democracy, human rights and governance support, learning from experience, and adopting new approaches and tools based on the ever-evolving technological landscape.