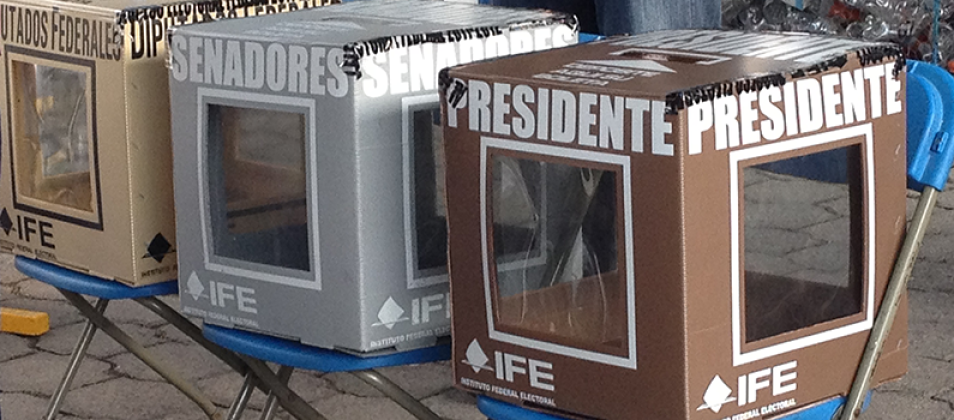 Electoral Justice Assessment of the 2018 Mexican Elections
Under a Memorandum of Understanding signed in December 2017, the International Foundation for Electoral Systems (IFES) and the Electoral Tribunal of the Federal Judicial Branch (TEPJF) of Mexico are collaborating on research, program implementation, and the sharing of knowledge in mutual priority areas, including open justice, strengthening access to case law on electoral justice, model rules of professional conduct for election adjudicators, and other areas of common interest.
The TEPJF is a permanent judicial body dedicated to the resolution of electoral cases. It is comprised of a High Chamber, five regional chambers, and one regional/specialized chamber. As part of this collaboration, for the 2018 Mexican elections IFES will deploy two assessment missions, pre- and post-election, to examine electoral justice processes. The assessment teams will also analyze election dispute resolution (EDR) mechanisms at the sub-national level, and will specifically focus on unique TEPJF processes tailored to marginalized groups such as women and indigenous populations.
Background to the 2018 Assessment
Mexico's July 2018 elections are unprecedented in their magnitude and significance. Mexico will hold presidential, legislative, senatorial, and gubernatorial elections, and elect the mayor of Mexico City and municipal officials. In total, 18,299 positions are at stake. Members of the legislature elected in 2018 will be the first permitted to run for re-election in subsequent elections.
The National Electoral Institute (INE) and the TEPJF are the cornerstones of the Mexican electoral ecosystem. As noted recently in IFES testimony to the United States Congress' Foreign Affairs Committee, Mexican electoral authorities face three significant challenges: 1) coordination between national and local electoral authorities; 2) political conflict; and 3) apathy or disengagement among some groups in the electorate.
The TEPJF is the highest authority in Mexico on electoral matters and is mandated to ensure that the administration of elections meets constitutional requirements. The effective resolution of electoral disputes is integral to guaranteeing the integrity and legitimacy of an election. EDR addresses the full spectrum of stakeholder grievances in the form of complaints, challenges, objections, violations and offenses relating to all stages of the electoral process, as well as petitions against the results of an election.
Mexico, like most countries, does not have legislation regulating cybersecurity and elections, or specifically governing emerging issues around disinformation via social media. It is anticipated that the TEPJF will see cases touching on these issues, potentially generating jurisprudence that responds to this gap in the law. This puts the TEPJF in a potentially delicate position, as it is called upon to balance issues of electoral integrity with freedom of expression and freedom of commerce, while also remaining within its constitutional mandate.
Given this complexity, electoral democracy in Mexico is an example of progress made to date and an opportunity to examine future challenges. It is also an opportunity to assess innovations to strengthen electoral justice that can provide wider lessons globally. For example, Mexico has adopted special protocols to resolve electoral disputes that have a particular gender or indigenous perspective, something that is an important model for other countries in which IFES works.
Assessment Methodology
Since its publication in 2011, the EDR principles detailed in IFES' Guidelines for Understanding, Adjudicating, and Resolving Disputes in Elections (GUARDE) publication have been incorporated into IFES programming to ensure the standardization of technical assistance to election management bodies and the institutionalization of international best practices and standards among election arbiters. An evidence-based assessment methodology – including a stakeholder survey, monitoring and evaluation indicators, and evaluation report framework – was developed based on the GUARDE framework.
For the 2018 Mexican electoral process, IFES will apply this methodology, grouping the seven GUARDE standards in four key sub-categories:
The institutional EDR model;
The rules and procedures in place for investigating and resolving complaints and disputes;
Remedies, sanctions, and enforcement of decisions; and
Public outreach and training on EDR.
To conduct an assessment, IFES teams meet with key actors and conduct detailed desk research and analysis of legal and regulatory frameworks and relevant case law. The assessment uses international global practices, captured in GUARDE, as a benchmark to guide the set of observations and actionable recommendations. Additional information may be captured via a survey of stakeholders with significant in-country experience and expertise.
In Mexico, IFES experts will also examine specific TEPJF decisions, which in the pre-election phase may include cases regarding the verification of candidate signatures by the INE, and the results transmission process. TEPJF case management approaches and open justice practices will also be a focus of the analysis. Finally, the assessment report will also identify lessons from Mexico that might be applicable elsewhere, and will include comparative examples from other countries in dealing with similar issues or challenges faced by Mexico's electoral justice institutions.