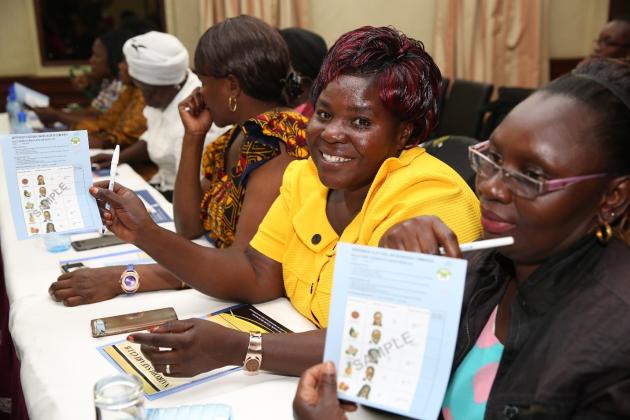 Empowering Kenya's Chama Market Women through Advocacy Training
As Kenya draws close to the August 2017 elections, one area of concern has been the underrepresentation of women in the electoral process. Underrepresentation by this often-marginalized group does not only stem from the number of women that register to vote but also the lack of availability of targeted voter education. To this end, the International Foundation for Electoral Systems (IFES), through the "Kenya Electoral System Support" program funded by Global Affairs Canada, is implementing a pilot voter education program aimed at empowering women to act as advocates in their local communities. This program is directed at strengthening the effectiveness of voter education initiatives targeting women voters and improving voter access to the electoral process through working with Chama women groups.
Chama women's groups are microfinance community support networks where members also share community news and advocate on important topics. The groups meet monthly and vary in size from a minimum of 15 members to a maximum of 35. The Chama women that the IFES program is working with all live and work in the informal settlement/market areas of Kayole and Soweto, within part of the Embakasi Central Constituency on the outskirts of Nairobi. Many of the women operate market stalls in these settlements making them uniquely positioned to act as advocates for voter education initiatives, as they engage with a large number of local women of all ages on a daily basis. 
[caption caption="Chama women attend a voter education training session."]
[/caption]
IFES' Chama Women's program initially started with 13 women as core members, with the objective to encourage other women from their area to verify their voter registration so that they can vote come Election Day. Over a two-week period, the Chama women reported to have encouraged about 1,400 other women to check their registration status, during the voter verification exercise that was nationally conducted in mid-May to early June 2017. Prior to commencing their voter education efforts, IFES organized a one-day training workshop for the 13 Chama women on topics such as the importance of voter verification and the registration process, and how they could encourage and motivate other women to participate. At the conclusion of the verification period, IFES then held a half-day review meeting with the Chama women to ascertain how successful the pilot program had been, what problems the women had faced, and also to explore the potential for expanding this activity.
It was clear that the women wanted not only to continue their involvement with the initiative, but also expand this successful program. IFES decided to increase the core number of Chama women from 13 to 78, with each of the original women recruiting an additional five women each. The major aim of the expanded program was to further encourage and motivate women to turn out and vote, and to provide them with additional information to be able to answer questions on the election and voting procedures, as they continue to reach out to other members of their community. To facilitate this, IFES organized two half-day follow-on training workshops that were conducted with the Independent Electoral and Boundaries Commission (IEBC) presenting a session on voting procedures and answering various questions. Additionally, because the area where the Chama women will be operating can be very volatile and thus has the potential to see election-related violence, as was the case following the 2007 Kenyan election, these trainings also included topics on security and avoiding risks.
[caption caption="Chama women learn how to engage their local community using voter education."]
[/caption]
For the 2013 Kenyan election, voter turnout in the Chama's women's constituency of Embakasi Central was six percent under the national average, and the number of invalid votes was slightly higher than average. During the voter registration exercise conducted in the lead-up to the 2017 elections, registration in the same constituency increased from 102,663 to 131,991 – well above the national increase of about 25 percent. Many of these new registrations were young people and almost half were female.  
The IFES Chama Women's Program is unique in Kenya in that no similar activity is being conducted by the IEBC or by civil society organizations on voter education. It directly targets women in informal settlements/market areas and uses local women to contact other local women in their own environment. Following the election, a second review workshop of the pilot will be conducted with all the Chama women with the aim of establishing the programs achievements, identifying problems that arose during implementation and how they were addressed, and making recommendations for the future of this approach for subsequent Kenyan elections and continued engagement and mentorship during the electoral cycle.