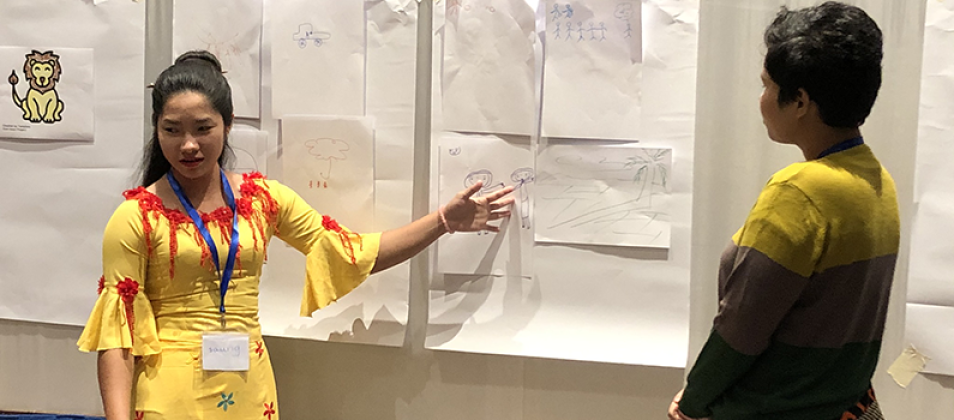 Empowering Persons with Intellectual Disabilities to Become Leaders in Myanmar
On February 26-28, the International Foundation for Electoral systems (IFES) and Future Stars, a self-advocacy organization, trained new trainers with intellectual disabilities on its Building Self-Confidence to Participate in Political Life curriculum in Yangon, Myanmar. The training of trainers (ToT) prepared four people with intellectual disabilities on how to build self-confidence to effectively and meaningfully participate in political life. IFES Inclusion Specialist Rebecca Aaberg led the interactive three-day ToT.
Throughout the training, participants engaged in lessons on self-confidence and practiced how to express self-confidence by using different tones of voices and body language. Participants identified their personal strengths by using stickers to place on images of different concepts, such as being a hard worker, good listener, friendly or patient. They also shared their successful experiences with each other and learned more about positive attitudes.
The future trainers with intellectual disabilities also led various training lessons alongside the Future Stars staff and their peers. This innovative approach empowered persons with intellectual disabilities to become leaders and increased their willingness to take part in political life. Furthermore, the training changed the perceptions of the caregivers who came with the future trainers as support after they saw the future trainers take the lead with their peers. Additional trainers with intellectual disabilities have been identified by Future Stars and will be trained in the coming weeks.
IFES' work on disability inclusion in Myanmar is supported by the Australian Department for Foreign Affairs and Trade, Global Affairs Canada, the Embassy of Denmark, the Swiss Agency for Development and Cooperation and UK aid.