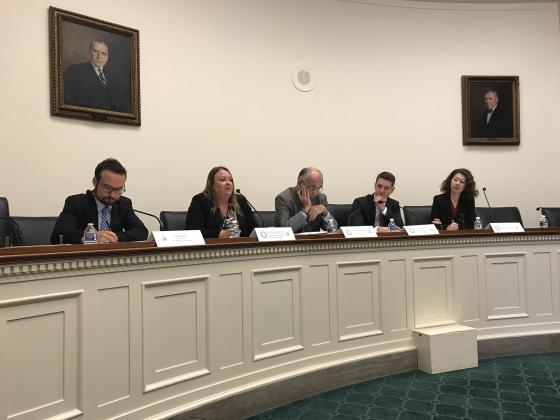 News and Updates
Interview/Speech/Testimony
Europe and Eurasia Director Participates in Hill Briefing on Turkey
On Tuesday, May 2, 2017, International Foundation for Electoral Systems (IFES) Regional Director for Europe and Eurasia Dr. Beata Martin-Rozumiłowicz participated in a joint Capitol Hill briefing of the Commission on Security and Cooperation in Europe (Helsinki Commission) and the Tom Lantos Human Rights Commission on "Turkey Post-Referendum: Institutions and Human Rights."
Dr. Martin-Rozumiłowicz, the first panelist to speak, commented on the conduct of Turkey's April 2017 constitutional referendum. Citing observer reports and best practices, she critiqued the referendum's legal framework, administration and complaint/appeal processes, as well as limitations to voter registration, campaign activities, and balanced media coverage.
Dr. Martin-Rozumiłowicz was joined on the panel by:
Congressman Jim McGovern (D-MA, opening remarks)
Henri Barkey, Director, Middle East Program, Woodrow Wilson International Center for Scholars
Ebru Erdem-Akçay, Turkish political scientist
Nate Schenkkan, Project Director, Nations in Transit, Freedom House
Everett Price, Policy Advisor, Helsinki Commission (moderator)
Please click here to view a full video of the event.
Please click here to view IFES' FAQs on "Elections in Turkey: 2017 Constitutional Referendum."