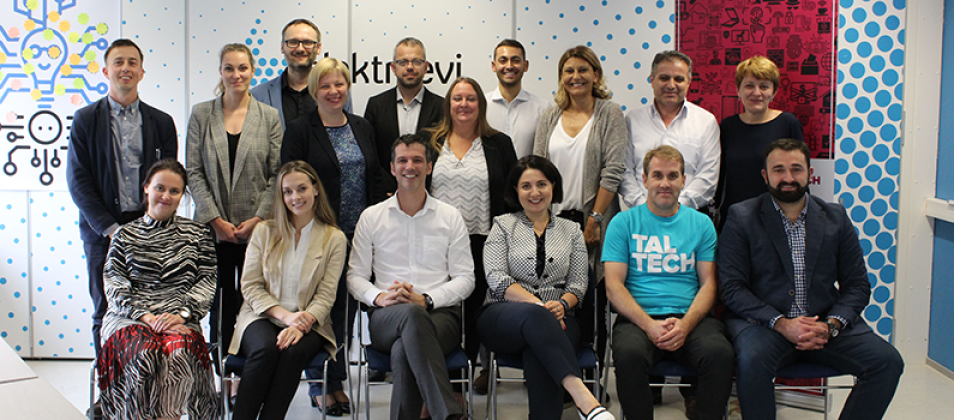 European Election Management Body Representatives Trained on Electoral Technology and Cyber Hygiene
by Andrew Rogan*
The International Foundation for Electoral Systems (IFES) and local partner Ragnar Nurkse Department of Governance and Innovation at the Tallinn University of Technology (TalTech) held a training course on electoral technology and cyber hygiene, or basic cybersecurity practices, in Tallinn, Estonia, from June 25-27. The 2 1/2-day course brought together representatives from 11 election management bodies to learn more about technology in elections and international good practices in cyber hygiene, culminating in an accreditation provided by TalTech.
The 12 participants from Bosnia and Herzegovina, Croatia, Estonia, Georgia, Kosovo, Latvia, Lithuania, North Macedonia, Poland, Romania, and Serbia engaged in interactive lessons and guided discussions facilitated by two IFES experts, covering case studies in election technology and how to build better cyber behavior across their institutions.
During IFES Regional Director for Europe and Eurasia Dr. Beata Martin-Rozumiłowicz's opening remarks, she expressed the increased importance of technology in elections and the growing challenge of cybersecurity threats to democracy. TalTech Professor Robert Krimmer presented on the evolution of e-voting in Estonia, and Ann Valjataga from the Law and Policy Branch of the North Atlantic Treaty Organization's Cooperative Cyber Defence Centre of Excellence (CCDCOE) introduced participants to the CCDOE's related work.

The course served as a pilot for a new regional IFES curriculum, which utilizes open-source information and showcases the role of electoral technology around the world and good cyber-hygiene practices. Following the course, participants visited the CCDCOE in Tallinn to get a glimpse of its operations, research and thought leadership on emerging cyber challenges.
Giorgi Kalandarishvili of the Central Election Commission of Georgia emphasized that the course taught several useful skills for work and personal cyber behavior. After the course, Kalandarishvili expressed his desire to share the details with his institution, "I have to report what we have done, experienced and learned… I want to focus on [the] case studies we spoke about in the training."
"It is important to bring us together and exchange ideas, in order to see the advantages and disadvantages from every country."
One of the greatest takeaways noted by participants was the benefit of sharing thoughts, current practices and perspectives with their counterparts in other countries. "It is important to bring us together and exchange ideas, in order to see the advantages and disadvantages from every country," reflected Albina Rosandić of the State Election Commission of Croatia.
The course was also unique in its gender parity, with equal numbers of men and women participating. Anamaria Revnic-Călugărița from the Permanent Electoral Authority in Romania shared the importance of including women in such training opportunities: "It is very empowering as it gives access to information power and allows us to bring back valuable experience and knowledge. Our status within our institution rises."
The course was part of IFES' "Regional Elections Administration and Political Process Strengthening (REAPPS)" project in Europe and Eurasia, funded by the United States Agency for International Development and implemented through the Consortium for Elections and Political Process Strengthening (CEPPS). REAPPS, which is run out of IFES' Regional Europe Office in Prague, was designed to address common challenges among Central and Eastern European and Eurasian societies. These include defining the role of government, fostering political pluralism, stimulating civic participation, and channeling internal conflict into political institutions to produce democratic outcomes faced by transitioning democracies within the Europe and Eurasia region.
Established in 1995, CEPPS pools the expertise of three premier international organizations dedicated to democratic development: IFES, the International Republican Institute and the National Democratic Institute. CEPPS has a 20-year track record of collaboration and leadership in democracy, human rights and governance support, learning from experience, and adopting new approaches and tools based on the ever-evolving technological landscape.
*Andrew Rogan is a program associate for Europe and Eurasia at IFES.