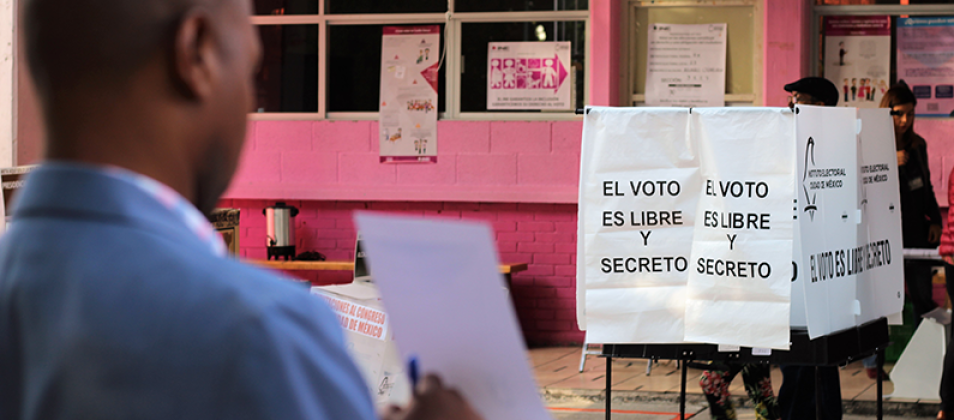 IFES and Mexico's National Electoral Institute to Support Elections and Democracy Across Latin America
On May 18, 2021, the International Foundation for Electoral Systems (IFES) and the National Electoral Institute (INE) of Mexico announced a renewed collaboration to strengthen the capacity of electoral institutions across Latin America to hold credible elections and combat threats to democracy such as disinformation and cyberattacks. This joint effort will bring to bear INE's strong track record of election administration and widespread respect within the region and beyond together with IFES' global experience and network.
In a virtual meeting convened to commemorate the signing of the Memorandum of Understanding (MoU), IFES President and CEO Anthony Banbury and INE President Lorenzo Cordova reaffirmed the organizations' enduring partnership to strengthen elections and democracy.
"IFES has tremendous respect for the INE and its fundamental role in building Mexico's democracy over the past three decades," said Banbury. "Strong, independent and professional election administration delivers credible elections to defend and grow vibrant democracies. Together, we are committed to supporting elections and addressing the threats to democracy across Latin America and globally."
Cordova stated, "Free and transparent elections in Mexico have been made possible through citizen participation, political stakeholders and the professionalism and impartiality of the National Electoral Institute. INE participates in the international electoral community to support democratization and to learn from other electoral practices in the world. INE values the important and fruitful cooperation with IFES."
On June 6, Mexico will hold the largest single-day election in its history. Some 92 million voters are eligible to cast ballots in over 21,000 local races, as well as in all 500 seats of the lower legislative house and 15 of 32 governorships. In these midterm elections, both INE and TEPJF are already demonstrating the important role that strong, transparent and independent electoral institutions play in safeguarding democratic rights and ensuring credible elections.
Banbury plans to participate in the INE's international visitors' program during the Mexican elections.
IFES and INE, and its predecessor the Federal Electoral Institute (IFE), have enjoyed a close working relationship since the mid-1990s as Mexico emerged from one-party rule and embarked on a series of electoral reforms. Over successive electoral cycles, these institutions have demonstrated a steadfast commitment to credible and transparent elections. As such, Mexico is a key member of the global democratic community.
In addition to cooperation with INE, IFES also maintains an MoU with the Electoral Tribunal of the Federal Judicial Branch (TEPJF) of Mexico. IFES and the TEPJF have worked in recent years to ensure that a Global Network on Electoral Justice both supports regional electoral judicial networks and contributes to more effective election dispute resolution. IFES' ongoing collaboration with the TEPJF and INE demonstrates a collective commitment to professional electoral administration, justice and integrity.
To learn more about collaboration between IFES and INI/IFE, watch this video about IFES 2013 Charles T. Manatt Democracy Awardee IFE President Dr. Leonardo Valdés Zurita.



Published on May 19, 2021.
IFES y el Instituto Nacional Electoral de México, renuevan convenio para apoyar las elecciones y la democracia en América Latina
El 18 de mayo de 2021, la Fundación Internacional para Sistemas Electorales (IFES) y el Instituto Nacional Electoral (INE) anunciaron la renovación de la colaboración bilateral, con el objetivo de continuar fortaleciendo la capacidad de las instituciones electorales en toda América Latina, para celebrar elecciones libres y creíbles, así como para combatir las amenazas a la democracia como la desinformación y el aumento de ataques cibernéticos. Este renovado esfuerzo conjunto, combinará el sólido historial de la administración electoral del INE, así como el respeto y confianza que han logrado obtener dentro y fuera de la región, junto con la experiencia y la red global de IFES.
En una reunión virtual convocada para conmemorar la firma del Memorando de Entendimiento (MDE), el Presidente y CEO de IFES Anthony Banbury y el Consejero Presidente del INE Lorenzo Córdova, reafirmaron los lazos de amistad y cooperación existentes entre ambas organizaciones, para coadyuvar al fortalecimiento de las elecciones y la democracia.
"IFES tiene un enorme respeto por el INE y su papel histórico y fundamental en la construcción de la democracia de México, durante las últimas tres décadas," dijo Banbury. Asimismo, agregó, "Una administración electoral sólida, independiente y profesional ofrece elecciones creíbles para defender y hacer crecer democracias vibrantes, juntos, estamos fuertemente comprometidos a apoyar las elecciones y abordar las amenazas a la democracia en América Latina y el mundo."
Córdova declaró, "Celebrar elecciones libres y transparentes en México se han hecho posible a través de la participación ciudadana, los grupos de interés político y el profesionalismo y la imparcialidad del Instituto Federal Electoral". "El INE participa en la comunidad electoral internacional, para apoyar la democratización y aprender de otras prácticas electorales en el mundo. El INE valora la importante y fructífera cooperación con IFES."
IFES e INE, y su predecesor, el Instituto Federal Electoral (IFE), han disfrutado de una estrecha relación de trabajo desde mediados de la década de 1990, cuando México se embarcó en una serie de reformas electorales trascendentales para su historia democrática. A lo largo de sucesivos ciclos electorales, ambas instituciones han demostrado un firme compromiso con promover y apoyar elecciones creíbles y transparentes. Como tal, México es un miembro clave de la comunidad democrática mundial.
Además de la cooperación con el INE, IFES también mantiene un MDE con El Tribunal Electoral del Poder Judicial de la Federación (TEPJF) de México. IFES y el TEPJF han trabajado en los últimos años para asegurar y sostener una Red Global de Justicia Electoral, que apoye las redes judiciales electorales regionales y contribuya a una resolución de disputas electorales más efectiva. La colaboración continua de IFES con el TEPJF y el INE, demuestra un compromiso colectivo con una administración electoral profesional, la justicia y la integridad en los procesos electorales.
El 6 de junio, México llevará a cabo las elecciones más grandes de su historia. Unos 92 millones de votantes tienen derecho a votar para más de 21.000 cargos en elecciones locales, así como en los 500 escaños de la cámara baja legislativa y en 15 de las 32 gobernaciones. En estas elecciones de mitad de período, tanto el INE como el TEPJF están demostrando el importante papel que juegan las instituciones electorales fuertes, transparentes e independientes, para salvaguardar los derechos democráticos y garantizar la credibilidad de las elecciones.
El Presidente de IFES Anthony Banbury, estará participando en el Programa de visitantes internacionales del INE, durante la próxima jornada electoral en Mexico.
Para obtener más información sobre la colaboración entre IFES e INI / IFE, ver este video sobre IFES 2013 Charles T. Manatt Democracy Award, otorgado al Presidente del IFE Dr. Leonardo Valdés Zurita.



Publicado el 19 de mayo de 2021.