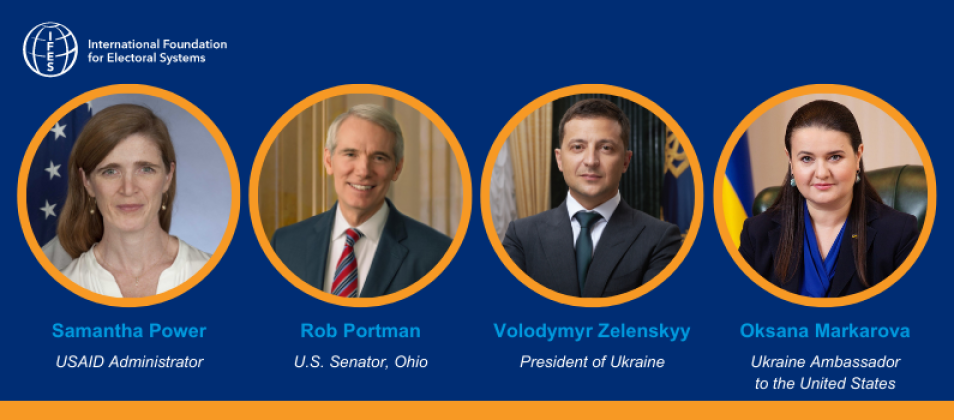 IFES Announces Recipients of 2022 Charles T. Manatt Democracy Awards
Ukraine's President Volodymyr Zelenskyy, Ukraine's Ambassador to the United States Oksana Markarova, USAID DRG Officers, USAID Administrator Samantha Power and Senator Rob Portman to be honored at 35th Anniversary Celebration. RSVP  for the 2022 Charles T. Manatt Democracy Awards & 35th Anniversary Celebration.
The International Foundation for Electoral Systems (IFES) will honor three global democracy leaders with its 2022 Charles T. Manatt Democracy Award: Ukrainian President Volodymyr Zelenskyy, with Ukraine's Ambassador to the United States Oksana Markarova accepting on his behalf; the Democracy, Human Rights and Governance (DRG) Officers of the United States Agency for International Development (USAID), with USAID Administrator Samantha Power accepting on their behalf; and U.S. Senator Rob Portman (R-Ohio).
The honorees will be recognized at a gala on June 14, 2022 in Washington, D.C. The evening is also a celebration of IFES' 35th Anniversary and will include a reception, dinner and awards ceremony. Awardees will also participate in an on-stage discussion with Emmy Award-winning journalist Judy Woodruff, anchor of the PBS NewsHour.
"IFES has been a proud partner of USAID and DRG officers these past 35 years. With the Democracy Award, we recognize the commitment and impact of DRG officers, who are both behind the scenes and on the front lines in the fight against democratic backsliding," said IFES Board Chair Thomas A. Devine.
About the Award Recipients
Ukraine's President Volodymyr Zelenskyy was elected in 2019 with a positive message of reform, national unity and a commitment to democracy. His leadership in the face of Russian aggression has galvanized the world and set a shining example for embattled democrats everywhere.
"President Zelenskyy has inspired the world with his unflinching defense of Ukrainian democracy in the face of Russia's invasion. Friends of democracy everywhere are inspired by his leadership and the determination of the Ukrainian people. IFES has been a proud supporter of Ukrainian democracy since its independence, and with this Democracy Award we honor the commitment of our Ukrainian partners, of the Ukrainian people, and of President Zelenskyy to a democratic future," said IFES President & CEO Anthony N. Banbury.
Ukraine's Ambassador to the United States Oksana Markarova started her career with IFES in the late 1990s as a young professional before her career took her to the Ministry of Finance, where she was appointed Deputy Minister of Finance in 2015. She was made the acting Minister of Finance in June 2018 and was named the Minister of Finance five months later. President Zelenskyy named Markarova Ambassador to the United States in January 2021.
USAID Democracy, Rights and Governance (DRG) Officers are at the heart of the American people's global efforts to build a more just, peaceful and democratic world that upholds every person's individual dignity. DRG officers provide critical support to leaders, reformers and activists who champion and defend the democratic aspirations of all people.
Samantha Power will accept this award on behalf of USAID DRG Officers. She was sworn into office as the 19th Administrator of USAID on May 3, 2021 and is the first USAID Administrator to be a member of the National Security Council. Prior to joining the Biden-Harris Administration, Power was the Anna Lindh Professor of the Practice of Global Leadership and Public Policy at the Harvard Kennedy School and the William D. Zabel Professor of Practice in Human Rights at Harvard Law School. From 2013 to 2017, Power served as the 28th U.S. Permanent Representative to the United Nations.
"For IFES and friends of democracy everywhere, this is a unique moment in time – never have the threats to democracy and elections been greater, and never have democratic reformers been more determined," said Anthony N. Banbury, IFES President and CEO. "Administrator Power is a tireless advocate for the democratic rights of all people, and especially women and girls. She embodies the undimmable, innovative spirit of all USAID DRG officers, and is the ideal champion to accept IFES' Democracy Award on their behalf."
Senator Rob Portman has served as a U.S. Senator from the state of Ohio since he was first elected in 2010. He has been an IFES Board member since 2017. As a member of the Senate Foreign Relations Committee, Senator Portman has promoted a robust and comprehensive American strategy to protect democracy and counter authoritarians. Portman, who is co-founder and co-chair of the Senate Ukraine Caucus, is also a strong advocate for Ukraine in Congress. He has consistently supported Ukraine's anti-corruption and structural reform efforts, and worked tirelessly to elevate the importance of meaningful assistance to Ukraine to U.S. Administration officials, Senate colleagues, the public and others.
"As a fellow Ohioan and member of the IFES Board – as well as a longtime friend – I am thrilled that IFES has chosen to bestow the Charles T. Manatt Democracy Award upon Senator Portman," said IFES Board of Directors Co-Chair Amb. J. Kenneth Blackwell. "From the halls of the U.S. Congress to the streets of Kyiv, Senator Portman is a staunch advocate for freedom and democracy. His leadership on Ukraine has supported its people during their darkest hours. It is our great joy to recognize Senator Portman's accomplishments, especially on the occasion of IFES' 35th Anniversary."
About IFES' 35th Anniversary
In 2022, IFES is celebrating its 35th anniversary. IFES was established in 1987 to address a gap in U.S. democracy assistance by providing highly specialized, technical support to election management bodies. Today, increasingly complex threats by malign actors and authoritarian regimes have fueled the need for ever more nimble and creative strategies, approaches and partnerships. IFES has risen to the challenge, growing into the global organization it is today with programming that advances election integrity, responsive governance, inclusive participation and technology for democracy. Since IFES' founding, we have worked in developing, backsliding and mature democracies in more than 145 countries.
About IFES' Democracy Awards
IFES' Democracy Awards honors the unwavering commitment to democracy of former IFES Board of Directors Chairman Charles T. Manatt. The IFES Charles T. Manatt Democracy Awards highlight the fact that the work of safeguarding and advancing freedom and democracy transcends political parties and national borders. Each year, IFES honors three inspirational leaders with this award – a Democrat, Republican and member of the international community – who embody IFES' vision of democracy for a better future.
IFES advances democracy for a better future. We collaborate with civil society, public institutions and the private sector to build resilient democracies that deliver for all. IFES is a global, nonpartisan nonprofit organization based in Arlington, Virginia and registered as a 501(c)(3). For more information, visit  www.IFES.org.
Published on May 18, 2022.