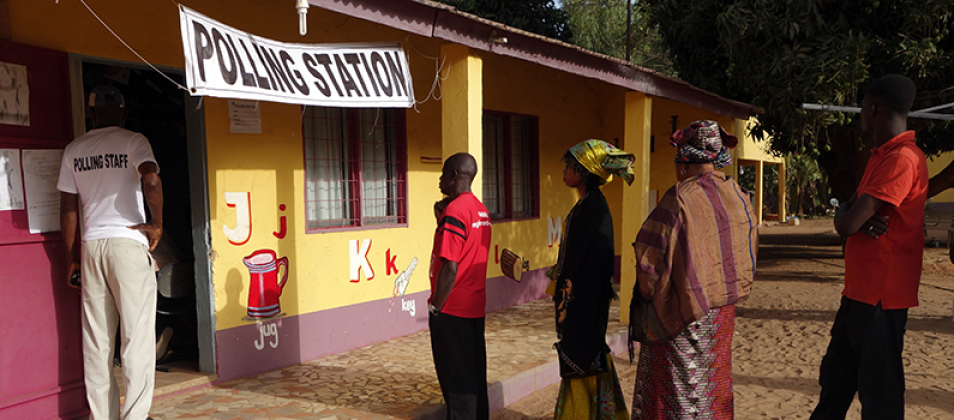 News and Updates
Interview/Speech/Testimony
IFES Chairman Submits Written Congressional Testimony on "Electoral Assistance: A Cost-Effective Investment in a More Stable, Prosperous World"
Chairman of the Board of the International Foundation for Electoral Systems (IFES) Ken Blackwell, a former Ohio Secretary of State responsible for election administration and a former U.S. Ambassador to the United Nations Human Rights Commission, submitted a written testimony to the House Committee on Appropriations' Subcommittee on State, Foreign Operations, and Related Programs for inclusion in the record on "Electoral Assistance: A Cost-Effective Investment in a More Stable, Prosperous World."
Blackwell urged the subcommittee and the U.S. Congress to continue its tradition of bipartisan support for democracy, rights and governance. The testimony points out that relatively small, strategic investments in electoral assistance will continue to contribute to a more prosperous, secure America.
The testimony also explains how electoral assistance advances American interests. Stable democracies make for better trading partners, provide new market opportunities, improve global health outcomes, and promote economic freedom and regional security.
For example:
Kenya is critical to the fight against terrorism and is East Africa's largest and most important business, financial, and transportation hub. The U.S. is the third largest destination for Kenya's exports and the seventh largest source of its imports. In 2017, IFES' multifaceted Kenya project included direct technical assistance to the Independent Electoral and Boundaries Commission (IEBC) and judiciary on strengthening internal governance systems; developing election regulations; promoting voter education and registration; and election technology. Our project also included a sub-grant component to engage civil society on voter registration and voter education; participation of women and youth; and dialogue, consensus-building and conflict early warning and response.
Ukraine is on the frontlines of efforts to combat Russian influence and interference. IFES' multifaceted Ukraine program provides technical assistance to the Central Election Commission; promotes electoral law and political finance reform; and supports civil society activism and the inclusion of underrepresented populations. For example, IFES works to engage elected officials on issues pertinent to the 1.8 million internally displaced persons (IDPs) in Ukraine. IFES has worked with 197 civil society representatives to support development of a draft law guaranteeing voting rights, as well as trained 300 civic actors and election officials on international standards and national legislation for the inclusion of IDPs in the voting process.
Syria remains one of the world's most challenging and destabilizing humanitarian and security crises. IFES works to prepare Syrian youth for the inevitable transition, while constructively engaging them in a peaceful, democratic way. IFES' Building Leaders program develops adolescents' capacity to be leaders in their communities through concrete skill building, such as public speaking, combined with exercises to increase self-confidence and develop knowledge. Participants have gone on to create and implement independent projects and propose new activities.
After Mexico, the largest number of unauthorized immigrants to the U.S. come from Guatemala. Credible elections contribute to a more stable Guatemala; stability and rule of law help people feeler safer and more connected to their communities, and less likely to leave home. In 2017, IFES programming was timely in the fight against impunity and corruption. Providing technical assistance to the Supreme Electoral Tribunal (TSE), our work advanced second-generation electoral reforms to increase accountability, enhance the transparency and inclusivity of the electoral system, and expand the TSE's mandate as a political finance regulator. IFES also worked with the National Council of People with Disabilities to improve the advocacy capacity of disabled persons' organizations and with IFES' assistance, the TSE incorporated accessibility and participation measures in their electoral law reform proposal.
Nepal – despite its tough geopolitical neighborhood – is rapidly becoming a democratic success story. During an intense 12-month period, the people of Nepal voted in local, provincial and national elections. It was the first time in 20 years that successful local elections were held, and the first-ever simultaneous provincial and national elections. IFES supported the Election Commission of Nepal in their efforts to register three million new voters, simplify complex ballots and improve transparency around campaign spending. IFES also supported large-scale, multilingual voter education reaching diverse populations.
Read the complete testimony.