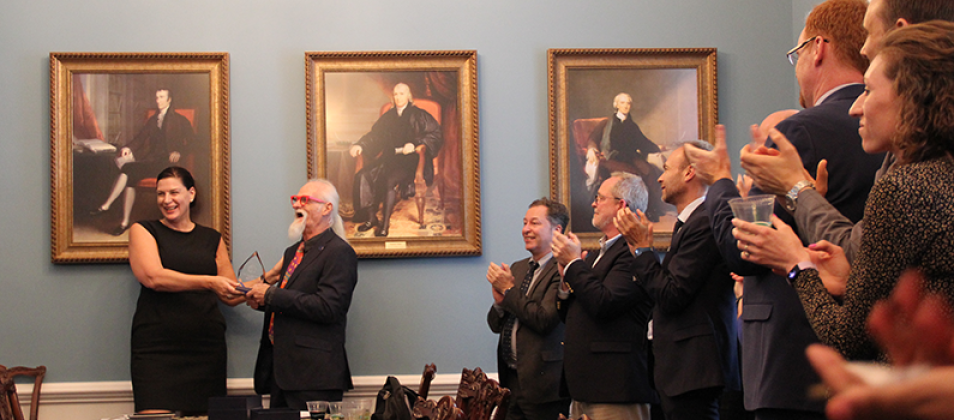 News and Updates
Interview/Speech/Testimony
IFES Honors Alan Wall with 2019 Joe C. Baxter Award
The International Foundation for Electoral Systems' (IFES) annual Joe C. Baxter Award recognizes the contributions of election professionals whose skills and dedication to the field of election administration epitomize the mission of IFES and embody the spirit of former IFES Senior Adviser for Election Administration Joe C. Baxter. On May 16, IFES presented the 2019 Baxter Award to Alan Wall, a senior elections adviser and former IFES chief of party, at a reception hosted by the office of IFES Board member, Congressman Steny Hoyer (D-Md.). Wall's prepared remarks can be found below.
Thank you, Beverly. IFES Board members, President and CEO of IFES Mr. Tony Banbury, Michele Manatt, Eric Björnlund, president of Democracy International, Bob Dahl, distinguished current and former colleagues, distinguished guests and friends. I would like to thank Tony and Beverly for their very kind and generous remarks. I would like to thank IFES and all of you for attending this afternoon. This is an overwhelming occasion for me, truly the highlight of my life. 
The indigenous peoples of my country, Australia, and of the USA share a history of forced dispossession. In my country it is the universal practice that all public events start with an acknowledgment of the traditional indigenous owners of the land. So, I'd like to acknowledge the Nacotchtank (Anacostan) peoples, Traditional Custodians of the land on which this event is being held, and recognise their continuing connection to land, water and community. I pay respect to their Elders past, present and emerging. 
When I was told I was being nominated for this award I was rather overwhelmed. Past winners include people whose knowledge and impact I've long admired. I feel very humbled to be considered worthy to stand in their company, and extremely grateful to IFES and my colleagues for the honor of awarding me the Joe C. Baxter award for 2019. While I did not know Joe Baxter, his example has been an inspiration to all of us working to support democracy development. He practised what many people pay lip service to: local empowerment, sustainability of solutions, inclusiveness and a focus on building personal capacities. Values which, in my experience of working both with and for IFES, IFES as an organisation also holds.
My greatest fortune over the past 25 years has been to work with groups of citizens who are totally committed to the democratic development of their countries. If anything has made me look good, it is their work. I particularly pay tribute to the local teams of IFES, Democracy International, International IDEA, NIMD and UNEAD staff with whom I have had the honor of working in many countries. I would like to be able to share this award with them. They deserve it. While technology and improved materials may provide some quick bangs for assistance bucks, it is investing in people that provides sustainable democratic development. I'd also like to pay tribute to those colleagues no longer with us, some lost in tragic circumstances, including my good friends John Alvis and Olly Vick.
Electoral administrators are facing new and rapidly changing challenges. To me these are challenges of democracy rather than challenges for democracy. The speed of technological innovation and the rapidity with which political environments change make identifying electoral issues that may be relevant in future about as reliable as going to an astrologer, so I'm taking the precaution of burning this speech after reading. But here are some random thoughts on a very few of the potential issues.  
Uses and abuses of data – information, harvesting of information and disinformation. Electoral administration emphasis may well move from the current support for specific electoral technological systems related to identification and voting to control of usage of data that exists independent of any electoral function. Will we be signing in to the voter register or to vote with an identity created for commercial social interactions and how will this be managed? How will truth in advertising be promoted and controlled?
Illegal interference in elections, whether foreign or domestic. This is not new – the French tried it in the USA in 1796. Dov Levin's database of election interference between 1946 and 2000 records 117 cases of foreign electoral interference - that is, in 11 percent of elections held. 69 percent of these interventions were by the USA. However, the spread of electoral technology and advances in artificial intelligence are likely to make it more sophisticated, pervasive and harder to detect and eliminate. There is evidence, for example in the current elections in Australia, of the use of fake or doctored opinion poll results to sway voter views; especially combined with social media's more intimate communication style, artificial intelligence can be used both to target voters' existing prejudices and apparently authenticate altered realities, such as through deep fake videos; remotely controlled cyber interference can be more difficult to shut down and sanction; attacks on databases will become more sophisticated in deterring or manipulating voter registration or incrementally altering election or popular consultation results. New vigilance methods will be needed to ensure that elections are conducted with integrity.
Climate change – whatever the lingering political debate about causes, the data is that climate change is real, and that rising sea levels will impact not just many small islands in the Pacific – where already some populations have had to be evacuated, but also large areas of low-lying land in many continental countries. The impacts are not just going to be environmental and economic, but also political. What effect will such permanent displacement have on representational and electoral arrangements, perhaps more particularly in developed countries not used to dealing with internally displaced citizens? What will the basis of representation be, especially for formerly homogenous communities by clan or ethnicity who may now be scattered?
Engaging young people – and the population in general. The last year has seen high voter turnouts of 80 percent or more in elections in Indonesia and Timor-Leste, yet turnouts in over one-third of countries, including many established democracies, are under 60 percent. Traditional targeted education campaigns have focused on first-time voters and on those less likely to have access to information, however those who believe the system does not work for them may be the greater problem in future. What are the triggers than can be used to stimulate re-engagement? Do radical solutions, such as compulsory voting, need to be considered to ensure legitimacy of elected institutions?
Finally, in many countries there is increasing dissatisfaction with the quality of representation produced by elections, no matter how authentic the process. Many believe their views are being ignored by those chosen to represent them. Representative democracy has been an evolving concept – for example the electoral franchise – and there is little reason to believe that it has stopped evolving, or that the current representational model will continue. Rising populist movements could result in widely varying outcomes – at the extremes authoritarian regimes or moves to more direct, less representational governance. A move in either direction will be challenging for electoral managers, possibly in needing to stand very firmly against attempts to manipulate electoral competition, or to manage multiple frequent popular consultations. Electoral managers may need to deal with more divided societies and more divisive electoral contests. These will present issues for their civic education programs, and for the methods used for electoral dispute resolution.
Strong, impartial electoral management, with sufficient public trust and practical autonomy to withstand political pressure, will be needed to meet these and other challenges. As will strong public accountability mechanisms exercised through an educated and vibrant civil society. And strong and reliable continuing support – not just Election-Day focused programs – in countries where electoral management bodies and civil society need external assistance. 
As Michael Maley said some years ago when accepting this same award, I feel a certain guilt at being honored for work which has been a privilege and a pleasure to do, and from which I have obtained so much enjoyment. My career as an electoral person has been entirely accidental. In 1984 I thought it was going to last two weeks at a local office of the Australian Electoral Commission. I'm most grateful to Professor Colin Hughes and Andre Cirulis, inaugural electoral commissioner and deputy electoral commissioner of the AEC, who inspired and mentored me. And to my many colleagues there who initiated this musician and wine merchant into the ways of electoral bureaucracies. It says a lot for the values and principles of the AEC that two of the 11 winners of the Joe Baxter Award received their electoral schooling there.
I've been lucky enough over the past 30 plus years – and hopefully for many years more – to follow my dream. I would again like to thank IFES for honoring me with this award, and all of you for coming here today.