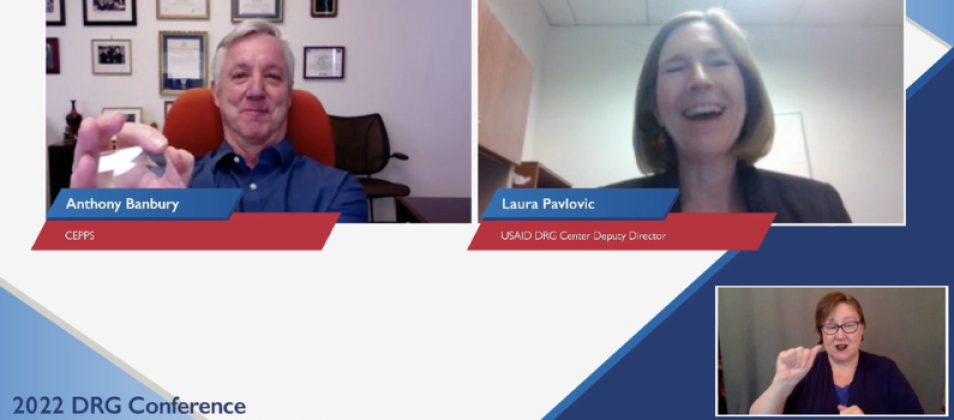 News and Updates
Interview/Speech/Testimony
IFES President Presents Democracy Award to USAID DRG Officers Worldwide
The International Foundation for Electoral Systems (IFES) presented its 2022 Charles T. Manatt Democracy Award to the Democracy, Human Rights and Governance (DRG) Officers of the United States Agency for International Development (USAID).
This award recognized their extraordinary efforts in supporting democratic freedoms, upholding electoral integrity and promoting inclusive civic and political processes within their work.
The award was presented at IFES' Democracy Awards Dinner on June 14 and accepted by USAID Administrator Samantha Power; IFES President Tony Banbury was able to present to DRG officers directly at the closing session of the USAID 2022 Democracy, Human Rights and Governance (DRG) Conference on June 30. His remarks are below.
Anthony Banbury:
I was privileged to be in the previous session on behalf of CEPPS, and I'm really happy to be with you here today.
First of all, congratulations. This has been a wonderful conference, and it's great that partners like IFES can participate and listen. This session is important to me because I get to present to you our 2022 Democracy Award. I'm very happy and privileged to be doing this; I've known Administrator Power since we were in Bosnia together during the war in 1994-95. I worked very closely with her at the UN together with Ambassador Coleman, and I have great respect and affection for both of them. They're very capable, impressive people. I also have lots of respect for Johnny Walsh and Ro Tucci, who are strong leaders in the field of democracy promotion. It has been a pleasure working with them and their colleagues in the DRG center.
But I also consider myself a field person and have spent a lot of time in the field. We all know that when it comes to getting stuff done, working in the trenches to advance democracy and electoral integrity, it's the DRG officers at USAID who are getting that work done. That's the main reason I want to present this award to you.
And you're in very good company: recent recipients include Secretary Madeleine Albright, Senator Chris Coons, Speaker of the House Nancy Pelosi, former president of Liberia Ellen Johnson-Sirleaf and former Swedish Foreign Minister Margot Wallstrom, who created Sweden's first feminist foreign policy.
Now, we have names like Miranda Joliecoeur in the DRC, Inna Bagayoko in Mali, Angelina Hermon in Sri Lanka, Shannon Schissler in Honduras, Esma Ben Aicha in Tunisia and Anahit Khatchatryan in Armenia. This is for all of you, and when Samantha Power accepted the award at our Democracy Awards Dinner, she made clear that she accepted this award on behalf of all of you.
We all know this work has never been more important. As Administrator Power said, "we are at an existential moment." This work of democracy promotion is taking place in complex, sensitive and polarized environments. All of you are helping to advance this critical work of democracy promotion and protection, in times of crisis, violence and COVID-19.
Your passion and commitment, along with your perseverance, makes the difference, and results in incredibly important progress in countries around the world. You've been demanding of your partners, which we appreciate and think is great. You have high expectations of us, which we also appreciate. But, you've also shown great understanding and openness to our perspectives.
And most of all, it's the values that we share. Your values are the driving factor behind our presenting the Democracy, Human Rights and Governance officers with the 2022 IFES Charles T. Manatt Democracy Award. So, it is my pleasure to present to all of you this democracy award. Thank you very much for all the work you do, and it is an honor to work side by side with you, Laura. Here you go.
USAID Deputy Assistant Administrator Laura Abrahams Schulz accepted the Award on behalf of the Democracy, Human Rights and Governance officers at USAID. She thanked IFES for the Award, recognizing its work as a partner in strengthening democratic institutions around the world. Ms. Schulz noted the "special form of passion and resilience" required by her DRG colleagues, particularly highlighting their recent work in Mali, Ethiopia and Ukraine. She observed that,
"Despite the challenges, I've been inspired everyday by [my] colleagues…whether [they are] pivoting our programs to address the evolving needs of vulnerable groups affected by the pandemic, or adapting to new restrictions in this new space… This award honors your efforts and your heroism. It's a privilege to work with all of you."
USAID Administrator Samantha Power accepted the Award on behalf of USAID DRG Officers on June 14; watch her remarks below.
Watch the full slate of remarks here.
Published July 5, 2022.