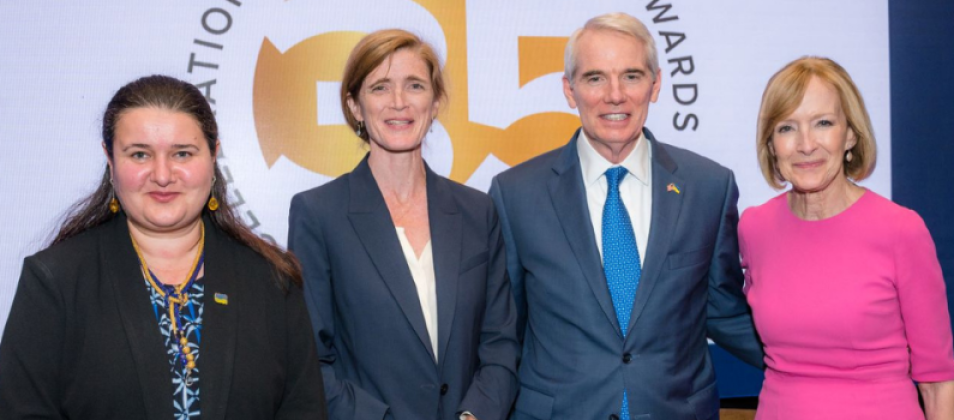 Zelenskyy, Portman and DRG Officers of USAID Honored at IFES 2022 Charles T. Manatt Democracy Awards
The International Foundation for Electoral Systems (IFES) presented its 2022 Charles T. Manatt Democracy Awards to Ukraine's President Volodymyr Zelenskyy, U.S. Senator Rob Portman (R-Ohio) and the group of Democracy, Human Rights and Governance (DRG) Officers of the United States Agency for International Development (USAID) on June 14 in Washington, D.C.
Being on the frontlines in the fight for democracy worldwide (quite literally in the case of President Zelenskyy), the awardees have shown exceptional resilience, adaptable thinking and creative vision in advancing the ideals of freedom and standing up to authoritarianism.
"We always craved the freedom to decide what to do in our own country, to choose our own leaders and to change them regularly," affirmed Oksana Markarova, Ambassador of Ukraine to the United States, upon accepting the award on President Zelenskyy's behalf. "Every time people have tried to take our rights, the Ukrainian people have said 'NO.' This happened in 2004, in 2013 and again in February of 2022."
Having started her professional life at IFES, Ambassador Markarova congratulated her former teammates for reopening the Kyiv office after the February 2022 invasion, noting with confidence that, "I'm glad that your office is back because the most difficult work will begin after we win."
"We all marvel at the fortitude of the Ukrainian people, with only one person being disappointed by their efforts – Vladimir Putin," remarked U.S. Senator Rob Portman, current co-chair of the Senate Ukraine Caucus and IFES board member, during his own acceptance speech. "From the civilian soldier up to Zelenskyy, the bravery they have exhibited in the face of this brutal and unwarranted invasion is an absolute inspiration."
While Ukraine was front of mind throughout the evening, the awardees also spoke of the need to be nimble and innovative in support of democracy around the world.
"The [IFES] mission – Together we build resilient democracies that deliver for all – seems so obvious, but it is actually a very modern take on democracy support," observed USAID Administrator Samantha Power, accepting the Manatt award on behalf of all DRG Officers at USAID. "It is a shift that all of us are trying to make at this moment." Administrator Power highlighted how USAID relies on the creativity and adaptivity of DRG Officers. "Just like IFES, we at USAID are trying to shift our emphasis on how we support governance and these ideas come from our [DRG] officers."
Senator Portman also spoke to the growing need to "change the way we focus on promoting democracy," and expand beyond previously standard forms to meet new threats. "It is not just about free and fair elections, but also delivering good governance for people."
Judy Woodruff, acclaimed anchor of PBS Newshour and recent Peabody award winner, moderated a lively Q&A panel after the award ceremony.
The evening was also a commemoration of IFES' 35th anniversary. Established in 1987, IFES has worked to support the democratic aspirations of millions across 145 countries. But IFES used the occasion to put aside its laurels and look to the future.
"Together, we build resilient democracies that deliver for all: that sentence was adopted by the IFES Board as our new mission in October 2019 and marks the biggest shift of our organization in its history," declared Anthony Banbury, President and CEO of IFES. "It is not enough to just build institutions – we need to build strong, healthy, resilient institutions." He emphasized IFES' commitment to developing new tactics, cutting-edge tools and diversified collaborations to counter growing challenges and strengthen democratic institutions.
The annual Charles T. Manatt Democracy Awards recognize the exceptional work of individuals who demonstrate an unwavering commitment to freedom and democracy. IFES presents the awards to three individuals – one Republican, one Democrat and one member of the international community – who work tirelessly to ensure citizens around the world have a voice in the way they are governed.
Published June 28, 2022.