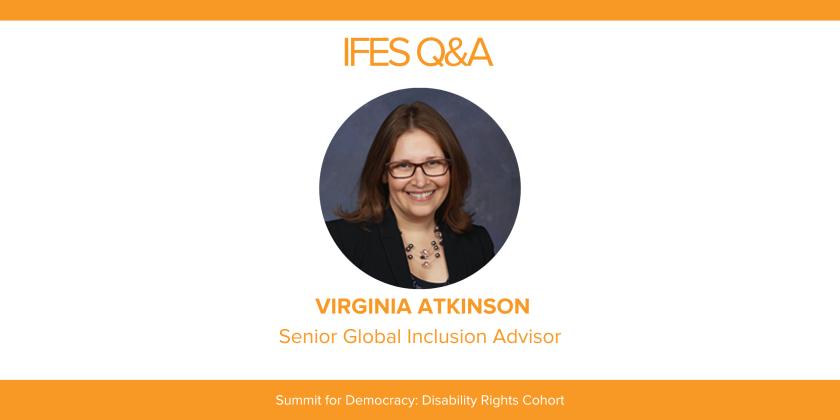 News and Updates
Interview/Speech/Testimony
IFES Q&A: Virginia Atkinson
Virginia Atkinson is the Senior Global Advisor for Inclusion and the International Foundation for Electoral Systems (IFES) representative for the Summit for Democracy Disability Rights Cohort. 
Can you describe IFES's role in the Disability Rights Cohort?
VA: IFES is the Co-lead of the Disability Rights Summit for Democracy cohort with the Australian Department of Foreign Affairs and Trade. What that means is we've been working together in this "year of action," stemming from the last Summit, to compile a list of sample commitments related to disability rights and democracy. And we have been working to bring on more organizations, both from the public sector and the private sector, as well as the nonprofit sector.
What commitments and other outcomes do you want to see coming out of the second Summit for Democracy on disability rights? 
VA: Fifteen percent of the world's population has a disability. So, when we're talking about, for example, developing public policy, people with disabilities, of course, should be involved in the development of disability rights laws, but also, they should be involved in everything else in laws about education, transportation, employment, and in all areas of public life. So that's one of the things that we're really hoping to see come out of the Summit for Democracy—more of a focus on mainstreaming disability rights across all areas of public policy. From a baseline, we want—we hope—that the event is fully accessible and that people with disabilities have access to both in-person events as well as virtual events. By that, I mean that the buildings are physically accessible where these events are held, and sign language interpreters are available. If an event is happening virtually or in person, it's nice if there are captions available. So, number one is just accessibility to the process. Number two, of course, we'd like to see people with disabilities in leadership roles in the summit events that are happening, including a speaker.
Can you expand on the specific commitments you hope participating governments and institutions select?
VA: In terms of outcomes of the Summit, we are hoping that more governments make commitments related to disability rights. For example, within election management bodies, there is often a gender policy, but is there a disability rights policy? One of the things that our disability rights partners often tell us is they have to rely more on finding an ally internally within the election management body to get disability rights work done rather than having it just be already the responsibility of someone within the Election Commission within their job description.
The other thing that would be useful to come out of this Summit is more of a focus on intersectionality. There are other cohorts that are focused on inclusion issues. Broadly, there is one on inclusion, there's one on gender, and there's one on youth. We'd like to make sure that all the work and the products that are coming out of those cohorts are also inclusive of youth with disabilities and women with disabilities. For example, we worked quite closely with the youth cohort, and they've also come up with a list of sample commitments that countries can make at the second Summit for Democracy. Many of those commitments are related specifically to young people with disabilities. So that's wonderful to see, and we hope some states will take on those sample commitments and adapt them, and implement them as they see fit in their countries.
Do you have any last words or hopes as we go into the Summit?
VA: I just hope that this is used as a sort of catalyzing event to draw more attention to disability-inclusive democracy. Too often in the countries where we work, and also here in the U.S., disability rights are quite siloed, and in some places, it's treated as more of a health issue or a charity-based issue.
But disability rights are human rights, and we hope that that message comes out loud and clear through the Summit for Democracy and is carried on in the years to come in the public policies and legislation and countries around the world.