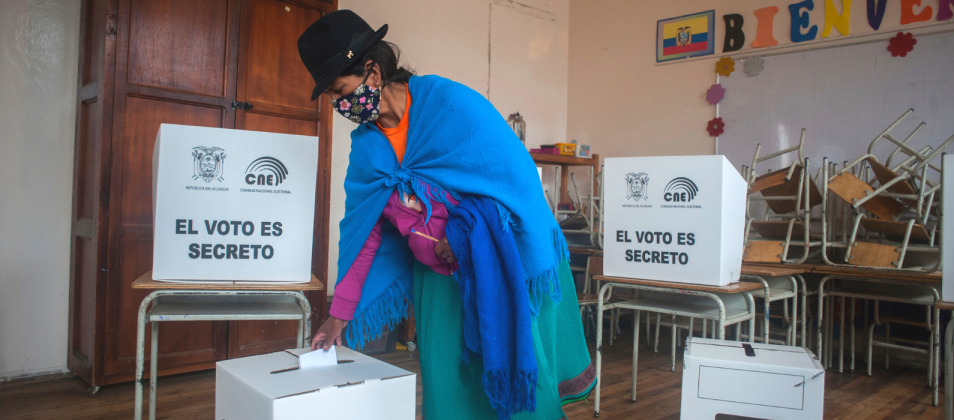 IFES Recognizes International Day of the World's Indigenous Peoples 2022

In 2022, the International Day of the World's Indigenous Peoples recognizes the important role that Indigenous women play in preserving and sharing traditional knowledge. The International Foundation for Electoral Systems (IFES) supports Indigenous Peoples and their organizations to take part in elections and other decision-making processes by advancing processes that are more inclusive, benefitting from the unique insights and interests of Indigenous rights holders, especially Indigenous women.
Enhancing Access of Indigenous Women to Political Leadership in Ecuador
In May 2022, IFES and Fundacion Esquel held a workshop with Indigenous women from Movimientto de Unidad Plurinacional Pachakutik about women's political leadership.
Pachakutik participants identified barriers to equality within their political organization, such as a lack of male allyship, as well as lack of training and resources, especially for women who live in rural communities. Participants proposed a number of initiatives, such as establishing a permanent training process in small towns and rural areas. This would allow more Indigenous women to access Pachakutik's training leadership curriculum. They also proposed creating a national database as an effective tool for current and aspiring women leaders to connect, share ideas and develop joint strategies to support and strengthen their political participation.
Read more about this initiative here.
IFES Launches New Indigenous Peoples Research
With support from the Swedish International Development Agency (Sida), IFES is pleased to announce its partnerships with the Endorois Indigenous Women Empowerment Network (EIWEN) and the National Indigenous Disabled Women Association Nepal (NIDWAN) to conduct research on the electoral participation of Indigenous Peoples. Using an intersectional approach, partners from Africa, Asia and Latin America will identify opportunities to enhance the participation of Indigenous Peoples, including persons who identify with multiple marginalized groups. Using this research, these partnerships will generate global recommendations for electoral stakeholders. These include election management bodies, parliaments, human rights commissions, Indigenous Peoples' Organizations (IPOs), broader civil society organizations, media and others.
Indigenous Peoples make up approximately five percent of the world's population. Their right to participate in elections, if they so choose, is protected under the United Nations Declaration on the Rights of Indigenous Peoples.
Want to be a part of this project? The call for applications for IPOs in Latin America is still open! For more information, please click here.
Published August 9, 2022.