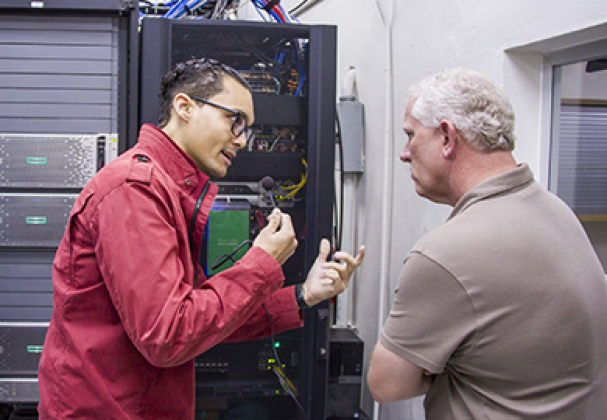 IFES Statement on the Suspension of Municipal Elections in the Dominican Republic
The International Foundation for Electoral Systems (IFES) acknowledges the decision of the Central Electoral Board (JCE) of the Dominican Republic to suspend today's municipal elections and supports efforts to protect the integrity of the elections through a timely investigation. IFES remains available to advise the JCE on this process and to provide assistance as requested. IFES encourages all electoral stakeholders to remain constructively engaged in the Dominican Republic's democracy.
The evening of February 15, political party representatives informed IFES that some automated voting ballots were missing candidates and, in response, the JCE had begun to make changes to the affected automated voting ballots. The JCE met with political parties and international observers to provide an explanation and to convey its intent to update individualized content of the voting machines in the presence of political party representatives and international observers, beginning at 5:00 a.m. on Election Day. It soon became apparent, however, that the scope of the problem could not be addressed in time for the February 16 elections to proceed in an orderly fashion.
It is important to note that the pre-electoral assessment that IFES undertook from January 20-29, 2020, at the request of the JCE and the urging of political parties focused on the auditability of the automated voting system and its ability to capture voter intent. IFES' analysis did not involve an evaluation of the customization of the voting equipment, which includes the loading of the voter list and ballots on individual voting machines.
IFES will continue to accompany the 2020 election cycle and participate in the review as has been requested by the JCE and several political parties. Our focus remains improving the transparency and integrity of the Dominican Republic's electoral process.
###
As the global leader in democracy promotion, IFES advances good governance and democratic rights by providing technical assistance to election officials; empowering the underrepresented to participate in the political process; and applying field-based research to improve the electoral cycle. Since 1987, IFES has worked in over 145 countries – from developing democracies, to mature democracies. For more information on IFES' work in the Dominican Republic and around the world, please visit www.IFES.org.
Declaración de IFES sobre la suspensión de elecciones municipales en la República Dominicana
La Fundación Internacional para Sistemas Electorales (IFES) reconoce la decisión de la Junta Central Electoral (JCE) de la República Dominicana de suspender las elecciones municipales de hoy y apoya los esfuerzos para proteger la integridad de las elecciones a través de una investigación oportuna. IFES permanece disponible para asesorar a la JCE durante este proceso y proporcionar la asistencia que sea solicitada. IFES alienta a todos los ciudadanos a seguir participando constructivamente en la democracia de la República Dominicana.
Durante la tarde del 15 de febrero, los representantes de los partidos políticos le informaron a IFES que a algunas boletas electrónicas de votación automatizada le faltaban candidatos y, que en respuesta, la JCE había comenzado a hacer cambios en aquellas municipalidades afectadas. La JCE se reunió con partidos políticos y observadores internacionales para proporcionar una explicación e informar sobre su intención de actualizar el contenido customizado de las máquinas de votación en presencia de representantes de partidos políticos y observadores internacionales, a partir de las 5:00 a.m. del día de las elecciones. Sin embargo, una vez iniciado el proceso que tomó lugar en la mañana de hoy, se hizo evidente que el alcance del problema no podía abordarse a tiempo para que las elecciones del 16 de febrero se llevarán a cabo de manera ordenada.
Es importante destacar que la evaluación preelectoral que IFES llevó a cabo del 20 al 29 de enero de 2020, a solicitud de la JCE y a la instancia de partidos políticos, se centró en la auditabilidad del sistema de votación automatizado y su capacidad para capturar la intención de los votantes. El análisis de IFES no incluyó una evaluación del proceso de customización del equipo de votación, que incluye la carga de la lista de votantes y las boletas electorales en las máquinas de votación individuales.
IFES continuará acompañando el ciclo electoral 2020 y participará en la revisión de lo ocurrido como lo ha solicitado la JCE y varios partidos políticos. Nuestro enfoque sigue siendo mejorar la transparencia e integridad del proceso electoral de la República Dominicana.
###
Como un líder mundial en la promoción de la democracia, IFES impulsa el desarrollo de buenas políticas de gobierno y de los derechos propios de la democracia a través de las siguientes acciones: brindando asistencia técnica a funcionarios electorales; contribuyendo al empoderamiento de quienes se encuentran subrepresentados para que participen en los procesos políticos; y aplicando investigaciones de campo a los fines de mejorar los ciclos electorales. Desde el año 1987, IFES ha trabajado en 145 países que van desde democracias en vías de desarrollo hasta democracias ya consolidadas. Para más información sobre el trabajo de IFES en la República Dominicana y alrededor del mundo, visite www.IFES.org.