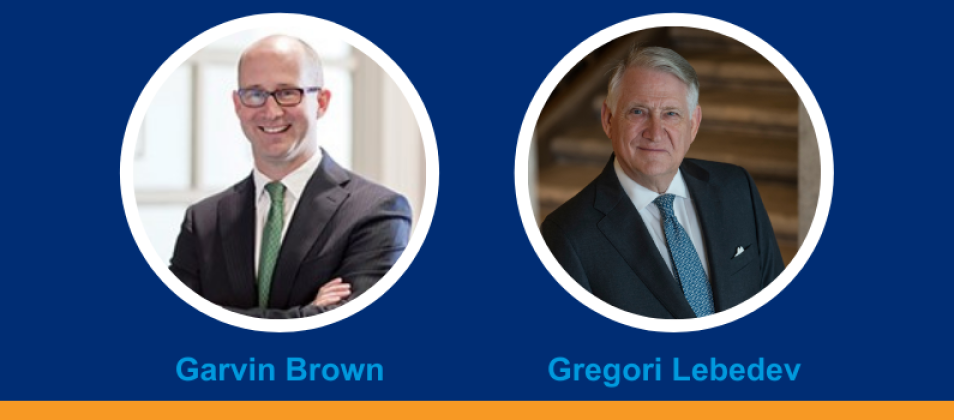 IFES Welcomes New Board Members Garvin Brown and Gregori Lebedev
The International Foundation for Electoral Systems (IFES) is pleased to welcome two new members to its Board of Directors: Garvin Brown, former Chair of Brown-Forman Corp.; and Gregori Lebedev, Chair of the Center for International Private Enterprise (CIPE). Both members bring considerable leadership experience and a passion for democratic values.
Garvin Brown had an extensive career with Brown-Forman Corporation, the largest U.S.-owned spirits and wine company with a global reach, and became Chair of its Board in 2007. He retired from this position in 2021. In 2018, Brown and his wife, Steffanie Diamond Brown, established an endowed Chair in Democratic Studies at McGill's Max Bell School of Public Policy. The Chair encourages public discussion of key challenges facing the world's democracies and contributes to evidence-based policy decision-making. In 2019, Brown and Steffanie Diamond Brown established the Diamond-Brown Democracy Fund (DBDF) to help foster equal and fair participation in the electoral process. Brown is also a member of the Board of UK for UNHCR, the U.N. Refugee Agency's national partner for the UK.
Gregori Lebedev's career in both the public and private sectors is broad, including his service as U.S. Deputy Assistant Secretary of State. In addition to CIPE, he serves on several boards, including for the U.S. Chamber of Commerce, the largest business federation in the world, as a member of the Board's Leadership Council; the Advisory Board of the Robertson Foundation for Government, for which he is the chairperson; and Marymount University, a private U.S. Catholic institution offering undergraduate and graduate degrees to nearly four thousand students from 78 countries.
As of April 2022, IFES' Board of Directors has 25 members representing a diverse range of experiences and backgrounds. IFES is deeply grateful to Rob Nabors and Denise Nappier, who retired from the IFES Board in December 2021, for their service and dedication to supporting democracy worldwide.
Learn more about IFES' Board of Directors.
Published on April 13, 2022.