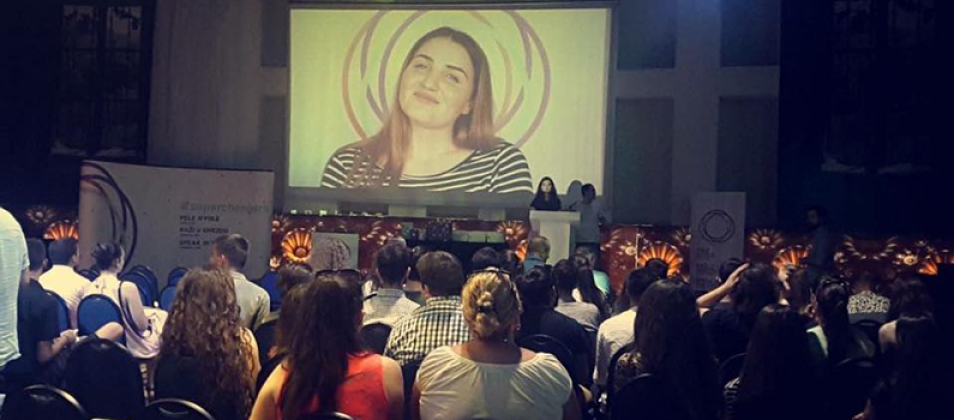 Kosovo's Youth Superchangers
The Speak in the Nest platform was launched in 2015, giving voice to hundreds of young people in Kosovo and an opportunity for them to learn about and get involved in electoral and political processes. The web and social media platform developed by the International Foundation for Electoral Systems and the Peer Educators Network with the support of the United States Agency for International Development became a safe space for Superchangers, modern day superheroes who, instead of fighting, build their communities. The platform offered an opportunity for getting involved through social media discussions and meetings with mayors, election officials and political party and civil society representatives, and through each activity platform members could build up their scores to become Superchangers. At the end of the program in 2016, 20 Superchangers took ownership of the platform and continued to moderate the platform for some time.

Afrim Berisha, who is 26 years old, and Leonora Javori, who is 20, are two of the Superchangers. Afrim joined the Speak in the Nest platform as he became very interested in the discussion topics and enjoyed contributing, while Leonora saw the platform as an opportunity to work for her community. They soon met many like-minded youth and became part of a community of Superchangers. Leonora notes that working together gave them a sense of power as they inspired one another to come up with solutions to different problems. She said that by being a part of this community, "she felt stronger." Afrim remembers when they took ownership of the platform and were tasked with the responsibility of continuing to provide a safe space for everyone. He said they learned a lot about writing inclusive content and moderating the conversation to avoid any type of discrimination. Afrim also maintains that the platform offered a great opportunity to learn about political and electoral processes in an interactive format. He said, "Many of my friends told me how they were able to use the knowledge gained through the platform to pass the entry exam for the faculty of political science."
Afrim and Leonora continue working with many civil society organizations that work toward youth empowerment. They also have been directly engaged in electoral processes. Leonora coordinated observers through the Democracy in Action Call Room in both 2017 elections and has supported the Kosovo Democratic Institute in election-related research, whereas Afrim went from managing the campaign of the independent candidate for mayor of Gllogoc in the 2016 by-elections to running for the Gllogoc municipal assembly in the 2017 municipal elections. While the platform has been put on hold due to a lack of funding, the Speak in the Nest platform's Superchangers are making a difference in their communities on issues that matter to them.