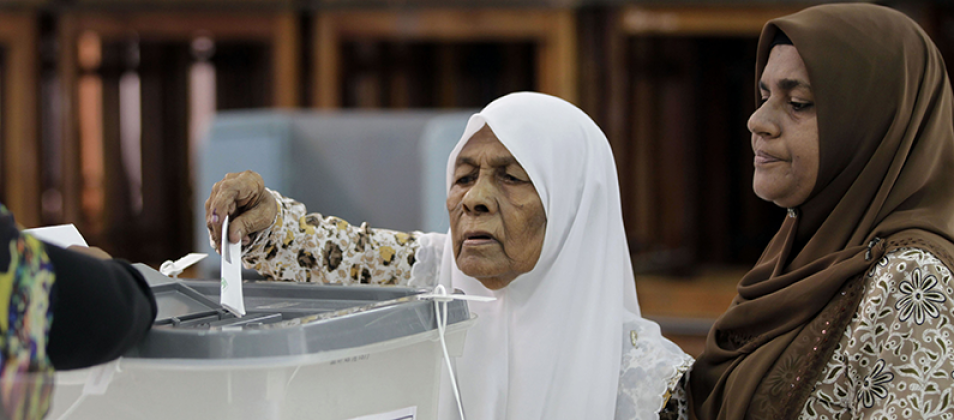 Learning About Violence Against Women in Politics in Leaps and Bounds: Surprising Findings from the Maldives
Gabrielle Bardall and Elin Bjarnegård
In 2011, the International Foundation for Electoral Systems' (IFES) Electoral Violence Education and Resolution (EVER) methodology found that women were rarely the subjects of political violence in the Maldives – less than 2 percent of violent incidents specifically targeted women, compared to 46 percent targeting men.
Four years later, using a new, survey-based methodology, data collected by Professor Elin Bjarnegård from Sweden's Uppsala University in collaboration with IFES suggested a very different situation: women experience over 50 percent of electoral violence in the Maldives.
What's behind this startling difference?
Has the Maldives political context changed so much in such a short time?
No. Although the 2011 data covered a period of political unrest and the 2015 data concerned an electoral contest, the political environment has not undergone any major shift that would account for this type of change.
Are the two studies looking at the same thing?
Almost, but not quite. Since the 2011 data covered a period of social unrest, the political violence was mostly experienced by protesters, administrators and the security forces. In 2015, the study surveyed political candidates who had participated in the parliamentary election the previous year.
Does this mean that women candidates are much more frequently victims of political violence than women protesters and other roles?
No, that is an assumption we cannot make based on these two studies. Another cross-national study using IFES' EVER data in 2011 found that less than 10 percent of all incidents of violence against women in elections was against female candidates – women were much more likely to be victims as political supporters, voters and in other roles. While the 2015 data did not cover women engaged in other areas of political life, the difference in proportions between these two studies suggests that the issue of violence against women in politics may be much more pervasive than previously suspected.
So what is going on? Is one of the studies incorrect?
No, neither is incorrect. Just the opposite: the 2015 data collection directly built on the findings of the earlier research as it recommended using more focused survey methods to document violence against women in elections. It became clear in the 2011 study that incident-based data like EVER does not tell the whole story of violence against women in politics. Although the 2011 study showed that women experienced election violence, it also recognized that it likely underestimated the amount of violence due to the data collection method.
One of the other main findings from the 2011 cross-national study was that most data about violence against women in elections comes from speaking to people in the communities where the violence takes place, not from media reports, police or hospital records, etc. Although the 2011 study revealed a difference between men and women's experiences of violence, it also showed just how much we still have to learn and to what extent we need to gender sensitize our data collection methods.
Through projects like the current work in Zimbabwe, Sri Lanka and Myanmar and IFES' Violence Against Women in Elections (VAWE) tool suite, which combines quantitative research with in-depth field work and tech-based analysis, we are making great strides in adapting appropriate research tools and deepening our knowledge about violence against women in politics.
Gabrielle Bardall is IFES' senior gender specialist responsible for providing strategic leadership and technical assistance to IFES' work on women's political participation and inclusive governance. Elin Bjarnegård is a senior lecturer in Development Studies at Sweden's Uppsala University, where she has conducted research on gender and democratization.