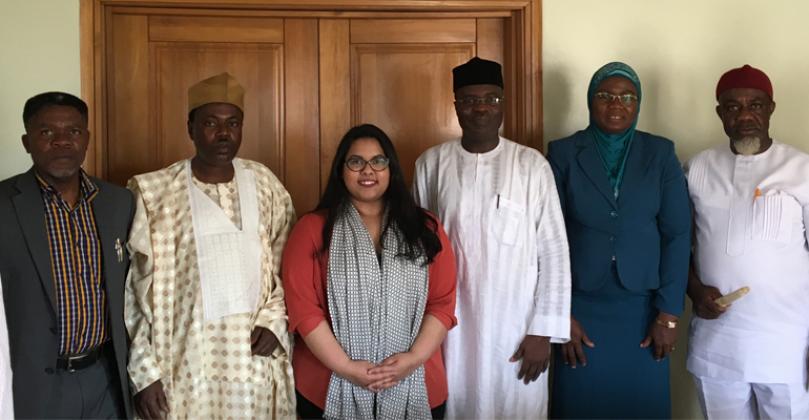 Male Allies for Leadership Equality: Learning from Nigeria's Experience
By Tazreen Hussain, IFES Gender Program Coordinator
How can men and women work together in leadership, particularly when a country has conflict or undergoing a political transition?
The International Foundation for Electoral Systems (IFES) is seeking to address this question through the Global Women's Leadership Program (GWLP) by developing a Male Allies for Leadership Equality (MALE) training curriculum. 
In order to inform the development of the MALE curriculum, we set out to conduct focus group discussions (FGDs) and key informant interviews to understand how to foster the development of coalitions of women and men to advocate for more inclusive political processes. Our aim was to understand three key areas: 
How men at the institutional level understand gender equality, and how they may or may not be working to develop coalitions or alliances with women to lead peacebuilding and political transition efforts; 
How men within households are, or can be, supportive to their female family members seeking leadership positions, and how they can become agents of change within their families and communities; and
The challenges women have faced as leaders, how the support received from their families encouraged their leadership roles, and their approaches to engaging men as allies.
Our first set of FGDs were conducted with the Syrian population living in Gaziantep, Turkey, the results of which can be found in the report entitled Crisis in Syria: Now is the Time to Seek Male Allies for Leadership Equality. This was key to understanding how those that are in the midst of conflict and are setting up governance structures are working together. Our second set of focus groups were conducted in Abuja, Nigeria in an effort to understand if and how male and female leaders were working together since the 2015 elections and given the progress Nigeria's institutions have made on gender equality and women's empowerment. In Abuja, IFES met with a wide variety of stakeholders including the members of the Independent National Electoral Commission (INEC), which has instituted a gender policy, as well as male and female political party leaders, youth advocates, civil society representatives, and community activists from the northern states that are currently experiencing security challenges and instability.
Overall, we saw that both men and women attributed the low number of women in leadership roles to cultural stereotypes about gender roles, such as the notion that a woman's role in society is that of the caretaker and important within the household. Many don't see women as leaders, and participants believe that if more people were aware of how women's leadership would benefit society, then they would be more encouraging of it.
We also saw that in the north, which has been impacted by violence and instability, it was even harder for women to take on leadership roles. The number of people who have become internally displaced within this region has drastically risen, and most of them are women. While it is true that women's concerns in such instances are mostly about meeting the safety, nutritional, and hygienic needs of their families, there are many women who want to take on leadership roles. It is assumed that they are consumed by humanitarian needs only and that women wouldn't be able to take on such roles because of this. Those that are able to take on such roles face additional challenges, challenges that are echoed in other humanitarian settings around the world. For example, one FGD participant told us of an instance in a refugee camp where those responsible for distributing humanitarian relief were all men and there were challenges with the distribution. To improve this, women came together to form their own groups to distribute relief materials. Although distribution was improved, some men began a smear campaign and challenged their roles by saying that they weren't fulfilling their duties as mothers, daughters, and wives by taking on such a role.
Workplace equality was referred to as an ongoing systemic barrier to leadership equality; many women feel they are not taken seriously by their colleagues and superiors because they are a woman. As a result, women feel that they must work even harder to prove themselves capable and fight off gender-based stereotypes. For many, completing daily tasks at work can be demoralizing because of the sexual harassment they endure. For example, one participant said it is impossible to get promoted because it was common for male superiors to require sexual favors or bribes for advancement.
However, progress is being made.
One woman we met with told us that a few of her male colleagues encouraged her to apply to be the Dean of the college where she was teaching. As a result, she applied for the position and became the first ever female Dean of that college. Another female activist we spoke with was encouraged by her male colleagues and their leadership at the local level, encouraging women and girls to take part in local level decision-making processes. Many of the men we spoke with talked about supporting and encouraging their female colleagues too. In fact, it was encouraging to hear from three male representatives of Nigeria's Federal Ministry of Women's Affairs and Social Development who talked about the role of the ministry and their belief that Nigeria will become a gender equitable society.
In another occasion, we met with the Chairman of the Inter Party Advisory Council (IPAC) and something incredible happened. Ten minutes into the interview, the entire Executive Committee of the IPAC entered the office and decided to take part in the discussion. Many spoke of the efforts that political parties have already made to encourage women to take part in politics, particularly the fact that all political parties in Nigeria have removed the fees associated with applications for candidacy for women. Interestingly, during a separate conversation with members of the Women in Politics Forum, female political leaders noted that many women believe they won't be taken seriously if they do not pay for the fees.
Despite this effort, the IPAC noted that women still do not take part in politics, so what else were they to do? This question led to a vigorous debate between the Executive Committee members. Unintentionally, they formed two groups and began debating each other on the importance of gender equality in politics and methods to increase women's representation. In one instance the topic of quotas was brought up. Some mentioned that quotas won't help given the lack of women's interest in joining politics, and in response to this back and forth the Chairman said, "No I disagree, we must have gender parity." He then went on to explain that women are not taking part like men because they have different barriers to their participation, including the high cost of campaigns, and in order to achieve gender parity they, as leaders, needed to understand and address the environment and barriers to women's participation.
It was in this instance we saw how passionate he was about this principle. It was in this instance we saw several Executive Committee members nod their heads in agreement. And it was in this instance we saw in real time the value of encouraging dialogue among male leaders to discuss topics of gender equality. 
The impact of this discussion will no doubt be taken with each of the executive members as they continue with their work. In turn, IFES will build these key lessons learned into the MALE training curriculum and create the space for debate and dialogue.   
About the GWLP Program
In support of United Nations Security Council Resolution (UNSCR) 1325 on Women, Peace, and Security (WPS), and in accordance with the U.S. Agency for International Development's commitments under the U.S. National Action Plan for Women, Peace, and Security, the Consortium for Elections and Political Process Strengthening partners – IFES, the International Republican Institute and the National Democratic Institute – are implementing the GWLP program, which aims to reduce the individual, institutional, and socio-cultural barriers that inhibit women from participating in peacebuilding and transitional political processes, as well as increase the substantive participation of women in these platforms so that their voices are heard and included in the development of peaceful, democratic societies.
About the Support to Electoral Reforms Project  
The "Support to Electoral Reforms Project" (SERP), which began in April 2014 and extends to March 2019, encompasses IFES' multi-faceted support to Nigeria's INEC. Focused primarily on increased public enfranchisement and the professionalization of both the INEC and State Independent Electoral Commissions (SIECs) throughout the country, SERP seeks to enhance Nigeria's election management bodies' capacity to operate efficiently and independently oversee electoral processes; strengthen the sustainability of INEC's in-house research and training unit, The Electoral Institute (TEI); and improve participation through evidence-based voter education campaigns and public outreach. IFES also supports the INEC's Gender Division in the implementation of its "Gender Policy Implementation Framework," which was adopted in 2015. IFES provides technical input on monitoring compliance of the implementation of the framework, which includes support at the national level as well as in the 36 states and the Federal Capital Territory of Nigeria. IFES also supports the SIECs in all 36 states on inclusion and gender mainstreaming issues in elections at the local council levels. 
To hear from men and women working on gender equality in Nigeria, please watch the below videos: