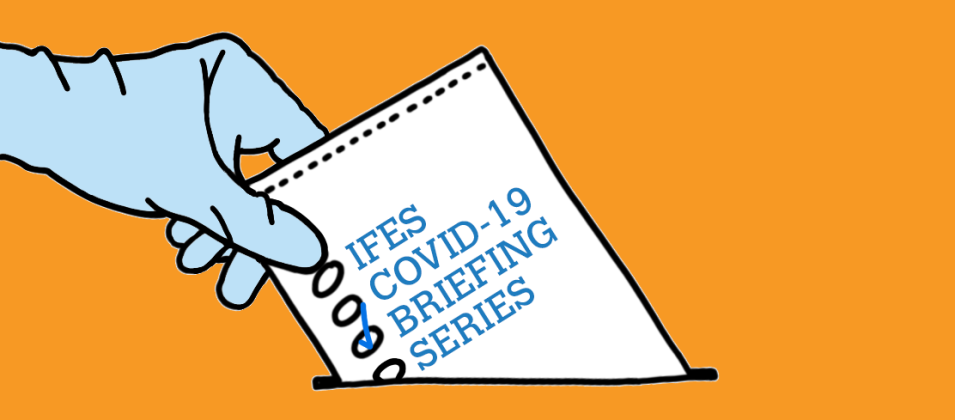 Message from President and CEO Tony Banbury: New IFES COVID-19 Briefing Series
Dear Friends,
The COVID-19 crisis has exacted a devastating toll on human lives, economies and health systems around the world. It has also arrived at a particularly difficult moment for democracy. For the first time in nearly two decades, a majority of countries – 92 according to the V-Dem 2020 Democracy Report¹ – are characterized as autocracies. This "third wave of autocratization" has affected even regions long assumed to be democratic strongholds. Now, the COVID-19 crisis has created new opportunities for would-be authoritarians to further cement their hold on government structures and erode the protection of human rights.
In order to develop a better understanding of this new context, I am pleased to announce that today we are launching the new IFES COVID-19 Briefing Series which tackles seven fundamental areas of concern for democracy and governance in the wake of the pandemic. Erica Shein, Director of the IFES Center for Applied Research and Learning, is lead editor for the series.
I invite you to read the first paper in the series, Safeguarding Health and Elections, authored by IFES experts Fernanda Buril, Ph.D., and Staffan Darnolf, Ph.D., and Dr. Muluken Aseresa, M.D., Senior Technical Advisor, Management Sciences for Health.
This paper answers the critical question: How can elections be held safely during the COVID-19 pandemic and other public health crises?
It is crucial that, during these challenging times, public authorities, political parties, candidates, civil society and the international community join efforts to protect the health of both people and their democracies. Elections are an essential element of this response, because they reinforce democratic institutions and the rule of law. Mishandling or manipulating elections during such crises can drive the long-term decay of fundamental freedoms, the consolidation of power and corruption. Electoral leaders addressing this crisis must act decisively and transparently, while planning for what comes next. If they wait, it may be too late to mitigate the risks to both public health and democratic rights due to postponed or poorly run elections.
Safeguarding Health and Elections should be of interest to democracy and governance practitioners, policymakers and supporters everywhere. Together, as always, we will continue to overcome obstacles and build democracies that deliver for all.
Sincerely,
Tony
Anthony N. Banbury
IFES President and CEO
¹Anna Lührmann, Seraphine F. Maerz, Sandra Grahn, Nazifa Alizada, Lisa Gastaldi, Sebastian Hellmeier, Garry Hindle and Staffan I. Lindberg. 2020. Autocratization Surges – Resistance Grows. Democracy Report 2020. Varieties of Democracy Institute (V-Dem). Retrieved from https://www.v-dem.net/media/filer_public/f0/5d/f05d46d8-626f-4b20-8e4e-53d4b134bfcb/democracy_report_2020_low.pdf 
Published on May 11, 2020.