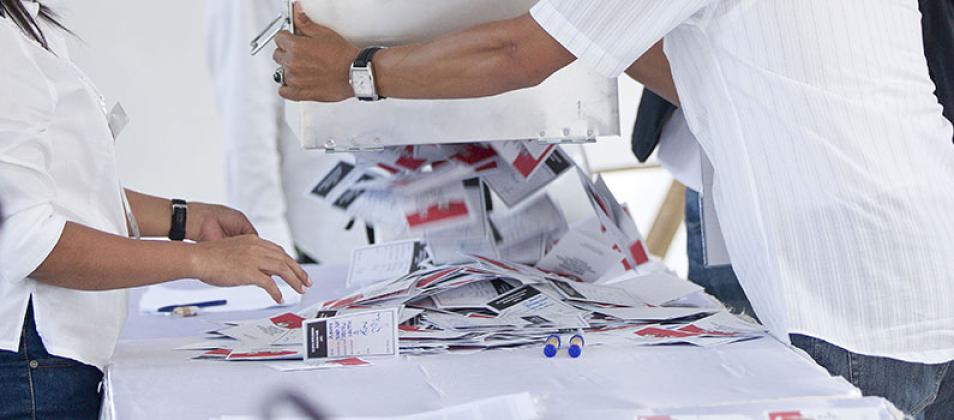 New Symptoms, Old Disease: How COVID-19 Has Aggravated Long-Standing Challenges of Election Administration
When it became clear, in early 2020, that the effects of the COVID-19 pandemic would not be limited to public health and economic sectors, but would also threaten the health of democracies, the International Foundation for Electoral Systems (IFES) marshalled new and long-standing partnerships and undertook extensive research, such as the COVID-19 Briefing Series, to support democratic institutions to navigate the crisis. Since then, IFES has also directly supported more than a dozen election management bodies (EMBs) to plan elections and implement proper risk-mitigation measures, helping voters exercise their rights. During this time, IFES has witnessed the challenges election officials faced to deliver safe processes and safeguard their integrity. One of the main takeaways has been that, although at first glance a pandemic seems very unique in nature, most EMBs' struggles to navigate it just revealed or aggravated preexisting institutional or procedural issues.
Undoubtedly COVID-19 is creating unexpected challenges for election administration, which are evident even in democracies with long-standing experience with elections. For example, additional funding was needed to procure material that likely had never featured in electoral budgets before, such as face masks or hand sanitizers. The organization of training sessions for poll workers, voter registration drives and Election Day with reduced person-to-person interaction has also created atypical logistical hurdles that require more time to complete. Even in several countries that have managed to implement reasonable preventive measures for Election Day, voter turnout has still suffered in part because EMBs and other governmental institutions have been unable to entirely alleviate voters' fears (through voter information campaigns, for example). Yet, even these problems that can arguably be considered extraordinary to the COVID-19 context could be better addressed by more resilient and better structured EMBs.
In the past decades, IFES has developed and applied diverse tools and frameworks to assess the capacity of EMBs and the quality of elections, such as the Electoral Process Diagnostic (EPD), a comprehensive methodology designed to identify critical needs in specific areas of electoral management. The EPD uses primary data sources to assess the effectiveness and credibility of key facets of the electoral process and enables us to make recommendations on needs for forthcoming election cycles based on reliable and standardized data. These assessments have allowed IFES not only to understand EMBs' needs in depth, but also to identify certain critical weaknesses within these institutions that help explain their challenges to respond to the pandemic. The following section provides an overview of common EMB challenges identified in past EPD reports and capacity assessments and considers how these challenges may have been compounded by the COVID-19 crisis.
Political Independence and Autonomy
A common challenge for EMBs during this pandemic has been to make timely decisions and take steps on their own to ensure the safety of elections. Either because their mandates are limited or because they are politically dependent on the executive, many EMBs have had to rely on other institutions to issue COVID-19 guidelines for electoral processes. In some cases, coordination between EMBs and other relevant public institutions was weak – see more under the "Interinstitutional Coordination" section below – and, in others, EMBs struggled to implement guidelines that were under their own mandate. These guidelines were often issued late or did not properly cover the specific needs of election activities, hindering timely action and undermining the effectiveness of preventive measures.
The lack of de jure or de facto independence is obviously not a new problem for EMBs, but a chronic issue. In many countries, parliamentary approval is needed for new election regulations and ultimate control over electoral expenditures is exerted by the executive, leaving the EMBs with few opportunities to respond swiftly to new challenges. Furthermore, dependence on other branches of government can undermine public perceptions of EMB impartiality, which can be even more dangerous to the success – and safety – of elections in a polarized environment. For more information, read IFES' Preserving Independent and Accountable Institutions.
Leadership
Even among EMBs with comprehensive mandates that would give them responsibility for elements of the COVID-19 response, we have observed that leadership gaps have undermined their effectiveness. IFES research prior to the pandemic emphasizes how these gaps make it harder for EMBs to properly respond to crises. IFES' Leadership in Crisis: Ensuring Independence, Ethics and Resilience in the Electoral Process, for example, highlights that election authorities often view their role as purely administrative or managerial and ignore or are unprepared to demonstrate the less tangible elements of leadership, rendering the electoral process more vulnerable to crises or challenges. The report also emphasizes that "EMB institutions characterized by weak leadership are less likely to seek innovative solutions to emerging problems." Indeed, during the COVID-19 crisis, when proactive and strong leadership is particularly needed, limited crisis management skills, insufficient proactivity and clarity regarding tasks and responsibilities, and lack of public trust in EMB commissioners all have been crippling.
Decision-Making Transparency
Decisions on changes to the electoral process due to COVID-19, whether postponements or procedural adaptations to prevent the spread of the virus, must be made carefully and with sufficient consultation with other stakeholders – e.g., political parties, civil society – and then be communicated transparently to the public. Absent consultation and transparency, suspicions can arise that the EMB's decisions were political or that they intended to confer advantages to certain actors.
The pandemic put an additional strain on the organization of stakeholder consultations and inclusive discussions, especially in its beginning when many organizations were still adapting to the use of technology for remote meetings. Yet, the perceived lack of transparency in EMB decision-making was not unique to the COVID-19 context – our recent assessments have consistently shown this to be a pervasive weakness of EMBs. Election commissioners often fail to record and publicize their meetings and discussions and to make notes and decisions available to the public quickly and in accessible formats, creating opportunities for the spread of disinformation. In some countries, communication among commissioners also happens outside formal meetings or professional emails, which also hinders transparency.
Internal Communications and Coordination
Several EMBs IFES has assessed throughout the last decade have shown, to varying degrees, communication weaknesses. This problem is not only prevalent, but also the root of many other problems discussed here. EMBs often struggle to communicate clearly across levels of authority, departments and between headquarters and field offices, all of which stalls coordination. When coordination mechanisms are fundamentally flawed, the addition of new tasks or responsibilities to the workloads of various units to respond to the COVID-19 crisis is likely to undermine timely task completion.
Staff Capacity
In addition to clearly defining and assigning tasks, EMBs must also have sufficient and capable staff to carry them out. Mainly for budgetary reasons, several EMBs have struggled to hire additional staff to implement adjustments during the COVID-19 crisis, often overwhelming existing personnel who have full workloads and may lack the skills to deal with the new tasks – e.g., designing new protocols, procuring personal protective equipment (PPE) or developing campaigns with public health components. Issues related to EMB staffing were also common before the pandemic. According to IFES' previous assessments, some EMBs experience difficulties during the recruitment process, either for not exerting control over the hiring of its ad hoc personnel – and thus not being able to select appropriate individuals – or for not being able to find pools of candidates with the needed technical skills. IFES' assessments have also revealed that EMB staff often display low morale and engagement due to lack of training, career prospects and accountability in performance management. These issues also likely hindered staff capacity to adapt to the challenges brought on by the pandemic.
External Communications and Voter Information
As mentioned in the introduction, voter turnout rates decreased in several countries in elections held during the pandemic. Although EMBs are unlikely to be able to completely dissipate voters' fears without similar messaging from other stakeholders in the election process, they can, especially through a streamlined message and clear communication campaign, inform voters about what is being done to protect their health and the integrity of elections. With EMBs struggling to secure resources for all additional materials and staff needed during the pandemic, however, this type of work often has not received the attention it deserved. Some EMBs have either not done much to inform voters or depended heavily on civil society and the international community to cover this need.
Not surprisingly, these communication issues existed before the pandemic. EMBs often lack a well-structured strategic communications plan to guide their outreach to the electorate in a way that keeps them well-informed about the electoral processes and less vulnerable to disinformation. Many EMBs also tend to focus on responding to immediate problems and accusations rather than taking a proactive communications approach. Electoral organizations with strong voter education departments and partnerships across government institutions and civil society, on the other hand, are more likely to succeed in communicating relevant information and mitigating poll workers' and voters' fears.
Interinstitutional Coordination
The public health crisis has forced EMBs to work with some institutions outside their normal partnership scope, such as ministries of health and epidemiology centers. Several EMBs struggled to properly integrate these institutions in their plans and assessment of risks during electoral activities or to coordinate with them to procure PPE or issue a unified message to citizens. Several countries also created national task forces to guide decision-making related to the pandemic, but EMBs were not always included. For more information on administrative collaborations within COVID-19 task forces, read How to Hold Elections Safely and Democratically During the COVID-19 Pandemic.
Even preceding this crisis, EMBs have struggled to coordinate externally and to consolidate interinstitutional partnerships. As mentioned before, EMBs' relationships with other branches of government are often weak or marred by political or financial dependence. Many EMBs still struggle to establish healthy partnerships with other institutions to optimize efforts and increase outreach.
Time Management
Although elections are usually scheduled within expected periods and EMBs are well aware of what needs to be completed before Election Day, suboptimal time management and the lack of a detailed operational plan have been a constant and widespread problem. Other issues identified here, including weak internal communications and coordination and lack of sufficient personnel, make it hard for EMBs to complete tasks within tight electoral calendars. The new tasks added due to COVID-19, such as the procurement of PPE, regulation and procedure amendments, training on preventive measures and development of relevant material only added to the challenge of time management, and any delays had the potential to cause major disruptions to the electoral process.
Budget
Finally, and perhaps the most obvious challenge, EMBs typically do not have sufficient resources to cover all the expenses needed for smooth election operations. Estimated additional costs of running elections during the pandemic varied from $14.6 million dollars in Uganda to nearly $99 million in Indonesia and $2 billion in the United States. These unexpected costs, coupled with the uncertainty many EMBs faced regarding whether or when they would receive additional funds, hindered their capacity to plan ahead and make necessary budgetary arrangements. Although some EMBs, especially in countries with more resources, were able receive this money quickly, others received less than needed or had to wait until days before the election to access the funds. These delays and budget constraints often led to shortages of PPE, compromised training efforts and inconsistent application of preventive measures. The lack of sufficient funding, both during the pandemic and outside this context, often makes EMBs deprioritize important issues, such as comprehensive civic and voter education and efforts to make elections more inclusive.
Recommendations
The COVID-19 pandemic has clearly highlighted the impact that long-standing EMB challenges have on holding elections in a crisis context. Although we cannot reliably predict when the next crisis will arise, we do know that it will. EMBs and public authorities should therefore focus on ensuring their institutions are better prepared to respond to future crises.
The following recommendations are drawn from the COVID-19 experience and the analysis IFES has done on EMB capacity to deal with crises:
Capacity
Enact legal reforms that enhance EMBs' institutional autonomy to better prepare these institutions to respond to unexpected circumstances, allowing election officials, who are more familiar with the electoral processes, to take the needed actions to safeguard them. This institutional autonomy should be reflected in the EMB's mandate and be accompanied by de facto functional autonomy. In other words, the EMB must have the decision-making power and resources available to implement decisions free from negative political interference. For more information, read Leadership in Crisis: Independence.
Build strong EMB leadership and provide relevant crisis management and communication training to EMB members. This might include modules on scenario planning; developing contingency plans; navigating ambiguity, stress, and external pressure; consulting stakeholders during the decision-making process; and explaining to the public what was done to prevent or manage the crisis. For more information, read Leadership in Crisis: Crisis Leadership.
Administer fair and inclusive recruitment processes and provide a better EMB work environment with reasonable benefits, regular training and a career plan to attract and retain capable personnel. To the extent possible, EMBs should maintain control over the internal recruitment process. Additionally, appointees should be able to withstand pressure and act impartially, which might require security of tenure and protections against undue removal from office. For more information, read Leadership in Crisis: Independence.
Communications and Transparency
Establish and enforce transparency practices for EMBs, such as livestreaming relevant meetings, publishing meeting minutes and resolutions and requiring commissioners to use secure professional emails to communicate about relevant topics.
Break the siloes among EMB units and adopt mechanisms to improve internal communications and coordination. This might include regular internal meetings involving technical leads and commissioners, broad dissemination of decisions that affect the whole institution and the use of multistakeholder program management tools with assigned tasks to different units and individuals.
Develop and implement comprehensive communication strategies and campaigns, covering different media outlets and targeting different groups, which requires properly funding communications and voter information units.
External Collaboration
Pursue more opportunities to establish partnerships with other institutions, even outside a crisis context, to optimize efforts and increase outreach while maintaining the EMB's impartiality. Partnerships with departments of education and health, for example, could enhance civic education, especially during a pandemic.
Electoral Planning
Improve time management, planning ahead and creating time cushions to avoid minor delays having a large impact on the delivery of electoral activities. A detailed electoral operational plan developed via input from officers across the EMB's headquarters and field offices has proven to significantly enhance an election authority's capacity to deliver credible elections under tight deadlines and challenging conditions. This observation is especially valid when organizing elections during the ongoing pandemic.
Finally, properly and timely fund EMBs' standard operations and create emergency pools to cover unexpected costs such as the ones posed by a public health crisis.
Written by Fernanda Buril, IFES senior research officer.
Published on March 16, 2021.