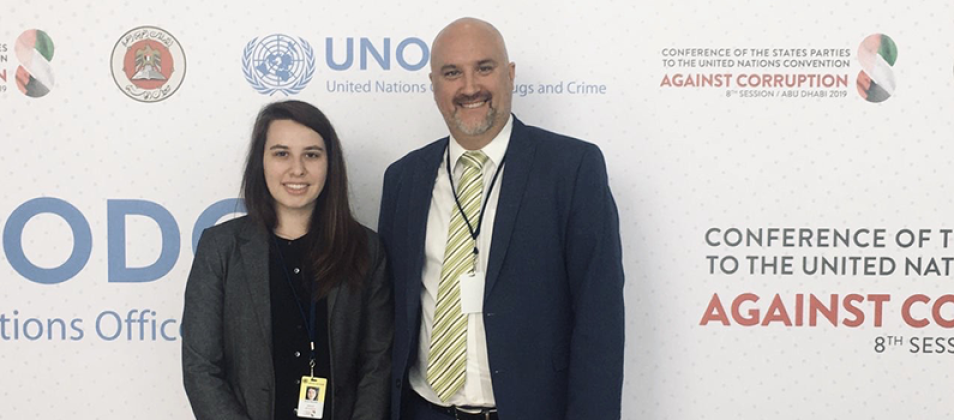 Partnering to Implement International Anti-Corruption Commitments
The Eighth Conference of States Parties to the United Nations Convention Against Corruption (UNCAC) took place from December 16-20 in Abu Dhabi, United Arab Emirates. As a global leader in fostering public sector integrity and addressing corrupt practices that undermine democratic institutions, the International Foundation for Electoral Systems (IFES) was represented at the conference by Regional Europe Office Director and Senior Political Finance Adviser Dr. Magnus Ohman and Legal and Research Officer Alexandra Brown. They participated in side events focused on judicial integrity, whistleblowing policies, gender and corruption, and the role of civil society organizations in implementing UNCAC. They also met with individuals from the Group of States Against Corruption and United Nations Office on Drugs and Crime (UNODC) to discuss current challenges and opportunities for the implementation of international anti-corruption commitments.
In May 2019, the IFES Regional Europe Office in the Czech Republic hosted an Expert Group Meeting on Transparency in Political Finance in partnership with UNODC and the Office for Democratic Institutions and Human Rights of the Organization for Security and Co-operation in Europe, in support of resolutions taken by the conference in 2017. This meeting resulted in proposed principles on transparency in political finance to combat corruption, which were included in a note by the Secretariat in the 2019 conference.
Learn more about IFES' global efforts to fight corruption.