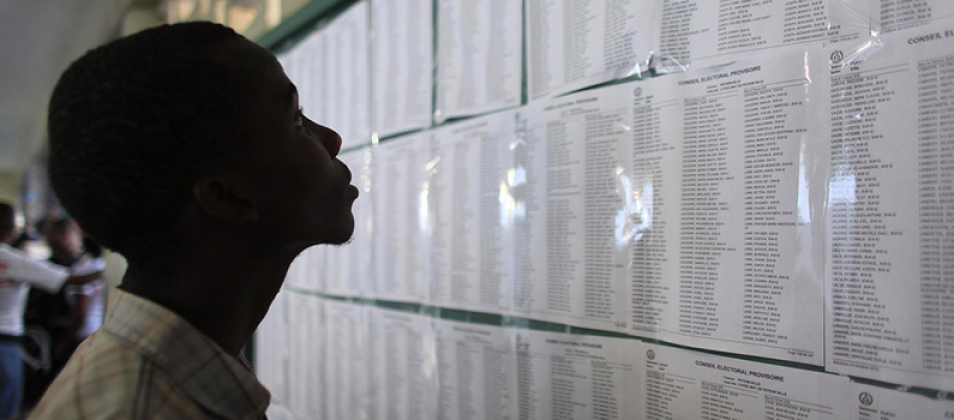 News and Updates
Interview/Speech/Testimony
President and CEO Testifies on Human Rights in Haiti
On March 4, 2020, International Foundation for Electoral Systems (IFES) President and CEO Anthony Banbury delivered testimony to the United States House of Representatives' Tom Lantos Human Rights Commission on "Human Rights in Haiti: Ideas for Next Steps."
IFES first began working in Haiti in 1991 and is currently implementing the "Elections and Political Processes Support Activity," a five-year program funded by the U.S. Agency for International Development through the Global Elections and Political Transitions (GEPT) mechanism. Banbury worked as a human rights officer on a United Nations (UN) and Organization of American States mission in 1993 and led the UN's operational response following the 2010 earthquake.
A recording of the hearing is available below, followed by a summary of his oral testimony.

Banbury testified on the conditions and next steps necessary to achieve credible elections in Haiti. He stated that a stable, democratic Haiti upholds shared values while serving U.S. national interests. Banbury outlined five conditions that are necessary for credible elections to be held:
The government must reach an agreement with a broad-based, representative opposition coalition on the organization of elections.
An updated voter list based on a more complete National Civil Registry is essential to avoid the disenfranchisement of thousands of Haitians – especially young people.
The government must reestablish an independent and empowered Provisional Electoral Council (CEP) through the appointment or reappointment of commissioners; the CEP must also be properly funded.
An electoral law or decree must be adopted to determine ground rules for elections.
Effective security arrangements with adequate resources and support need to be in place.
In closing, Banbury stated that IFES is committed to working to promote a transparent, citizen-responsive government that represents all segments of society. "IFES and other nongovernmental organizations will continue to do everything we can to promote electoral integrity and the consolidation of democracy in Haiti," which is only possible with strong, sustained support from the U.S. Congress.
During Q&A with Co-Chairman James P. McGovern (D-Mass.), Banbury spoke of the need for accountability and anti-corruption mechanisms. He stated that to achieve "government that delivers for the people, there needs to be accountability for the actors who prevent that from happening." He also remarked that "in this period of political uncertainty … a [congressional] working group could be especially effective" to hear directly from the Haitian people, including opposition groups and civil society.
Read Banbury's written testimony and learn more about IFES' programs in Haiti.