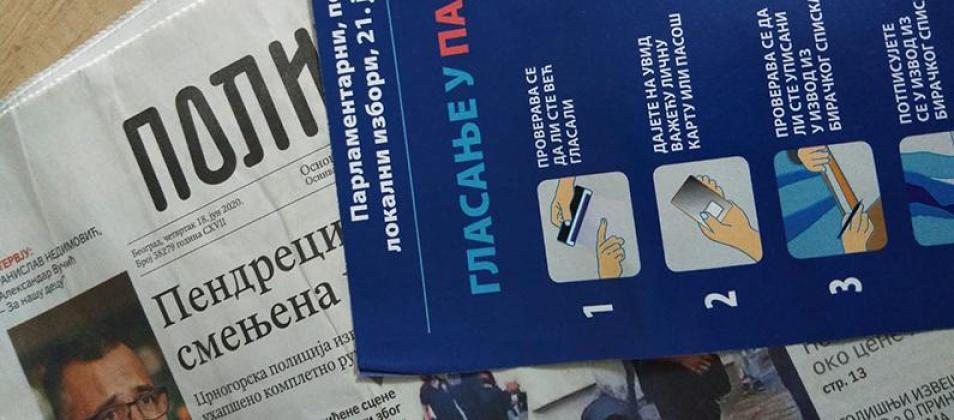 Rapid Response Protects Serbian Voters
by Fernanda Buril and Andrew Rogan
On June 21, 2020, more than six million Serbians had the right to cast their ballots in parliamentary, provincial and local elections. These were the first national elections to take place in Europe following a series of postponements as a result of the COVID-19 pandemic. With a partial opposition boycott and the threat of the COVID-19 virus looming over the elections – initially scheduled for April 26 until the national state of emergency came into effect on March 11 – the International Foundation for Electoral Systems (IFES) provided key, targeted assistance to election administration authorities as part of the USAID-funded two-year "Political Processes Strengthening Activity". Additional funds were obtained from USAID's Electoral and Political Processes Fund to enable IFES to grant additional support to the Republic Election Commission (RIK) to execute national elections with an effective COVID-19 response.
Weeks before the election, IFES shared with the RIK a set of recommendations to mitigate risks of COVID-19 transmission during electoral activities. The recommendations drew from IFES' Safeguarding Health and Elections briefing paper and outlined measures contextualized for the Serbian electoral system and priority needs. When the IFES team arrived in Belgrade, it conducted a risk assessment exercise with RIK to identify potential risks at each step of the electoral process and analyze the feasibility of recommendations proposed to mitigate them, given time and financial constraints. This exercise was also informed by a national pre-election survey developed by IFES that identified Serbians' main concerns in going to the polls during the public health crisis and what measures would make them feel safe to participate in the electoral process.
After receiving official guidance from the COVID-19 national task force, which to a large extent mirrored the recommendations developed by IFES, RIK's challenge became communicating the preventive measures to be followed on Election Day to voters, poll workers and observers. In the span of three days, IFES collaborated with RIK to launch an effective outreach campaign to promote the dissemination of accurate and comprehensive information through the development of an instructional video that aired on the national TV public service broadcaster and a public service announcement that aired on a network of 30 radio stations across Serbia. As part of this campaign, IFES also produced a leaflet with preventive measures on Election Day and RIK's instructions for the voting procedure. A total of 564,000 copies of this leaflet were included in nine daily newspapers. To increase the reach of the message, particularly among youth voters, IFES also helped RIK promote its posts on the instructional video and informational leaflets on Instagram to 800,000 users. The same leaflet design was used for large posters delivered to all 8,253 polling stations across the country as reminders for voters to follow preventive measures.

As the elections had originally been scheduled for April 26, poll worker training sessions had been completed by the time Serbian authorities adopted preventive measures for Election Day. As it was considered impractical to organize new training sessions to disseminate these preventive measures, IFES worked with RIK to produce large posters with special instructions for poll workers, to be posted inside every polling station. These posters provided clear guidance on how to set up the polling station, how to protect themselves, including members of mobile teams, and how to protect voters and observers during voting.
On Election Day, the IFES team visited 23 polling locations to take note of the level of compliance with COVID-19 preventive measures. IFES will distill lessons learned and conduct a post-election analysis through a follow-up survey and comprehensive study, the findings of which will be shared with stakeholders in Serbia and used to inform ongoing electoral assistance, as well as for comparative planning purposes in neighboring countries with upcoming elections.
After the postponement of elections by more than 70 countries and territories due to COVID-19, it is important to develop adaptations and implement preventive measures to reduce the risks of transmission and allow for the safe conduct of elections. Public authorities, candidates, voters, poll workers and observers all play an important role in making sure these measures are respected and can yield the positive results we expect and for which we hope. IFES will continue to work with its partners around the world to help ensure the safety of citizens and democratic processes.
IFES' programming in Serbia was made possible with support from the United States Agency for International Development partly (USAID) through the Consortium for Elections and Political Process Strengthening (CEPPS). Established in 1995, CEPPS pools the expertise of three premier international organizations dedicated to democratic development: IFES, the International Republican Institute and the National Democratic Institute. CEPPS has a 25-year track record of collaboration and leadership in democracy, human rights and governance support, learning from experience, and adopting new approaches and tools based on the ever-evolving technological landscape.
The contents of this story are the responsibility of IFES and do not necessarily reflect the views of USAID or the United States Government.
Fernanda Buril is a senior research officer and Andrew Rogan is a program coordinator for Europe and Eurasia at IFES.
Published on August 4, 2020.