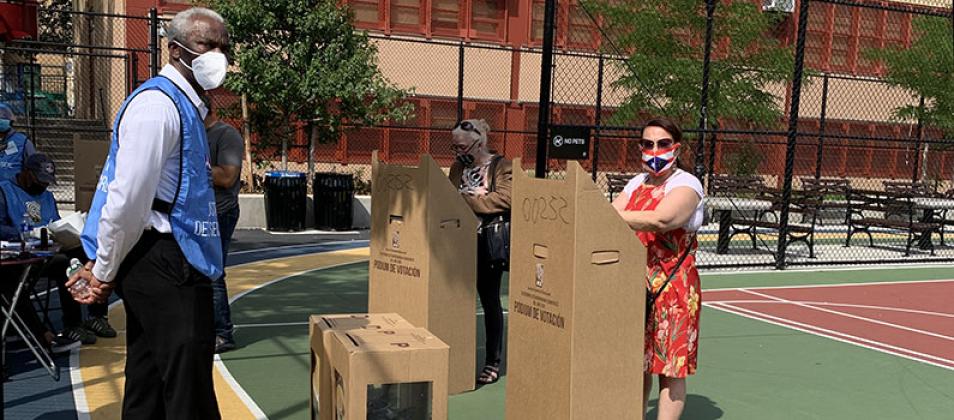 Voting During COVID-19: What Scares People the Most?
by Fernanda Buril
Since COVID-19 became a public health crisis, it has impacted elections around the world in several different ways. Not only has the coronavirus forced election postponements in nearly 70 countries and territories to date, it has also considerably decreased voter turnout in many countries that decided to move forward with polling. France's first-round municipal elections on March 15, for example, recorded a historically low turnout at 45 percent, despite the preventive measures put in place by the French government. The second-round elections on June 28 recorded an even lower voter turnout of 40 percent, even as France reports lower number of daily new infections. Mali's and Iran's parliamentary elections, primary elections in several U.S. states and local elections in Australia, where voting is compulsory, also recorded higher abstention levels than usual.
Although certainly not the only reason, the fear of being infected at polling stations can drive this low level of participation. Understanding voters' – and poll workers' – fears of going to the polls amid the COVID-19 crisis is crucial to help election management bodies (EMBs) address these issues, not only adjusting electoral procedures but also communicating better to the public what is being done to protect their health. With nationwide surveys on this topic now conducted in three countries in three different continents, the International Foundation for Electoral Systems (IFES) has some preliminary insights into voters' main concerns.
IFES' pre-election surveys were conducted in Serbia,¹ the Dominican Republic² and Nigeria³ during the month of June. Questions covered respondents' overall levels of concern about the impact of COVID-19 and more specific concerns about Election Day. It is important to highlight that, when the survey was being conducted, Nigeria and the Dominican Republic were seeing their daily numbers of reported cases increasing, whereas Serbia was experiencing a decline. These different patterns might have contributed to the variance in levels of concern about the impact of COVID-19 on the health of respondents and their families. On a scale from zero to 10, with 10 being extremely concerned, Serbians averaged 5.32, whereas Dominicans (8.53) and Nigerians (8.67) reported much higher levels of concern. Also worth mentioning is the fact that, in all three countries, women reported being more concerned about COVID-19 than men did, which indicates that the virus' negative effect on voter turnout could be stronger among women voters.
In all three countries, respondents' top two concerns related to gatherings. More specifically, voters perceived that people being too close to each other while queuing and permitting too many people inside the polling station at the same time were the main threats to voters' safety. These issues were rated as more threatening by respondents than, for instance, lack of masks, lack of disinfectant, poll workers not wearing personal protective equipment (PPE) or general uncleanliness of the polling station.
Ensuring a safe physical distance while queueing and voting inside the polling stations, not surprisingly, was among the top two priority measures for EMBs to take according to survey respondents in all three countries. The other measure preferred by respondents was the provision of masks by EMBs to all voters. Although this second measure might appear surprising as the lack of such equipment was not seen as a top threat by respondents, this prioritization might indicate that voters are generally aware of the importance of wearing masks and do not expect EMBs to not be able to provide them.
While only preliminary, these survey results indicate some of the potential factors that could increase both trust in the safety of elections and voter turnout. One of these factors is straightforward and refers to the provision of PPE, especially masks, to voters. Although some EMBs might find it difficult to secure funds and arrange the logistics to provide such supplies, they should pursue this measure – or alternatives such as encouraging the use of cloth masks. Doing so would reduce the chances of voters showing up without masks and posing risks to others, which is a reasonable concern.
The second and perhaps less obvious insight from IFES' data is that voters' previous experiences waiting in long lines and voting in crowded spaces are likely contributing to their fears of contracting COVID-19 during electoral activities. Instructions issued by EMBs to voters asking them to maintain a certain distance from one another, while helpful, might not be enough to minimize these fears. And as recent elections held amid the pandemic have shown, compliance with distancing guidelines is far from ideal. Assigning and instructing poll workers to exercise a stricter control of queues and of the flow of voters inside polling stations could minimize violations while incurring virtually no additional costs to EMBs.
Finally, even if EMBs adopt these and other important preventive measures, they cannot wait for voters to see them only on Election Day, as by then voter turnout will already be affected. EMBs will need to consistently work to understand voters' fears and communicate responses ahead of the election, explain how they will ensure safety during the process and make voters familiar and comfortable with the measures being implemented. In the Dominican Republic, for example, these efforts seemed to yield positive results. Among people who responded they were very likely to vote, 69 percent had been exposed to the campaign "Put your mask on and vote," whereas only half of those who said they were not planning to vote were aware of the campaign. In addition to efforts made by the EMB, voters, poll workers and observers also must understand their responsibilities during the process and the importance of complying with all preventive measures.
COVID-19 has taken the lives of more than a half million people worldwide. It is a serious threat, and voters' fears are not unfounded. At the same time, the purpose of holding elections is to make voters' voices and choices heard. If voters cannot participate, the legitimacy of results can be compromised. It is thus a crucial responsibility of EMBs to create a safe environment that minimizes any public health risks and seriously addresses voters' concerns, especially those of at-risk groups.
The surveys were made possible with support from the United States Agency for International Development partly through the Consortium for Elections and Political Process Strengthening (CEPPS) and UK aid. Established in 1995, CEPPS pools the expertise of three premier international organizations dedicated to democratic development: IFES, the International Republican Institute and the National Democratic Institute. CEPPS has a 25-year track record of collaboration and leadership in democracy, human rights and governance support, learning from experience, and adopting new approaches and tools based on the ever-evolving technological landscape.
¹ Sample size = 1,002 respondents (adults 18 years or older), margin of error ± 3.25%
² Sample size = 807 respondents (adults 18 years or older), margin of error ± 3.45%
³ Sample size = 1,500 respondents (adults 18 years or older), margin of error ± 2.53%
Dominican Republic
Nigeria
Serbia
Fieldwork Dates
June 25-29, 2020 June 13-20, 2020 June 4-6, 2020
Sample Size
807 respondents (adults 18 years or older) 1,500 respondents (adults 18 years or older) 1,002 respondents (adults 18 years or older)
Mode
Face-to-face (100%) Telephone (92% of interviews) and online (8% of interviews) Telephone (80% of interviews) and online (20% of interviews)

Fernanda Buril is a senior research officer at IFES' Center for Applied Research and Learning.
Published on July 29, 2020.
Votar durante COVID-19: ¿Qué es lo que más asusta a la gente?
por Fernanda Buril
Desde que COVID-19 se convirtió en una crisis de salud pública, ha impactado las elecciones en todo el mundo de varias maneras diferentes. El coronavirus no solo ha forzado aplazamientos electorales en casi 70 países y territorios hasta la fecha, sino también ha disminuido considerablemente la participación electoral en muchos países que decidieron avanzar con la votación. La primera vuelta de las elecciones municipales en Francia el 15 de marzo, por ejemplo, registró una participación históricamente baja del 45 por ciento, a pesar de las medidas preventivas implementadas por el gobierno francés. La segunda vuelta el 28 de junio registró una participación electoral aún menor del 40 por ciento, incluso cuando Francia informaba un menor número de nuevos casos diarios. Las elecciones parlamentarias de Mali e Irán, las elecciones primarias en varios estados de EE. UU. y las elecciones locales en Australia, donde la votación es obligatoria, también registraron niveles de abstención más altos de lo habitual.
Aunque definitivamente no es la única razón, el miedo a infectarse en los colegios electorales puede causar este bajo nivel de participación. Comprender los temores de los votantes, y de los trabajadores electorales, de ir a las elecciones en medio de la crisis COVID-19 es crucial para ayudar a los organismos de gestión electoral (OGE) a abordar estos problemas, no solo ajustando los procedimientos electorales, sino también comunicando mejor al público lo que se está haciendo para proteger su salud. Con encuestas nacionales sobre este tema que se llevaron a cabo en tres países en tres continentes diferentes, la Fundación Internacional para Sistemas Electorales (IFES) ha obtenido algunas ideas preliminares sobre las principales preocupaciones de los votantes.
Las encuestas preelectorales de IFES se realizaron en Serbia¹, la República Dominicana² y Nigeria³ durante junio. Las preguntas abarcaron los niveles generales de preocupación de los encuestados sobre el impacto del COVID-19 y preocupaciones más específicas sobre el día de las elecciones. Es importante recalcar que, cuando se realizó la encuesta, Nigeria y la República Dominicana veían un aumento de su número diario de casos declarados, mientras que Serbia tenía una reducción de casos. Estos patrones diferentes podrían haber contribuido a la variación en los niveles de preocupación sobre el impacto de COVID-19 en la salud de los encuestados y sus familias. En una escala de cero a 10, con 10 significando "muy preocupados", los serbios promediaron 5.32, mientras que los dominicanos (8.53) y los nigerianos (8.67) informaron niveles mucho más altos de preocupación. También vale la pena mencionar el hecho de que, en los tres países, las mujeres informaron estar más preocupadas por COVID-19 que los hombres, lo que indica que el efecto negativo del virus en la participación electoral podría ser más fuerte entre las mujeres votantes.
En los tres países, las dos principales preocupaciones de los encuestados fueron relacionadas con las conglomeraciones. Más específicamente, los votantes dijeron que las personas que se quedan demasiado cerca unas de otras al hacer cola y el alto número de personas dentro del colegio electoral al mismo tiempo son las principales amenazas para la seguridad de los votantes. Los encuestados calificaron estos problemas como más amenazantes que, por ejemplo, la falta de mascarillas, la falta de desinfectante, los trabajadores electorales que no usan equipo de protección personal (EPP) o la suciedad general del colegio electoral.
Asegurar una distancia física apropiada mientras se hace cola y vota dentro de los colegios electorales, como era de esperarse, fue una de las dos principales medidas prioritarias que los OGE deben tomar según los encuestados en los tres países. La otra medida preferida por los encuestados fue la provisión de mascarillas por parte de los OGE a todos los votantes. Aunque esta segunda medida puede parecer sorprendente ya que la falta de dicho equipo no se vio como una amenaza principal por los encuestados, esta priorización podría indicar que los votantes son generalmente conscientes de la importancia de usar mascarillas y no esperan que los OGE no puedan proporcionarlas.
Aunque solo son preliminares, los resultados de estas encuestas indican algunos de los factores potenciales que podrían aumentar tanto la confianza en la seguridad de las elecciones como la participación de votantes. Uno de estos factores es directo y hace referencia a la provisión de EPP, especialmente mascarillas, a los votantes. Aunque a algunos OGE les resulte difícil asegurar fondos y organizar la logística para proporcionar dichos suministros, deberían adoptar esta medida, o alternativas como animar a los votantes a que usen mascarillas de tela. Hacerlo reduciría las posibilidades de que los votantes se presenten sin mascarillas y presenten riesgos para los demás, lo cual es una preocupación razonable.
El segundo y quizás menos obvio hallazgo de los datos de IFES es que las experiencias previas de los votantes de esperar en largas filas y votar en espacios abarrotados probablemente contribuyen a sus temores de contraer COVID-19 durante las actividades electorales. Las instrucciones emitidas por los OGE a los votantes pidiéndoles que se mantengan a cierta distancia unos de otros, aunque útiles, podrían no ser suficientes para minimizar estos temores. Y como lo han demostrado las recientes elecciones celebradas en medio de la pandemia, el cumplimiento de los protocolos de distanciamiento está lejos de ser ideal. Asignar e instruir a los trabajadores electorales para que ejerzan un control más estricto de las colas y de la circulación de votantes dentro de los colegios electorales podría minimizar las violaciones y prácticamente no incurrir en costos adicionales para los OGE.
Finalmente, incluso si los OGE adoptan estas y otras medidas preventivas importantes, no pueden esperar para que los votantes los vean solo el día de las elecciones, ya que para entonces la participación de votantes ya estará afectada. Los OGE deberán trabajar constantemente para comprender los temores de los votantes y comunicar las respuestas antes de las elecciones, explicar cómo garantizarán la seguridad durante el proceso y familiarizar a los votantes en sentirse cómodos con las medidas que se están implementando. En la República Dominicana, por ejemplo, estos esfuerzos parecieron arrojar resultados positivos. Entre las personas que respondieron que planeaban votar, el 69 por ciento había sido expuesto a la campaña "Ponte la mascarilla y vota", mientras que solo la mitad de los que dijeron que no planeaban votar estaba consciente de la campaña. Además de los esfuerzos realizados por el OGE, los votantes, los trabajadores electorales y los observadores también deben comprender sus responsabilidades durante el proceso y la importancia de obedecer todas las medidas preventivas.
COVID-19 le ha quitado la vida a más de medio millón de personas en todo el mundo. Es una amenaza grave, y los temores de los votantes no son infundados. Al mismo tiempo, el propósito de celebrar elecciones es asegurar que se escuchen las voces y las elecciones de los votantes. Si los votantes no pueden participar, se puede comprometer la legitimidad de los resultados. Por lo tanto, es una responsabilidad crucial de los OGE crear un entorno seguro que minimice los riesgos para la salud pública y aborde seriamente las preocupaciones de los votantes, especialmente las de los grupos en riesgo.
Las encuestas fueron posibles gracias al apoyo de la Agencia de los Estados Unidos para el Desarrollo Internacional, en parte a través del Consorcio para Elecciones y Fortalecimiento de Procesos Políticos (CEPPS) y la ayuda del Reino Unido. Establecido en 1995, CEPPS reúne la experiencia de tres organizaciones internacionales de primer nivel dedicadas al desarrollo democrático: IFES, el Instituto Republicano Internacional y el Instituto Democrático Nacional. CEPPS tiene una trayectoria de 25 años de colaboración y liderazgo en democracia, derechos humanos y apoyo de gobierno, aprendiendo de la experiencia y adoptando nuevos enfoques y herramientas basados en el panorama tecnológico en constante evolución.
¹ Tamaño de la muestra = 1,002 encuestados (adultos mayores de 18 años), margen de error ± 3.25%
² Tamaño de la muestra = 807 encuestados (adultos mayores de 18 años), margen de error ± 3.45%
³ Tamaño de la muestra = 1,500 encuestados (adultos mayores de 18 años), margen de error ± 2.53%
República Dominicana
Nigeria
Serbia
Fieldwork Dates
El 25-29 de junio de 2020 El 13-20 de junio de 2020 El 4-6 de junio 2020
Tamaño de la muestra
807 encuestados (adultos mayores de 18 años) 1,500 encuestados (adultos mayores de 18 años) 1,002 encuestados (adultos mayores de 18 años)
Modo
En persona (100%) Teléfono (92% de las entrevistas) and online (8% de las entrevistas) Teléfono (80% de las entrevistas) and online (20% of de las entrevistas)

Fernanda Buril es investigadora senior en el Centro de Investigación Aplicada y Aprendizaje de IFES.
Publicado el 29 de julio de 2020.