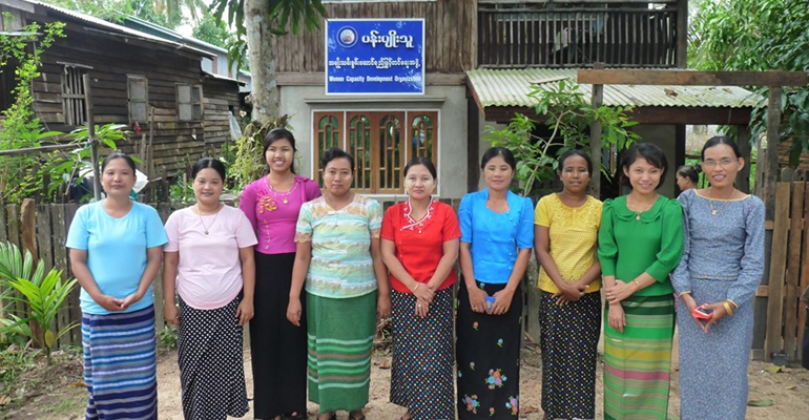 "She Leads" Alumnae Launch New Women's Community Organization in Myanmar
Down a small narrow lane outside Pathein, Ayeyarwaddy, in Myanmar is where you will find the new office of the Women's Capacity Building Organization (WBCO), a recently established community organization founded by ten "She Leads" alumnae. "She Leads" is a nationwide women's leadership program developed by the International Foundation for Electoral Systems (IFES) and its Myanmar partner Yaung Chi Thit (YCT). The program works to address the lack of women's leadership in politics and decision-making processes at all levels of state and society. "She Leads" includes both beginner and intermediary-level trainings and has trained over 1,000 women across Myanmar.
Through Daw Win Mar Htwe's leadership and She Leads alumnae passion, WCBO won their first grant this month.
In Pathein, alumnae from the 2015 and 2016 beginner-level trainings initially started working together to mobilize their communities and provide voter education during the 2015 elections. As a result, the group became a strong team and under the leadership of Daw Win Mar Htwe, formed WCBO. Their goal is to increase women's engagement in political, economic and social spheres throughout Ayeyarwaddy, a large, agricultural based state in Myanmar. Using the leadership skills they gained from the training, the women worked together to secure the funding, based on a needs assessment they carried out. To their delight, in November, the GRET, a French-based international organization, awarded WCBO its first grant of $30,000 to develop a women's livelihood project in 16 rural villages. The project will establish women's groups in each of the villages and distribute 45 ducks to each household, whose eggs will be sold to provide an income for the families. Each member of the group will then contribute a set amount of their egg income to a joint savings fund, which will be used to support and expand the village groups' efforts to include other women. Meeting with the WCBO team, the excitement from the members of WCBO was contagious as they described hearing about the funds. "When I found out, I was so excited I couldn't sleep all night," said Htwe.
The "She Leads" alumnae credit the skills and knowledge they learned from the "She Leads" program and the support they received from YCT as a critical component of their success establishing WCBO. One alumna remarked, "Women's leadership is very important as women can do things equally like men. Through the "She Leads" program, I realized that women can take a leading role like men." Another alumna highlighted how her public speaking skills and knowledge of teamwork grew as a result of the program. "Before attending the training, I used to do things on my own, but realized that by working with a team, I can achieve my goals, that I am more productive and it brings different ideas and ways of doing things." In addition to taking on leadership roles through WCBO, the women are working as leaders in their own communities. When asked if they will become involved in the 2020 elections, there was a resounding 'yes' around the table. Even one alumna, Mya Thet, plans to run as a candidate to become a ward/village tract administrator in 2020.
Villagers gather together to show their support for the She Leads' We Stand Together advocacy campaign.
"She Leads" alumnae in the Pathein region, including several WCBO members, have also been organizing community mobilization events to raise awareness about YCT's "We Stand Together" campaign, a nationwide advocacy campaign calling for women to be more involved in politics and decision-making. In an open pavilion at a monastery, over 100 villagers of all ages listened intently to four "She Leads" alumnae as they talked about the lack of women leaders at all levels of politics. In addition to the villagers, key community leaders including the ward/village-tract administrator, the village elder and the 100 head of household were in attendance and supportive of the women's initiatives. The village elder noted it was important to hold such an event as the village's development lags behind other areas near Pathein. "The village will develop more quickly if both men and women are involved. There should be no discrimination between men and women and we can achieve this through the democratic process. In the future, I hope that women from the village will perform like the "She Leads" alumnae did today," said the village elder. This is one of several community events that the WCBO team will organize in November 2017. The work of these committed "She Leads" alumnae is one of the many stories showing the long-term impact of the "She Leads" initiative in advancing women's leadership throughout Myanmar.
"She Leads" is supported by Australian Department for Foreign Affairs and Trade and the United Kingdom's Department for International Development.