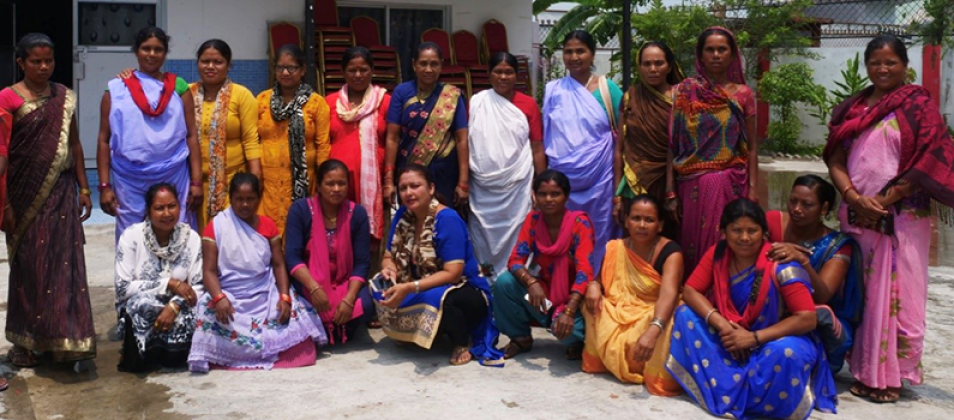 "She Leads" Women's Leadership Program Piloted in Nepal
by Katie Ryan*
"Women must participate in all decision-making. And we shouldn't just participate; we should implement as well. We should advocate that women's rights are human rights. We should not just participate for the sake of participating; our participation should be meaningful." – Tara Kumari Sardar
Sanja Devi Paswan beams with pride as she sits down, having just spoken in front of her fellow "She Leads" participants during the public speaking session. Sanja is one of 25 locally elected ward members participating in the recently launched "She Leads Nepal" pilot program. Like most of the women participants, she has never had the confidence to speak in public before. "I am from a Dalit community. In this training, I have met other women from similar communities. If I do well, my people will be happy. This is the first time I have spoken in public. My heart was beating so hard, but I felt good."
A lack of confidence, skills and knowledge, including of the rules and functions of local government, are some of the key challenges faced by the 14,345 women elected in Nepal's 2017 local elections, the first to be held in 20 years. The record number of women elected – nearly 41 percent in total – is a result of legislative quotas, which mandated two of the five elected ward committee positions be reserved for women.
To support them in their leadership positions, the International Foundation for Electoral Systems (IFES), in partnership with the Center for Dalit Women Nepal (CDWN), is introducing its flagship women's leadership program "She Leads" to Nepal. The program will initially target 500 locally elected ward members in five districts in Province One in the far east of Nepal, one of seven provinces established as part of Nepal's new federal system. Over the next four years, through a modular training program, a diverse group of women from the mountainous hill regions to the tropical terai plains will develop the leadership and technical skills to help them fulfill their roles as elected representatives.
The Nepal program draws on IFES' extensive experience running similar "She Leads" initiatives across Asia-Pacific. Tailored to the needs and interests of these locally elected women, the program has been informed by research involving focus groups, interviews and a baseline survey. One particular challenge is the relatively high number of illiterate women in certain areas. This meant that the curriculum development focused on visual aids, tailored local examples and a highly interactive methodology.

To ensure that the 10 national trainers, including two former female members of Parliament, have the skills and knowledge to deliver the training and manage the mixed literacy groups, IFES and CDWN held a rigorous five-day training-of-trainers (ToT) course May 7-11 in Kathmandu. The training was facilitated by IFES' "She Leads" Expert Consultant Katie Ryan and Deputy Country Director for Nepal Radhika Regmi. IFES and CDWN worked closely with the trainers and provided mentorship throughout the ToT and the pilot.
This investment in the training team paid off. The pilot held from May 15-17 in Biratnagar, Morang district, was lively, positive and proved a great success. In this first module, participants learned about a range of topics in addition to public speaking, including teamwork, leadership, identifying their strengths and weaknesses and building their confidence, as well as local governance and their key roles within local government. The women were highly motivated by the sessions on gender equality and women's participation, topics they will talk about in their communities as part of their Module One assignment.
"I want to urge everyone to work for gender equality. We should be treated equally. I have learned this over the last three days. There are many things I did not know before the training. I will go and share what I learned with other people in my ward." – Agarbatti Gacchadar
Over the course of the three-day training, participants became increasingly confident, responding well to the facilitators, content and methodology, and keen to share experiences and work with each other going forward. As "She Leads" trainer Yuba Raj Rijal said at the end of the training: "The ToT and the pilot achieved dual objectives. They enhanced our capacity. This is a great opportunity for facilitators like us. They also helped build the skills and confidence of the participants. This is a perfect time to train the women and I am very hopeful we will have positive results."

"She Leads Nepal" is supported by the Australian Department for Foreign Affairs and Trade and the Swiss Agency for Development and Cooperation.
*Katie Ryan is a "She Leads" expert consultant for IFES.